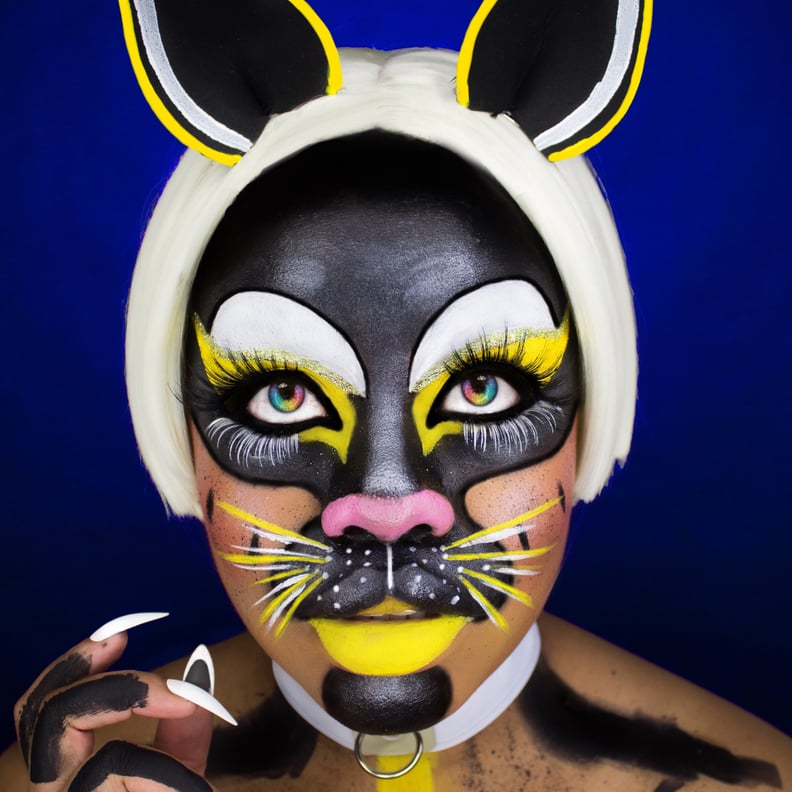 In need of some serious Halloween makeup inspiration? TikTok is filled with plenty of ideas that everyone from major beauty buffs to first-time makeup-users can try. From colorful clown makeup to gory Halloween-inspired looks, these spooky options will turn heads all night long. The best part is, you won't even need to wear an actual costume because these makeup looks will steal the show.
Whether you always go all-out with your Halloween makeup or you're looking to dive into your new fall palette, these ideas from TikTokers will help you achieve the most chilling makeup look of them all. Take a look at the best Halloween inspiration from the platform, ahead. Happy haunting.
01
Scar From The Lion King
To create a Scar from The Lion King makeup look, dab a vertical layer of foundation over a section of one eyebrow. Define your brows and add black eyeshadow to your eyelids. Apply brown, orange, and neutral colors above and below your eyes. Then, add a bright green eyeliner to your lower lash line. Apply foundation and concealer like normal, and dust your cheeks with orange blush. Create the character's iconic scar by drawing small triangles above your brow and under your eye. Wear black lipstick on your top lip, and you'll be ready to take over a kingdom.
02
Ouija Board
Channel your inner dark spirit when you try this creepy Halloween look. All you need to do is write "yes," "no," and "goodbye," on your skin with stencils, and draw on the shape of a planchette somewhere on your face. You can add the full alphabet and numbers one through 10 on your chest or face if you really want to go all out. Complete your look with one black and one white contact in your eyes and black lipstick.
03
Pumpkin
Grab your liquid latex and create a big circle on one side of your face with the latex and coat foundation over it. Then, apply orange, purple, and black eyeshadow on the alternating eye. Fill in the latex circle with orange face paint and add black lines down the middle. Create a jack-o'-lantern look by drawing a triangle over your eye, and fill in the triangle with black eyeshadow. Outline the latex with black makeup to make it stand out, and add fake blood over it. Red lipstick will tie this look together.
04
Mermaid Skull
Got fishnets? To re-create this dreamy mermaid-inspired makeup look, you'll need to secure a pair of fishnets to your face and dive into your most colorful eyeshadow palette. Pat the eyeshadow onto your face (do not brush), and then draw on a skeleton mouth from cheek to cheek. Feel free to add small diamonds to spots around your mouth and shimmery eyeshadow to your lids.
05
Winifred Sanderson From Hocus Pocus
Ready to make some magic? Be Winifred Sanderson from Hocus Pocus this year when you copy this advanced makeup look. You'll need to glue your eyebrows back and cover them in foundation and apply her iconic lipstick shape to your lips. Coat your upper cheeks in orange and pink blush, and add white eyeliner to your lower lash line. Throw on an auburn wig, and come, we fly.
06
Cheshire Cat
Apply a bright fuchsia eyeshadow to your lids with a sparkly white finish. Then layer on the pink shadow to the tip of your nose. Draw on a large smile across your face with black face paint and top off your lips with black lipstick. Draw on white teeth with white face paint, and then add fake eyelashes and colored contacts. Finish off the look by adding little whiskers and purple accents.
07
Black Cat
Take the basic black cat costume to the next level when you try this impressive look. Start by painting a pink nose then outlining the mouth, under-eye area, and forehead with black paint. Using white paint, fill in the eyebrow area and draw a white line from the nose to the upper lip. Carve out a sharp cat-eye with yellow paint as well as the lower lip. Add a pair of false lashes, a collar, white nails, and cat ears to tie the look together.
08
Monster
Horns and liquid latex will turn you into a monster in no time. Apply the liquid to your forehead by making two circles side by side. Then, coat the latex in foundation and fake blood. Layer on red and black eyeshadow while the latex sets, and then out on the horns. Add red lipstick and colored contacts to make this look come to life.
09
Sky and Clouds
If you want to branch out from the typical Halloween makeup styles, try this dreamy version instead. Set your brows and eyelids, and add blue shadow to your crease. Top off the blue shadow with a lighter blue to transition. Then cut your crease with a white shadow. Add a shimmery finish to your lids, along with as much glitter as you'd like. Add fake lashes and little crystals to your eyes after you do your face makeup. Draw on little clouds with the help of white eyeshadow and a white eyeliner pen. Blend the two together, and add a shimmery pink finish.
10
Coraline
To re-create Coraline's cute (and super creepy) look, you'll need more than just buttons for eyes. Start by putting your foundation and face makeup on as usual, and then add a little skeleton smile to one side of your face. For this elevated look, you'll need to put some liquid latex on the other side of your face. (This will be used to hold a needle and thread.) Then, add little freckles across your cheeks and nose. Glue on large feathery eyelashes and put in a black contact in one eye. Stick a button to your other eye with makeup glue, and tuck a small needle and thread into the liquid latex. Your worst nightmares are bound to come true now.
11
Chic Clown
To copy this cute look, you'll need to pay attention to the details. Apply white face paint to an area surrounding one eye, and make sure to put on shimmery eyeshadow. Then, use liquid eyeliner to create dreamy swirls and designs. Be sure to add the noticeable clown triangles above and below your eyes. Add a little red heart to your nose and finish off the look with red lipstick and a clown smile.
12
Kat From Euphoria
If you're still starstruck by Euphoria's makeup looks, you need to try this. It's easy and cute, while also being edgy and cool. Start by applying your face makeup like normal, and then get into the eyeshadow. Find a bright green hue and coat your lids in it. Put on a different green shadow on top, and dab the inner part of your lids with a white or ivory color. Add blue eyeshadow or liner under your lower lashes, and complete the look with a shiny lip gloss.
13
Maleficent
Be the baddest villain of them all when you sport this Maleficent look. Start by contouring the sides of your face to create noticeably defined cheekbones. Go over the contouring with black eyeshadow to make it stand out. Then, define and shape your brows. Put bright green contacts in your eyes, and wear her iconic bold headpiece. Bright red lipstick will complete the look.
14
Joker
Re-create Joker's infamous look by dying your hair green or throwing on a wig. From there, apply white face paint to your whole face. Once that sets, you'll need to add the clown-like details. A large red smile that stretches from cheek to cheek and a red nose are essential, along with blue triangles above and below your eyes. Draw on red eyebrows on the top of your forehead, and get ready to spook all those around you.
15
Zombie Schoolgirl
If you really don't feel like putting in much effort this year, this idea is for you. It's cute, simple, and super easy to put together. Pull your hair back into high pigtails and add little bows. Then, draw fake blood on your face with either red eyeliner or face paint. Wear black and white eyeshadow on your lids, and complete the look with a little black necklace and schoolgirl skirt.
16
Glam Witch
If you're going for a chic makeup look this year, being a glam witch is about as good as it gets. We recommend picking out a color that will go with your outfit and highlighting that. Put on your foundation and concealer like usual, and then make sure to prime your eyelids. Apply green shadow to the sides of your lids and yellow shadow to your crease. Put the primary color of shadow that you want to highlight (in this case it's purple) to your upper and lower lids. Add black lipstick to your lips, and finish it off with a top coat that's the same hue as your eyeshadow. You'll bewitch everyone who sees you.
17
Werewolf
This look is all about the brows. Apply glue your eyebrows and add foundation directly on top of the glue. (This will help to cover them up.) Then, create the look of full, bold brows with the help of a brown brow pen. Put on dark brown or black eyeshadow to your lids and top it off with a bright blue pigmented shadow. Now it's time for the eyeliner. Draw on eyeliner under your eyes with two winged accents. Then brush on black or dark blue shadow to your forehead and cheekbones. Put on black lipstick and brightly colored contacts. Make sure to tousle your hair so it's fully volumized, and add fake fangs to your teeth.
18
Sunrise Eyes
First, define your brows and set your eye makeup. Then add a bright orange eyeshadow to your creases, and a yellow shade above that. Apply a sparkly shadow on top of both colors to make your eyes pop, and stick on bold lashes. Add a shimmery highlighter and orange blush to your cheeks, and pair the look with an orange shirt and pumpkin accessories.
19
Colorful Skeleton Clown
Pick out your favorite color, and let that be the base for this look. Apply the colored eyeshadow to your upper lids and add black eyeshadow to your inner lids. Draw a black line from the middle of your forehead through your eyebrow and then down your cheek. Create a creepy smile by adding a thin black line from cheek to cheek, and drawing on jagged black teeth. Find a lipstick that's the same color as your eyeshadow and blend that in with the black teeth. Put in colored contacts, and your work here is done.
20
Bloody Eyes
Into gore? You'll need liquid latex to make this look come to life. Apply the liquid around your eyes (be careful not to get in your eyes) leaving space for makeup from your eyebrows to your lower lashes. Then, apply bright red face paint or eyeshadow to the area closest to your eyes. Once you've done that, put on long fake eyelashes and create the look of blood running down your face. The liquid latex will give everyone chills when they see you.
21
Glam Skeleton
If you don't feel like going all out this year, you can opt for this chic skeleton look. All you have to do is apply a bit of white powder to your face, and then cover one eye in black makeup. On the alternating side of your face, create a small skeleton smile by drawing on lines for the teeth and mouth. Then, put on a shimmery silver shadow on the eye without the black makeup, and add a black detail to your nose. You'll look drop-dead gorgeous.
22
Gorey Skeleton
Take your skeleton makeup to the next level when you try out this creepy look. You'll need to apply skin glue to the area above your lips, on your chin, and on parts of your cheeks. Then, apply a cotton coil in the shape of a large smile. Add red face paint to the area in between the smile, and then add thin strips of cotton coil to the top and bottom of the smile outline. Apply a coat of foundation to the cotton coil and blend it into your skin so your face and the cotton are the same color. Add fake blood to the skeleton smile as well as to parts of your cheeks and nose, and you'll be a chilling sight for all to see.
23
'90s Character
Feeling nostalgic? This makeup look is for you. Spike your hair up (think Chuckie Finster or Hey Arnold! style), and feel free to add sparkly spray to it. Then, find your brightest face paint and cover your face in cute designs. Stars, circles, and triangles will do. Put on bright eyeshadow and shiny lip gloss, and your look is complete.
24
Half-Dead Zombie
Back from the dead? This zombie look is for you! Put in a white or black contact into one eye, and apply makeup glue to that side of your face. (FYI, you can do both sides of your face if you please!) Then, stick pieces of toilet paper to the glue, and apply foundation over them. Cover some of the foundation-coated toilet paper in fake blood, and you're ready to take on the night.
25
Belle From Beauty and the Beast
Re-create Belle's charming look by dressing your eyes in bright yellow shadow. Add sparkles to the middle of your lids, and feathery fake eyelashes to your eyes. Coat your lips in a chic gloss and curl your hair just like Belle's. Add a rose accessory to make your look complete.
26
Skeleton
Section off part of your face by making an outline with an eyeliner pencil. Then, apply white face paint to the side of your face that you want to turn into a skeleton. Put on black eyeshadow or paint around your eye and on your nose, and draw over the eyeliner pencil outline that you made in the beginning. Draw on a skeleton smile with black eyeliner, and create the look of creepy stitches by adding white lines down your face.
27
Cute Clown
This easy makeup look can be done in minutes. Apply a colorful eyeliner underneath your eyes in the shape of a triangle, and then draw a thin line down to your lips. Do the same to both sides. Apply eyeliner to the creases of your lids, and create two large triangles with the same liner above your brows. Put on lipstick of a similar color and complete the look by adding black shadow on top.
28
Cereal Killer
Paint a milk spot on your face with white paint. Draw ovals for the cereal with colorful eyeshadow. Shade them to make them look 3D. Blend red and gray shadow on the other side of your face. Apply lashes to your eyes and fake blood to different parts of your face, and you're bound to look killer.
29
Dead Monster
Apply green face paint to your face and neck. Blend it in, and make sure to define your brows. Add black eyeshadow to your lids, and pink lipstick to your lips. Draw black blood down one eye, and pink down the other. Create the look of a skeleton's mouth on one side of your face with white eyeliner. Put on fake lashes and draw skeleton bones on your chest.
30
Pink Ladies From Grease
Feeling too pure not to be pink? The Pink Ladies from Grease would have to agree. To pull off this look, you'll need to channel your inner '70s vibes. Put on pink eyeshadow with tasteful pink blush and pink lipstick. Add feathery fake lashes and a light pink wig to really make this look come to life. Then, finish off your look with cat-eye sunglasses.
31
Zipper Leopard
Stick an unzipped zipper to your face with the help of makeup glue. Then shade the surrounding parts of the zipper with dark orange and brown eyeshadow. Create little leopard spots inside the zipper and down your neck. Then add droplets of fake blood by your eyes and mouth. Wear a leopard headband and shirt to tie the look together.
32
Deer
To create this look, start by applying a brightening concealer under your eyes. Then, apply a heavy contour shade under the cheekbone area, around the forehead, and on the sides of your nose. While using a cream eyeliner pencil, create a couple of circles all around your face to mimic the look of deer spots. Once you've completed your circles, add your nose and lines above your lips with black eyeshadow. Moving on to the eyes, apply a light shade of beige across your eyelid and darken the crease with a brown shade. Then, apply a thick, sharp wing with black liquid eyeliner to the outer and inner eyes. To tie the look together, create two high buns in your hair to mimic ears.
33
The Purge
Start by applying white gel eyeliner around the sides of your face and mouth. Using the same white eyeliner, create small lines on the mouth and two lines on top and under your eyes to mimic the shape of an "X." Apply a hot-pink eyeshadow shade to the white lines on the sides of your face, mouth, and eyes. Lastly, reapply the white eyeliner on top of the eyeshadow shade, and your look is complete.
34
Pop Art
Start by applying small white circles all over your face using a white eyeliner pencil. Then, apply a peachy-toned blush on the cheeks. Create thick arched brows by using a thin brush with a black gel eyeliner. Using a flat brush, apply yellow eyeshadow to the eyelids. Then apply a thin line of liquid black eyeliner around the yellow eyeshadow to achieve a cat-eyed effect, and place white eyeliner on your lower waterline. Create the appearance of small bottom lashes using a thin, black liquid liner. Then, apply red lipstick to the lips and darken the corners of your mouth with black eyeshadow. With a light-blue eyeshadow shade, create fake tears under the eyes and on the cheeks. Apply small thin strokes of white liquid eyeliner to the lips to create a glossy effect. To tie everything together, create thin black line strokes across the cheekbones, hairline, chin, neck, and collarbones for a pop-art character look.