Priceline Just Launched a New Feature That Could Save You Hundreds on Your Next Vacation
If you're a savvy traveler, you probably love comparing flight and hotel prices as much as you can before settling on the ones that give you the best deal. And while there are a lot of apps and websites that do this for you, Priceline is a trusted favorite that's been around for a while. But the online travel agency is changing things up a bit with its newly launched Pricebreakers feature, which offers its highest-rated hotels at the lowest possible prices. If that sounds too good to be true, we get it. So, we decided to test it out for an upcoming trip and were shocked by the savings! Here's a full breakdown of how it works and how you can save tons of money on your next getaway.
What Is Pricebreakers?
The new Pricebreakers feature shows groupings of three hotels in your desired destination, listed under one low price with savings of up to 50 percent off published rates. The reason they're able to offer these low prices is because you won't know which of the three properties you're booking until after the reservation is made. In a recent press release, Priceline CEO Brett Keller said, "Pricebreakers lets our customers book the best-reviewed hotels at the best price, every time."
Why Pricebreakers?
Priceline has a team of data scientists working behind the scenes who discovered that the average traveler views three different hotels before booking. They also know which amenities matter most to travelers when they're searching in different locations. For example, outdoor pools in Florida and free parking in big cities are huge priorities for travelers. Priceline is able to use this search data by showing groupings of hotels with the amenities customers are searching for, thus simplifying the hotel booking process.
"We created Pricebreakers to streamline the planning process for Priceline customers," Karen Tepper, Vice President of Product and Mobile, said in the same press release. "With Pricebreakers, you know up front that you're going to get a well-reviewed hotel at a deep discount. If you also need free breakfast and a bed for your pet poodle, you'll get that. And you're going to pay much less than the people in the room next door."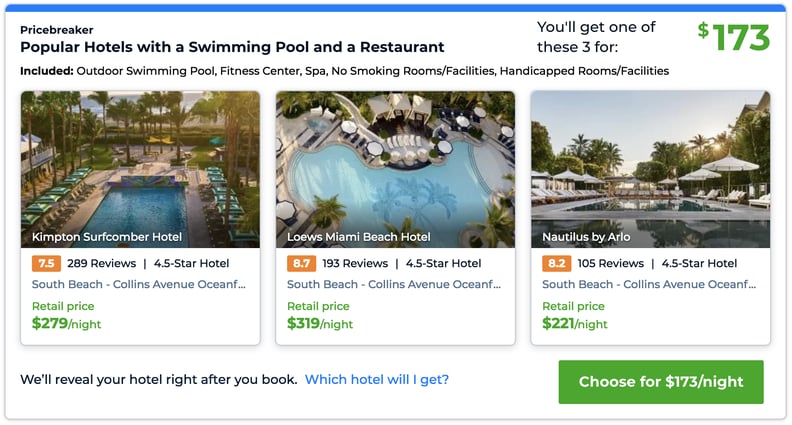 How Do You Use Pricebreakers?
After choosing your dates and destination on the Priceline website, you'll see a tab labeled "Pricebreakers" (as long as rooms are available for you chosen dates and destination). When you click on the Pricebreakers tab, you'll see various groupings of three hotels, each being grouped together based on different amenities or star ratings. You'll see a listed price for each grouping and you'll even have the option to view reviews of each property and where they're located on an area map.
If you want to narrow down your choices even further, you can click the "Create Your Own" tab and choose hotels with only the specific features that meet your needs. From there, you may have the option to specify your preferred room type for a slight up-charge. Once you confirm your choice and enter your information and payment details, one of the three properties will be revealed as your chosen hotel and your reservation is considered final.
In our search, we were looking for hotels near Disney World and saw three Disney Springs properties — all of which offer many of the same perks as Disney Resort hotels — that we'd be more than happy with at the given price. We're still locking in our dates, but some of the Disney Springs hotels were more than $100 off the regular price per night! That's a ton of extra money in our pockets that can be spent on souvenirs and sugary treats, so we'll definitely be using this feature for every trip going forward.