I Spent Weeks Traveling Europe With Disney — Here's What It Was Really Like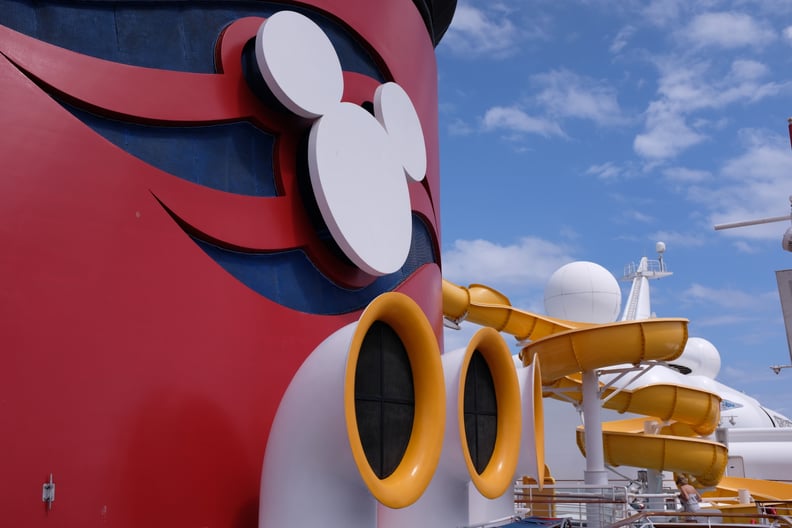 Carlye Wisel
Carlye Wisel
The only thing better than one Disney vacation? Two of them! This past August, I went on an Adventures by Disney trip to Barcelona, and then right after, I took the Mediterranean Disney Cruise Line sailing on the Disney Magic, and spoiler alert: it was freaking fantastic. With the bulk of my Disney travels having been to the theme parks, I had no idea that linking both trips together meant I'd discover Spain, France, and Italy with an extra heaping of fairy dust.
Even though I'm a Disney expert, I never could have comprehended the joy of exploring the Colosseum, watching Beauty and the Beast in 3D, and snapping selfies with Mickey Mouse on the same day until experiencing it in real life. (No offense, Epcot, but this new way to explore the globe with Disney is much better than walking around the World Showcase!)
Not quite sure if you're game for an international Disney trip? Let us show you everything that goes into pairing an overseas journey with your favorite fairy-tale magic. It's exciting, fun, and easier than you'd expect to reach peak #vacationgoals across Europe with Mickey Mouse by your side.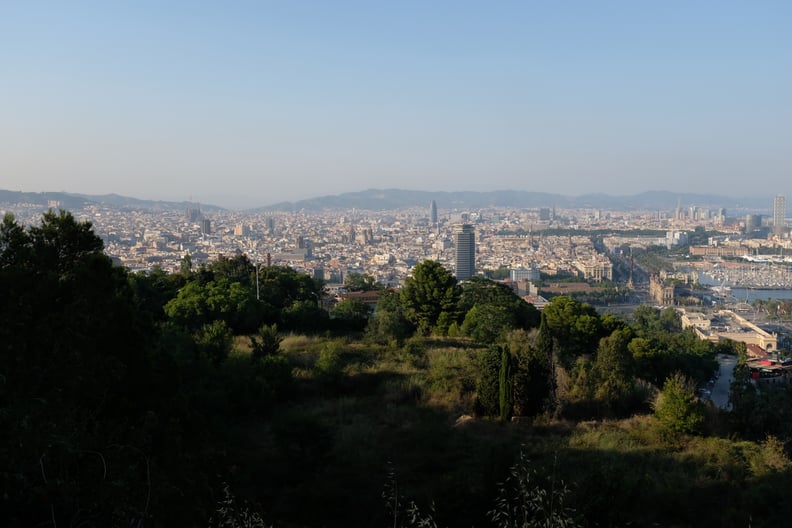 You dive into a city the moment you arrive.
Just a couple hours after my plane landed in Barcelona, I was already being whisked to the top of the city to see its skyline at sunset from a stunning alfresco dinner. The jet lag was only slightly on par with my croquetas coma by the end of the night, but hey, cramming that much into a travel day proved to be unreal. Having only been on Adventures by Disney's crazy-cool river cruises, I was delighted by how immersed we wound up becoming by staying in the same place for a few nights.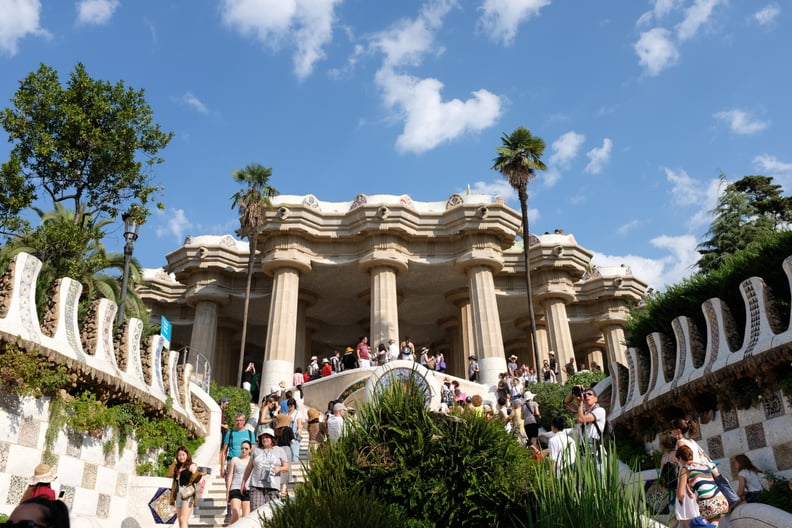 Expect to roll into must-see spots like a VIP.
No lines, no tickets, no waiting — it's so relaxing to have someone else in charge for once. With Adventures by Disney, everything is prebooked and set, so you can tour that famous castle or enter crazy-busy museums without wasting a single second. Don't be surprised if there are unexpected moments along the way as well as interactive visits that make everything more interesting than a self-guided tour.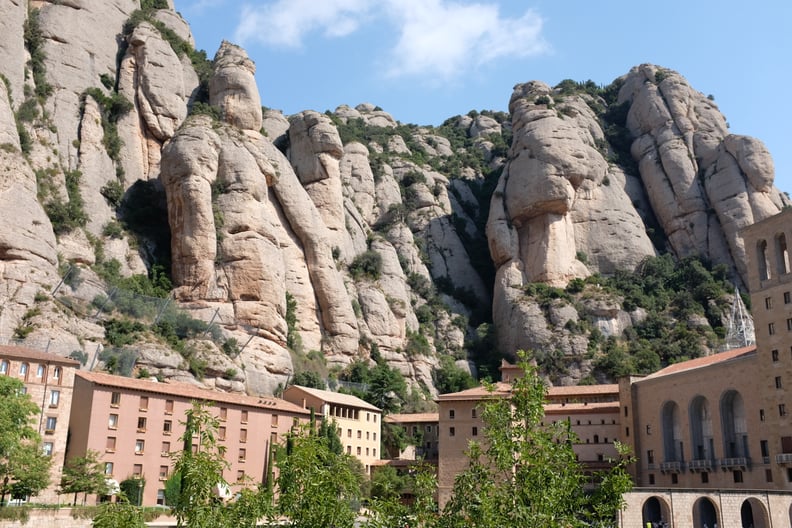 You never have to worry about where you're going next.
Do you remember the sheer joy of never having to worry about where you're going next? Traveling with Adventures by Disney is like having a very skilled intern who prearranged everything from the friendly private driver greeting you at the airport to the funicular you'll take to reach Montserrat. No futzing over who's ordering the Uber, no Venmo payments to square up for taxi fares, no panicking over foreign WiFi leaving you lost in the middle of nowhere — you'll just be seamlessly shepherded between a city's greatest sights without having to care about a thing (or draining your cell battery!).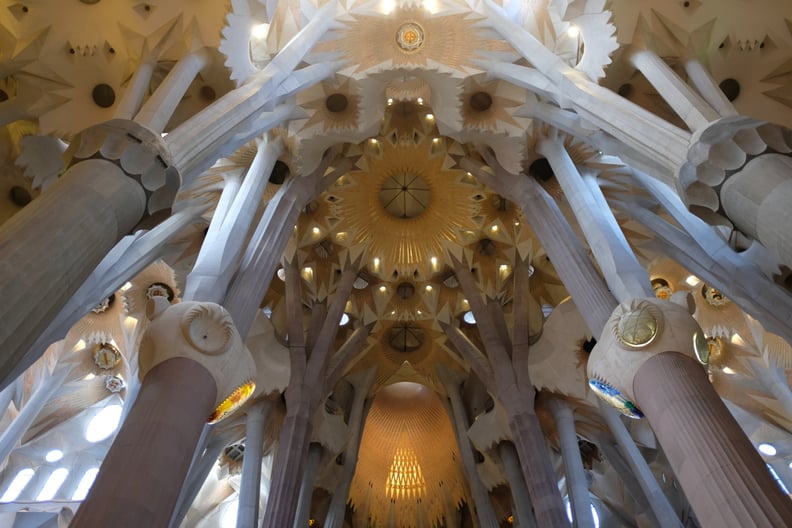 You're no Disney rookie for not knowing about these trips yet.
Adventure by Disney offers group trips to cities, countries, and continents worldwide, but these single-city itineraries in Barcelona and Copenhagen are brand new. The three-night city tours are intended for extending a cruise departing out of Spain or Denmark — you're all the way over there, so why not see it all? — but are also ideal for pure vacationing, ensuring you'll hit the must dos of a city before exploring or partying on your own. (And yes, you'll get customized pins on these too!)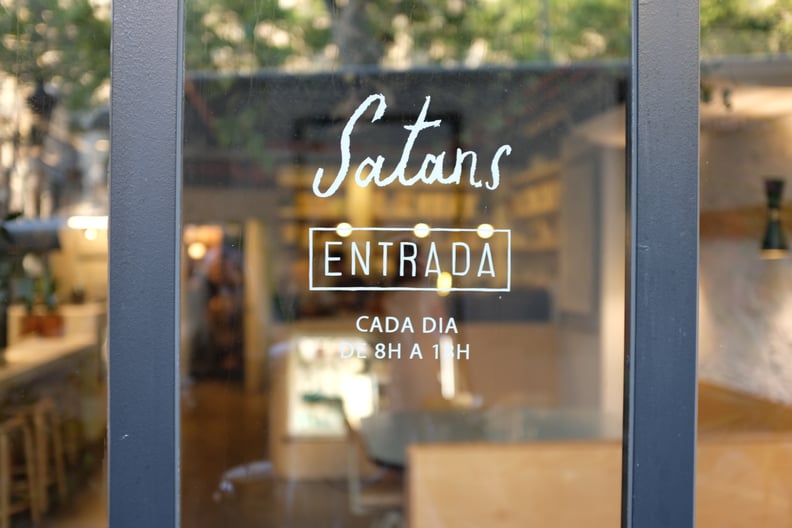 You'll have enough time to shop or grab craft cocktails, whichever you prefer.
Even though it's a planned group trip, you can easily peel away and do your own thing. Each day before our Spanish exploration began, I'd take a stroll to trendy coffee shops near the hotel for a cold brew. Itineraries always include "on your own" time and meals, which meant I was able to grab dinner at Cal Pep, a fabulous tapas joint with the cutest bar setup. And if you'd rather peek an Instagram-famous hotel lobby or can't-miss modern art museum on a short visit to Vienna or Budapest, you can always skip out on ABD's scheduled programming, as nothing is mandatory.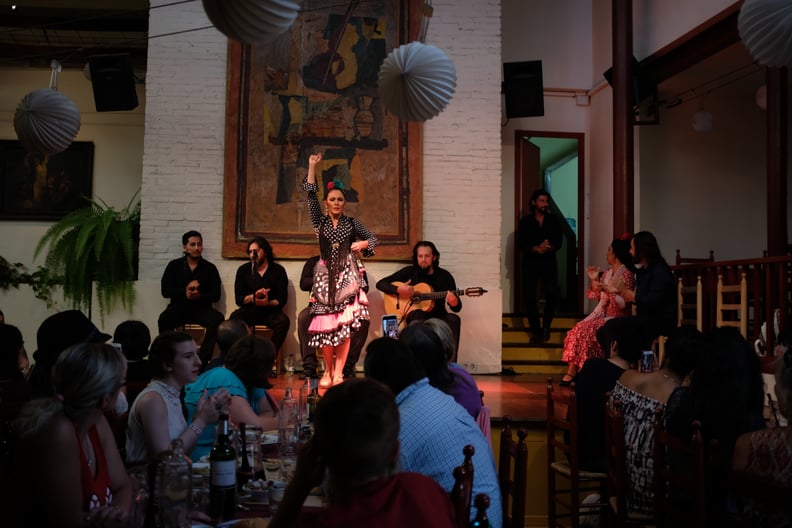 Prepare to dine at little restaurants you'd never find on Yelp.
If you've been to literally any birthday party, you know large group dining is a real-time nightmare, but the locations Adventures by Disney chooses are proven gems. We took in rounds of tapas at an authentic Catalan farmhouse covered in flowers for lunch, and for dinner, dined at the foot of a flamenco show stage. Oh, and everything's prepaid, too, so you'll never have to worry about splitting a check, scrounging for foreign coins, or frantically googling local tip policies.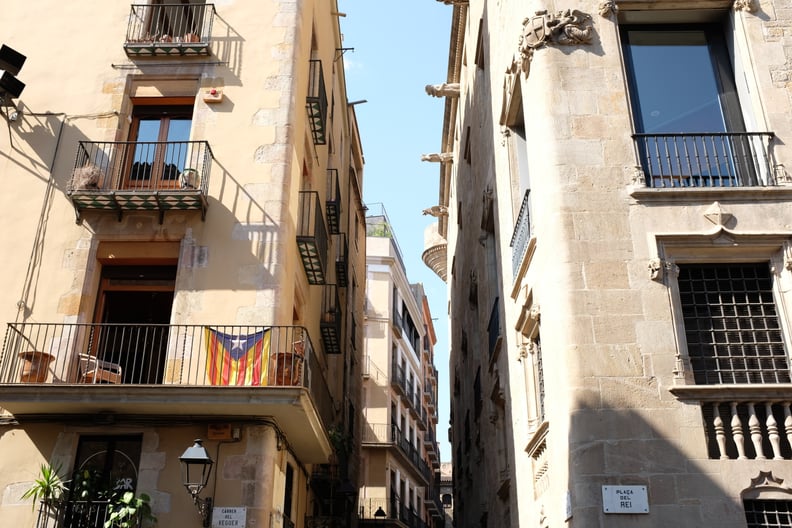 It'll get you far, far, far from the Instagram travel bubble.
If vacations are starting to feel like you're ticking boxes off a list of influencer hot spots, consider this your internet copycat antidote. With Adventures by Disney, I always wound up doing silly activities that I adored, which often became my most cherished memories. Sledding down a salt mine in Austria, watching an Oompah band in Germany, playing on a Barcelona playground — I also considered skipping out on a marionette show in Vienna that wound up being so extremely cool, I'm still kicking myself for such poor judgment. (They let us hold the marionettes after! It was phenomenal!)
If you think group travel isn't for you, prepare to be converted.
I work alone. I don't have children. The idea of small-talking with strangers in a foreign country sounded insane to me until I actually tried it, and boy, was I wrong. The "Adventure Guides" leading the trip will become your instant friends, having interesting conversations at mealtime is surprisingly fun, and generally speaking, the other people couldn't be kinder or more courteous to respecting each other's family vacation time. Yes, there is the whole earpiece-listening, paddle-following thing, but you'll learn so much more from the interesting local guides than skipping out in favor of looking cool.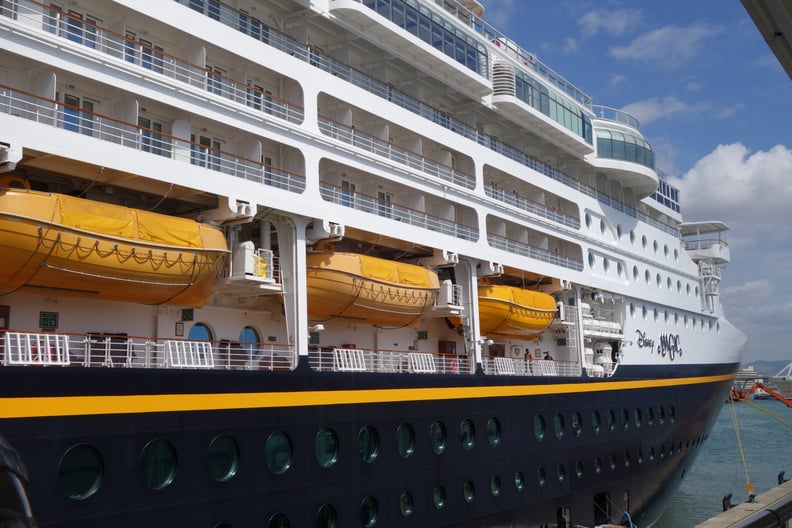 Back-to-back trips make everything easier.
Because my Adventures by Disney trip to Barcelona was tied to my reservation on the Disney Magic Cruise Ship, all the planning stress that comes with cruising instantly evaporated. On embarkation day, we ate a late breakfast at the hotel, boarded a bus to the terminal, and boarded the ship a few moments later, with my bags having been picked up at the hotel and dropped inside my stateroom that afternoon. It was so easy-peasy!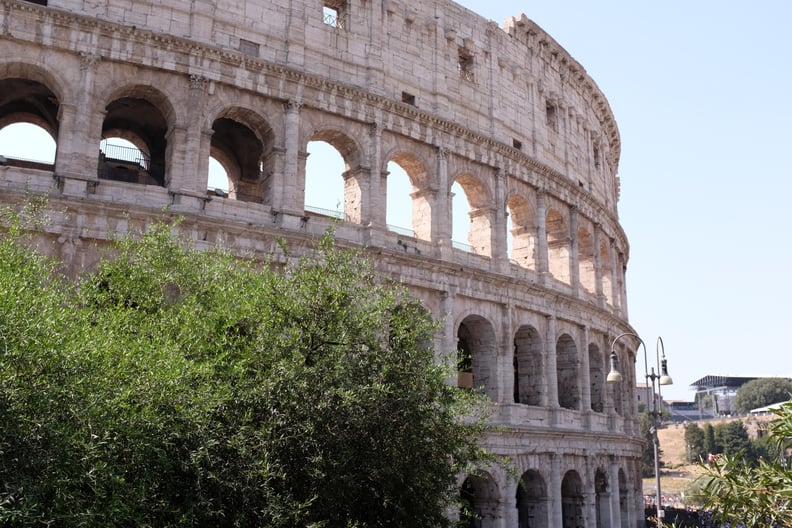 You visit way more than a couple of tropical locales.
No hate to Castaway Cay, but Serenity Bay's got nothing on an afternoon in Rome. If you love to explore new cultures and experience places you've only seen in photos, overseas itineraries on the Disney Magic — the only Disney Cruise Line ship to go on European itineraries through the Mediterranean Sea, across Norway and the British Isles, and throughout Northern and Western Europe — are the ones to book. Each day brings a new jaw-dropping city, and with it, an action-packed escapade that'll cram a ton of travel into a short period of time.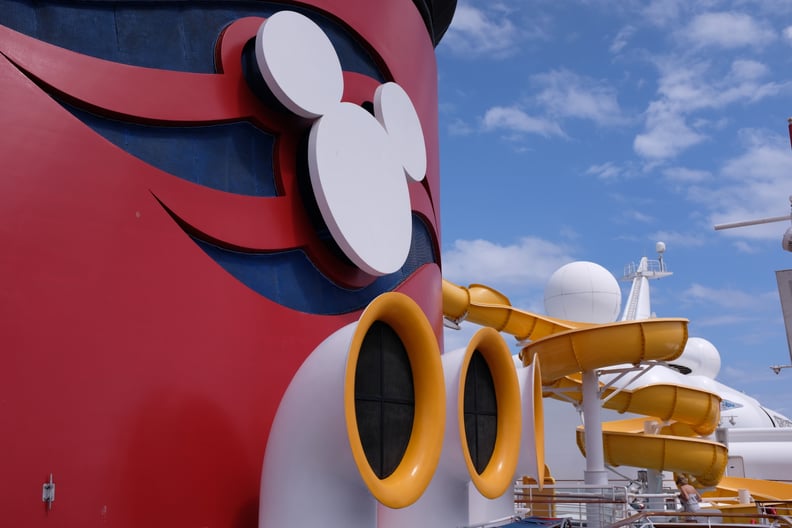 You still get your Disney time in.
When you're off the ship, you're having an international jaunt, but when you're back on board, it's chock-full of those Disney Cruise Line favorites, letting you cram a multicountry trip and a relaxing Disney vacation into one week. I would have been crushed to take the bus back from a picturesque excursion to Italy's Cinque Terre had I not been so looking forward to seeing Tangled: The Musical that evening or bid my time overseas adieu without a full day at sea. It's a funny juxtaposition, but being able to do both at once really feels like you've maximized your free time and spending.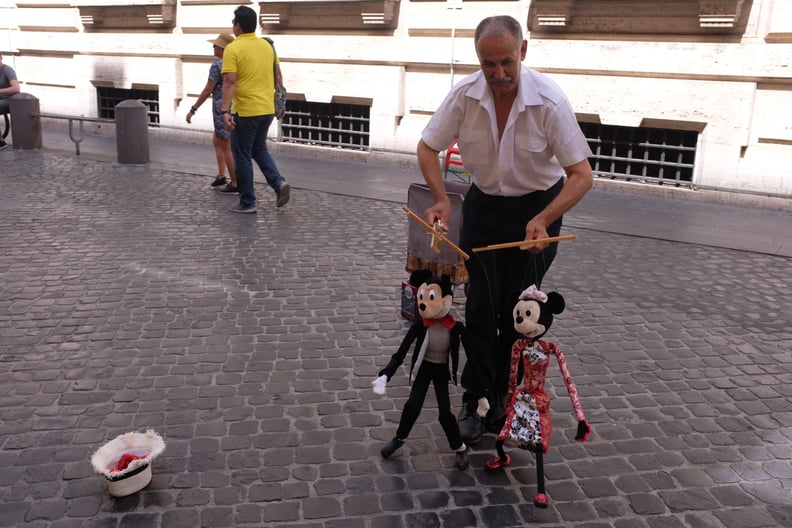 It's just a fun way to see the world.
Hurry back on board after a day on my own in Cannes to give Goofy a hug? Don't mind if I do! You can dance along with Mickey and Minnie as the ship leaves Barcelona, slide down the AquaDunk before enjoying the day in Florence, or have a soft-serve cone while watching Big Hero 6 as the ship sails the Mediterranean Sea. With all the entertainment, themed nights, stage shows, pools, and activities offered on board, time spent on the ship feels nothing like travel.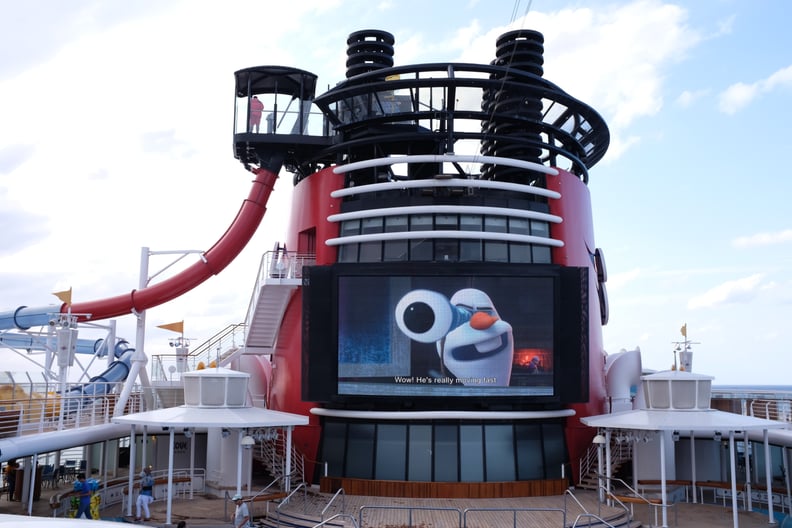 Disney Cruise Line makes everything so easy.
If traveling internationally is not your forte — which is fine! — having a home base is so nice. You won't need any travel adapters since the plugs are American, the staff is extremely friendly, and all signs, announcements, and programming are in English. (And, well, stopping at multiple countries without having to repack a suitcase is pretty good, too!)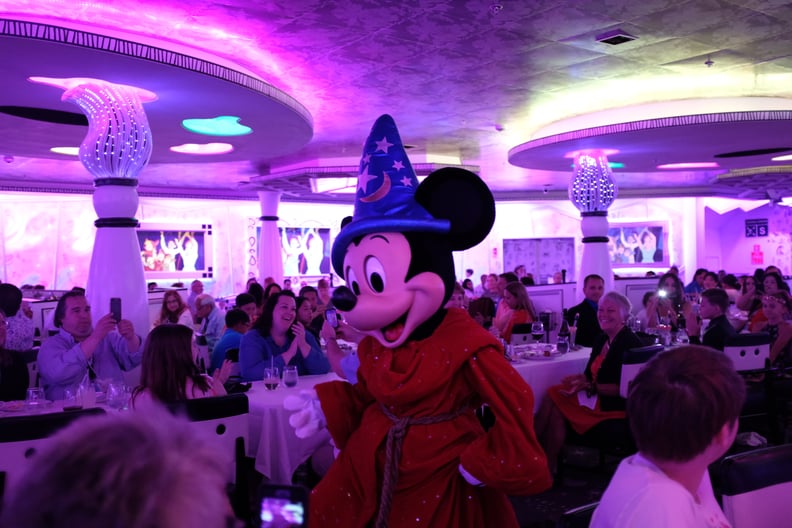 By the middle of the week, you'll appreciate the familiarity.
Hearing that "When You Wish Upon a Star" chime before ship announcements, seeing your server's friendly face at a rotation of restaurants each night — it all just makes it feel like you're truly coming back home after a long day of adventuring.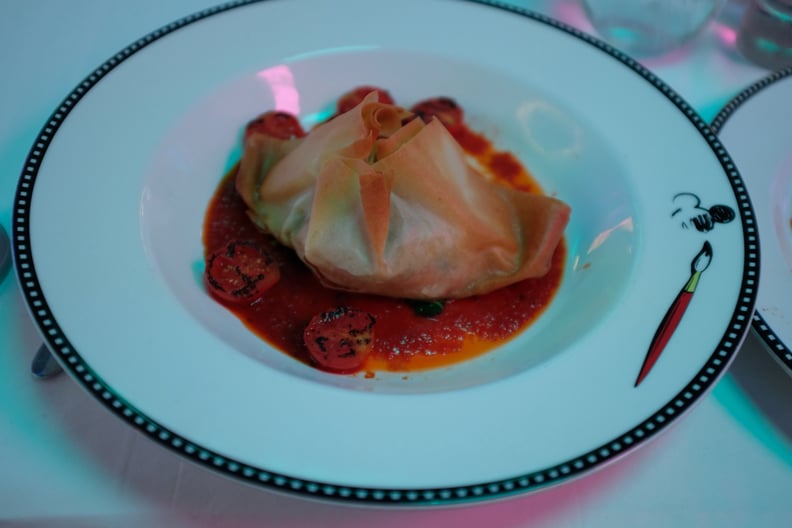 The food is, as always, pretty freaking good.
I was a little bummed at first upon realizing we'd set sail at dinnertime each night, but after a meal of puff-pastry-wrapped halloumi, black bean cakes, and whipped-cream-dunked Mickey Bars on the Disney Magic, that problem all but disappeared. There were even some international cuisines served up that I hadn't seen before, like Indian specialty dishes at Cabanas that were divine. Being on board at a reasonable time guarantees you'll be rested and ready for another jam-packed day in Europe's greatest cities and won't crash from being overtired.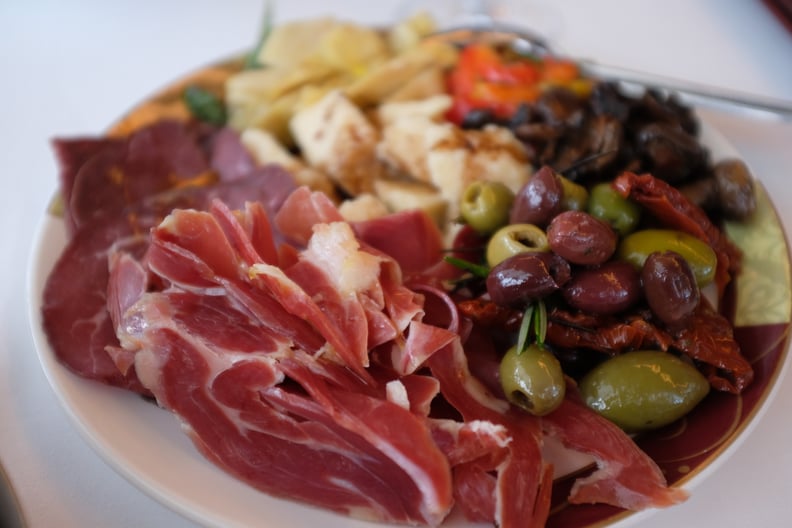 And then, of course, there's Palo.
Now, I've eaten at Palo — one of the restaurants on board — before, but this time on the Disney Magic was perfection, and not just because that antipasti plate cannot be beat. I had the most delicious fried shrimp of my life, took down an order of gnocchi and a delightful whole fish served with brown butter, and definitely ate both souffles that landed at the table. I still can't believe that it was one of my three favorite meals of the trip, and the other two in Barcelona and Rome took hours of foodie research. The hype is real.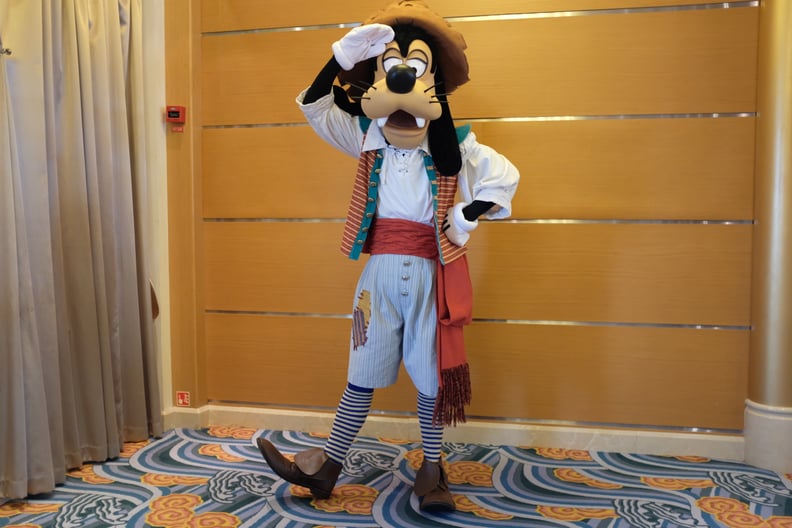 But the worst part will be saying goodbye.
I'd gotten so used to experiencing worldly monuments, Donald Duck, and the Rainforest Room saunas all at once that having to head to the airport was a massive bummer. Thankfully, I booked a trip to Disneyland Paris immediately after — what can I say, I'm obsessed! — but closing the book on a whirlwind international journey like that was rough. Thank goodness there's always Instagram and my steady stream of #TBTs, because I've got memories and I'm ready to share 'em forever.