Christmas - Sour Cream Cookie cutter Cookies with Stevia (Sugar + Gluten free)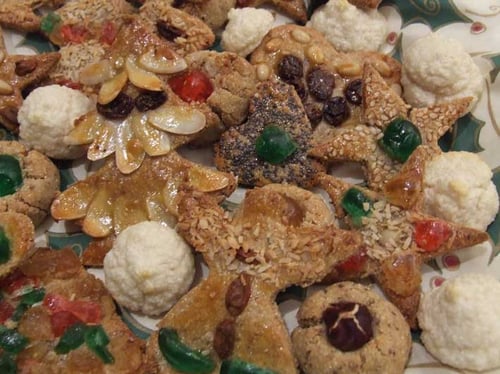 Paleo Christmas Cookies with super food toppings, YES you can have christmas treats without the sugar crash after indulging.
By sweetening your cookie dough with natural stevia-sweetsweetener, you save calories and make the treat more blood sugar friendly.
Now, you probably think: how am I going to make the biscuits look nice without using icing sugar or other artificial biscuit decorations?
I was panicking about that too, especially since I had booked the christmas cookie making Sunday with a friend weeks and weeks back before I had stopped eating gluten and the occasional refined sugar treat i.e. ice cream.
I have been on a Paleo way of eating for a few weeks now, and I am feeling so good I did not want to wreck all the good work the healthy food has already done for my wellbeing.
The challenge of decorating cooking paleo style and sugar free ,  I first checked if other people had already found solutions to the sugar free biscuit decorating problem, there was some inspiration out there, using dried  fruit and nuts and seeds which looked like it might work with some creativity .
The list of possible ist of toppings is long, many textures, flavours and colours, no need ot have them all, just use what you have in the pantry.
I know glazed cherries are not particularly healthy( they are sugar balls)  but I got them just in case we needed more colour just in case the girls would not like to go all natural.
My next worry was how do you make this stuff stick? Does it not look boring and brown? – I think we girls made it work really well. We used an egg-wash to glue things in place, small seeds such a sesame or poppy seed can be rolled into the dough a bit with the rolling pin.
I put myself under even more pressure by inviting some more girls to join us for the fun. None of my friends had every tried stevia before, so all I could do is hope for an open mind and that my dough would turn out ok. Sadly, I had to make the dough before they arrived, so they did not get to see the whole process, but there really is no magic involved. We did do some stevia powder tasting, straight out of the tub, – "oh wow that is sweet" was the reaction, none of the 3 girls said that they hate it, which was a great start. I was so glad that they are not very fussy with what they eat, it just makes it so much easier.
I also took some of these biscuits to the guy who keeps my muscles working (sports massage), he had never tried stevia sweetened baked goods, he loved them, kept going back for more – I should have brought him more than the small selection I took. It is great when I get to test my stevia baking on other people than my fussy husband, it's the only way of finding out if the recipe is suitable of the larger population who are not yet accustomed to stevia sweetening. -THESE BISCUITS ARE DEFINITELY A SUCCESS!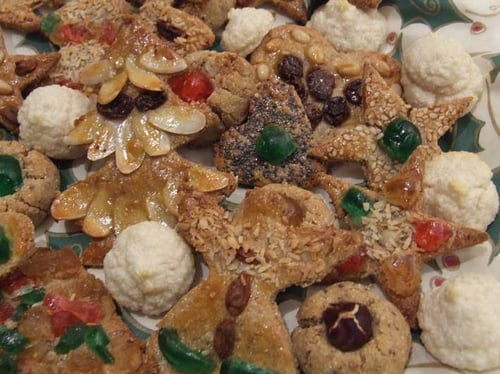 Christmas - Sour Cream Cookie cutter Cookies with Stevia (Sugar + Gluten free)
From my mum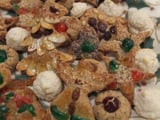 Ingredients
Cookie Dough:
100g Sorghum flour
100g ground Hazelnuts
200g chestnut flour
50g Almond flour (ground Almonds, preferably un-blanched but those are hard to get hold of)
50g coconut flour
6 tbsp sour cream
200g unsalted Butter
2-4 knife-tips Stevia-sweet 90% powder dissolved in 1 table spoons hot water
NOTE: you can use different ratios or normal flour to make this recipe too, just use 500g ideally whole meal flour, if the dough is too wet just add extra flour.
Sugar Free Decoration:
-sesame seeds
-pine kernels
-sliced almonds
-desiccated coconut
-golden yellow raisins
-brown raisins
-poppy seeds
-Glazed cherries in yellow/ green/ red (Note: using these will stop the biscuits being sugar free, if you are sharing with others that don't care, do some with and some without.)
-goji berries (they are nice and red)
-macadamia nuts
-hazel nuts
I halved the flour after mixing it, flavouring one half with christmas spices and the other classic vanilla.
A) couple of drops vanilla extract
B) 2 tsp Lebkuchen spice or All spice/ pumpkin spice + 1 tsp cinnamon
For the Egg wash:
2 egg yolks
1 tbsp milk
1-3 knife-tips Stevia-sweet 90% powder dissolved in 1 table spoons hot water
Directions
Prep time: 10 min
Cool time: over night or at least 2 hours in the fridge
Cookie cutting & Decorating: 30-60 min
Baking time: 12-15 min at 180 degree Celsius
Cooling time: 15-30min
Note: getting the sweetness to the desired level is a matter of trial and error, the best thing is to start with a smaller amount of whatever Stevia you have on hand, it can be ready-use, liquid or tabs (need to be dissolved too), adding more is easier than diluting – you could end up with a huge amount of treat -Don't have any Stevia yet? – you can always use normal sweetener products until you are set up.
1) Mix all the flours together, decide if you want to make two different flavoured batches, separate equally between two bowls.
2) Add the spices to the batches, mix well. (I halved the flour after mixing it, flavouring one half with christmas spices and the other classic vanilla)
3) Melt the butter, and add the dissolved stevia here, mix well, then distribute evenly between both bowls (I used the scales, I was scared that I'd wreck one batch by making it too wet or too dry).
4) Spoon in the sour cream, mix well, get your fingers in, you can lick them off after.
5) Form into a lump and cover in cling film or leave in the bowl, place in fridge, ideally over night, the butter fat needs to harden out again to glue the flour together and stop the dough from sticking and crumbling.
7) Make Eggwash:
Mix the egg yolk with the milk and the dissolved stevia. (We made some more of the Almond Maccaroons that I have posted the other day with the spare egg whites, oh man! They are so good, they were gone in a flash.)
8) Remove the dough about 30-60min before using from the fridge to let it soften a little.
The dough behaves remarkably similar to normal sugar cookie dough. Roll it out as usual, you dont need any additional flour, just do the rolling and cutting on greased paper and avoid moving the cookies around too much.
We just worked on one sheet each and pushed the finished decorated biscuits to the side.
Use the  egg wash with a brush to apply to cut cookies before decorating further. There were so many options for decorating, we had a bit of competition going on there.
Did I say the recipe makes 68 cookies, it might be a few more, I think I saw a couple of us keep tasting the dough during cutting and decorating.
They all looked really nice, but best of all they tasted nice too, raw and cooked.
9) Bake the decorated cookies in a pre- heated oven (180 Celsius)  for 12-15min.

Keep turning every 5 min to get even brown colour. The cookies stay slightly soft to touch, don't worry about it, they are ready when they have a bit of colour on them.
10) Leave to cool. They will harden to normal cookie texture during cooling.
11) keep on plate, not tryed to store them for long, they are to yummy to keep them. - they do last a few days if the are kept dry and don't sweat.
Information
Category

Desserts, Cookies

Cuisine

Other