Green Lentil, Potato & Ham Soup
Green Lentil, Potato & Ham Soup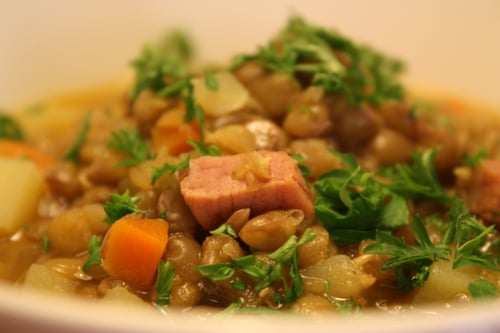 Green Lentil, Potato & Ham Soup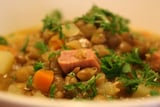 Ingredients
300gr/10 1/2oz Puy lentils
2 tsp butter
1 large onion, finely chopped
2 carrots, finely chopped
1 garlic clove, finely chopped
450ml/2 cups water
1 bay leaf
1/4 tsp dried sage or rosemary
225gr/8oz potatoes, diced
1 liter/4cups chicken stock
1tbsp tomato puree/paste
124gr/4oz smoked ham, finely diced
salt and pepper
chopped fresh parsley to garnish
Directions
Rinse and drain the lentils and check for small stones.
Melt butter in a large saucepan or flameproof casserole over a medium heat. (I used a Le Creuset pot.) Add the onion, carrots and garlic, cover and cook for 4-5 minutes until the onion is slightly softened, stirring frequently.
Add lentils to the vegetables with the water, bay leaf and sage or rosemary. Bring to the boil, reduce heat, cover and simmer for 10 minutes,
Add the stock, potatoes, tomato puree (paste) and ham. Bring back to a simmer. Cover and continue simmering for 25 - 30 minutes, or until the vegetables are tender.
Season to taste with salt and pepper and remove the bay leaf. Ladle into warm bowls, garnish with parsley and serve.
Information
Category

Other, Soups/Stews

Cuisine

Other