Hot Chocolate Chili Cookie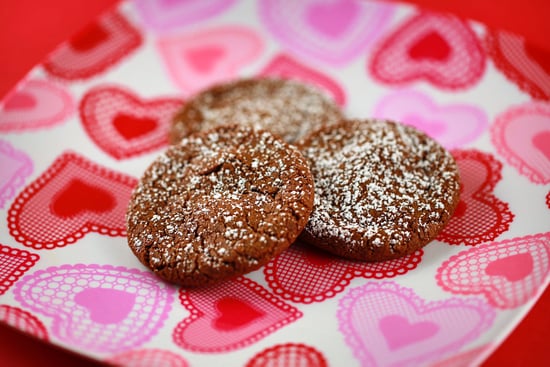 Decadent, sweet and a hint of spiciness… chocolate, chili and cinnamon are the perfect trio of flavors, especially when delivered in the form of a hot chocolate chili cookie! The star of this hot chocolate chili cookie is the dark bittersweet chocolate; it balances the sweetness of the dough, and mello's the heat of the chili. I recommend a 60% cacao, the richness of the chocolate, balanced with the slight bitter bite and lingering notes of coffee is heavenly! I'm pretty sure I ate at least a handful as I was making this batch of cookies!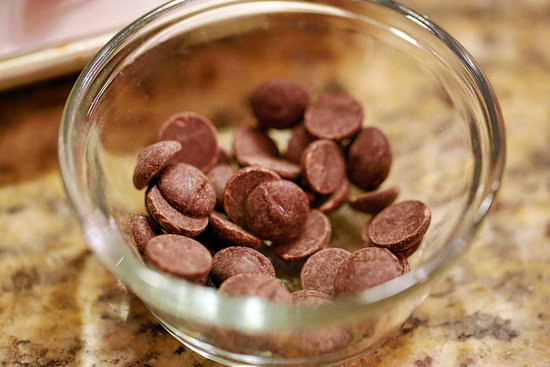 To make these cookies even more delicious, I like to add two large bittersweet chocolate chips to each dough ball and roll them inside before baking. I flatten the surface of each cookie dough ball before baking to yield a more even surface after cooking. The hot chocolate chili cookies are ready in about 10 minutes, once the surface becomes "crackled" and the edges begin to set. If the cookies have not finished baking at 10 minutes, recheck after each additional minute. The cookies are cooled on the hot tray for two minutes to finish setting, then cooled completely on a cooling rack.


These hot chocolate chili cookies are the perfect sweet addition for Valentines day, so don't be shy, share them with people you love! These chocolate chili cookies melt in your mouth and tastes just like a cup of rich Mexican hot chocolate, with a spicy lingering kick! The texture is slightly crispy around the edges and chewy in the center, perfect for dunking into your favorite hot beverage. They are best eaten right away because the center is still warm and gooey. Make them, you won't regret it!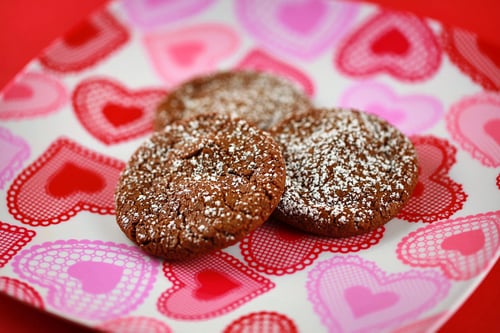 Hot Chocolate Chili Cookie
http://www.jessicagavin.com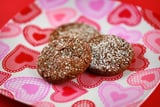 Ingredients
COOKIE:
5 ounces bittersweet chocolate (60% cacao, chips or coarsely chopped)
¾ cup flour
¾ teaspoons ground cinnamon
¼ teaspoon baking powder
¼ teaspoon salt
Pinch of black pepper
Pinch of ground chili powder
1 ¼ cups sugar
¼ cup butter, softened
1 large egg
1 teaspoon vanilla extract
1 tablespoon honey
4 ounces dark chocolate chips, optional
TOPPING:
¼ cup powdered sugar, sifted
¼ teaspoon ground cinnamon
Directions
Total Time: 40 minutes
Yield: 24 cookies
Preheat oven to 350°F.
Place chocolate in a small glass bowl (I recommend a pyrex measuring cup). Microwave on high for 30 seconds and stir gently. Heat for an additional 30 seconds, then stir until completely melted. Allow the chocolate to cool to room temperature.
Measure ¾ of a cup of flour, then sift.
Combine flour, cinnamon, baking powder, salt, black pepper and chili powder; stir together with a whisk.
Combine sugar and softened butter in a large bowl or mixing bowl. Beat with the paddle attachment at medium speed until well blended. Add the egg and beat well. Add cooled chocolate, vanilla and honey; combine until just blended.
Add flour mixture to the wet ingredients, and mix until just combined. The dough will have a stiff texture.
Line a cookie sheet with parchment paper.
Measure out 1 heaping tablespoon of the dough,. If desired, add 2 chocolate chips in the center, and then roll gently into a ball.
Place each cookie 2 inches apart on the baking sheet. Slightly flatten each ball to achieve a flatter cookie after baking.
Bake for 10 minutes or until almost set. Check the appearance of the cookies after each additional minute; the cookies will change appearance very quickly. The cookies are done baking when the surface appears crackled. Remove from oven.
Cool the cookies on the pan for 2 minutes or until set. Remove cookies from the pan and cool completely on a wire rack.
For the powdered sugar topping, sift the powdered sugar together with the cinnamon, stir to combine.
Using a sifter, gently sprinkle each cookie with a small amount of powdered sugar topping.
Information
Category

Desserts, Chocolate

Cuisine

Mexican