Sauteed Seitan with Mushrooms and Spinach
Oh wow...talk about yummy vegan comfort food! This was so satisfying, delicious and a breeze to make. I used the stir fry style seitan that had a very beefy taste and texture. I served it over mashed potatoes (YUM!!), but you can also use quinoa or rice.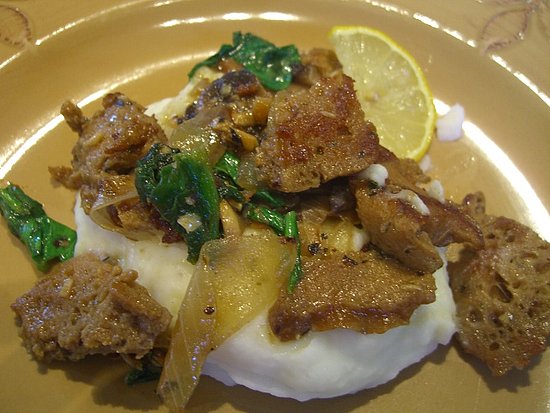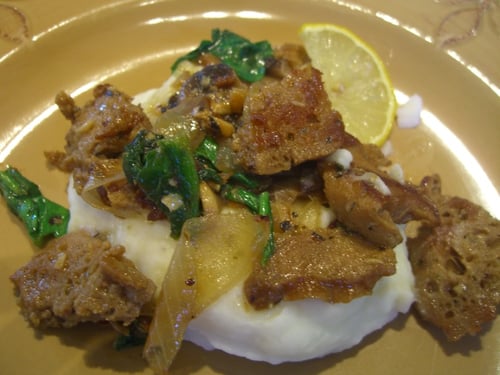 Sauteed Seitan with Mushrooms and Spinach
Veganomicon Cookbook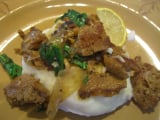 Ingredients
1 Tbs olive oil
2 C seitan, sliced on the diagonal into bite sized pieces (or use stir fry style)
1 small onion, sliced into thick half-moons
2 C sliced white or cremini mushrooms
3 cloves garlic, minced
1 tsp dried thyme
1/2 tsp dried basil
1 tsp salt
Several pinches of freshly ground black pepper (I left this off--not a fan of black pepper)
1/4 C white wine
1/4 C vegetable broth
6 C spinach (Recipe didn't specify if it should be chopped and since I had large-leaf spinach, I coarsely chopped it and I also used about 4 cups, thinking 6 was overkill, but it cooks down quite a bit).
Lemon slices
Directions
Preheat a large, lidded skillet over med-high heat. Saute the seitan for about 2 mins. Add the onions and saute for another 5 mins, until softened, covering the pan but lifting to stir occasionally, to make the seitan and onion cook faster.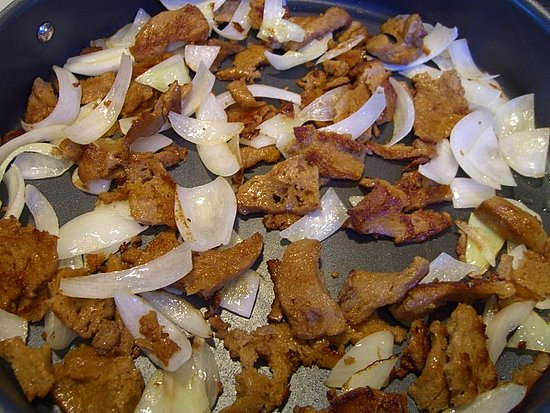 Add the mushrroms, garlic, thyme, basil, salt and pepper and saute for another 8 mins, again covering but occasionally stirring.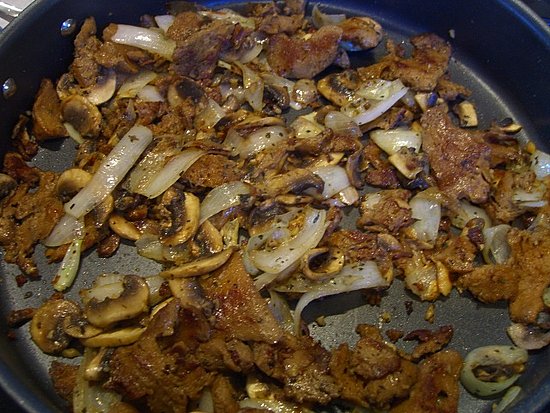 Once the mushrooms are cooked and soft, add the wine and broth. Add the spinach in batches and combine.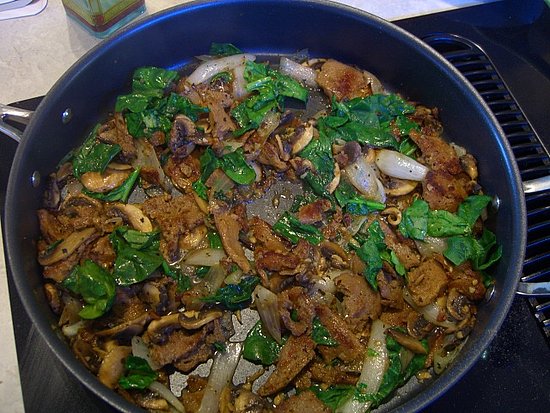 Serve immediately with slices of lemon (which is a really nice added flavor). I will definitely be making this again and agiain--it was hit with the fam. Enjoy!
Information
Category

Other, Main Dishes