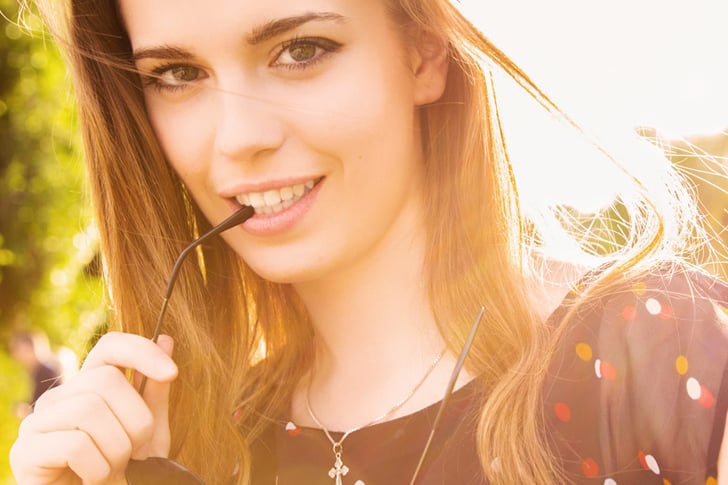 Makeup artist and Simple Advisory Board member Gita Bass shares some surprising results from Simple Skincare's recent survey of women's skin care habits.
Let's face it — it can be all too easy to cut corners on skin care when you're constantly on the go. While it may seem harmless to skip applying moisturizer or washing our faces when busy schedules or late nights get the best of us, these habits have a noticeable impact on our skin's health and appearance. Luckily, with the right products and a sound strategy, a glowing complexion is not hard to achieve and maintain.
As a celebrity makeup artist and a member of the Simple Advisory Board, I believe in a holistic approach to skin care — what's left out is as important as what's put in. A new survey from Simple Skincare asked women how lifestyle and environment impact their skin health. The survey uncovered dirty truths about how busy city lifestyles may be affecting skin care routines. Here, five surprising results and my top tips for keeping skin healthy and glowing, even with a jam-packed schedule.
Less than four in 10 (37 percent) women are actively trying to stick to a skin care routine at the moment. Let's let that sink in for a second. This number is surprisingly low as every woman should have a steady skin care routine that's rooted in twice-a-day cleansing and moisturizing to maintain skin's health and appearance.
More than a quarter (27 percent) of women report that the longest they've gone without washing their face is at least two days. Wow! From a beauty perspective, I was shocked to learn this statistic. That's similar to going two days without brushing your teeth. As a professional makeup artist, I can attest that this is a surefire way to damage the look and feel of your skin. Great skin is the first step to beautiful makeup, so having a consistent skin care regimen is key.
Nearly 30 percent of women don't always moisturize before applying makeup. A lightweight moisturizer is the first step to achieving fresh and naturally glowing skin. If you haven't already, definitely try the new Simple Ultra-Light Gel Moisturizer — it instantly hydrates skin and creates a gorgeous base for lightweight Summer makeup.
Thirty percent of women go to bed with their makeup on. This big-time skin care sin steals away your skin's critical resting time (they don't call it "beauty sleep" for nothing!), while environmental pollutants, which can stick to makeup, cause oxidative stress on the skin and a decrease in collagen production. Simple Skincare makes implementing a cleansing routine a cinch with Simple Cleansing Facial Wipes. Keep them in your nightstand so you can simply reach over and remove makeup in a pinch, allowing your skin to breathe at night.
Want more proof that you should lock down a skin care routine ASAP? Check out this time-lapse video depicting the potential effects city living can have on a woman's face in just 14 days on the Simple Skincare YouTube channel. Women looking to improve their holistic skin care habits can receive location-based tips and product recommendations from the Simple Advisory Board by using the Simple Skin Forecaster tool and join the #KindToCitySkin conversation at @SimpleSkincare on Twitter!