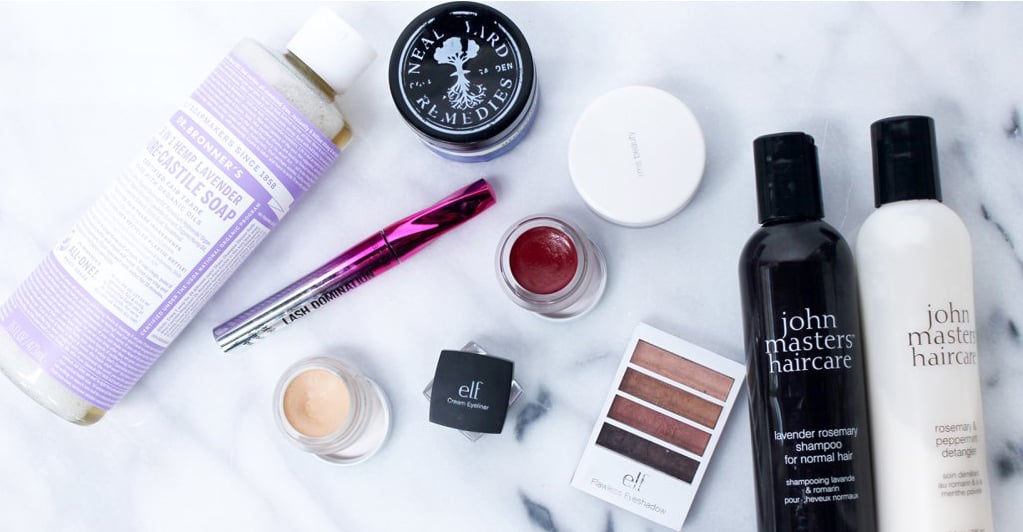 Image Source: POPSUGAR Photography/ Lisette Mejia
Best Non-Toxic Makeup
What Happened When I Tried Nontoxic Makeup For 90 Days
I love makeup and make no apologies for it. I consider makeup a tool for boosting my mood or highlighting my favorite features, but I recently started to question my embrace of it. While listening to my local NPR station, I heard experts discussing a recent study about chemicals in cosmetics. I thought: could my form of self-expression be dangerous?
In the HERMOSA study, researchers at the University of California Berkeley examined the connection between personal care products and the presence of "hormone disrupting" chemicals in the body. The researchers decided to study chemicals commonly found in cosmetics due to their potential links to cancer, infertility, and developmental harm in children. Enrolling 1,000 Latina girls, the study found that when the teenagers switched to cosmetics that did not include these chemicals — like phthalates, parabens, triclosan, and benzophenone-3 (BP-3) — the presence of the chemicals in their bloodstreams dropped within three days of abstaining.
The study suggested that consumers can see a relatively quick and positive impact on their health by choosing "personal care products that are labelled to be free of phthalates, parabens, triclosan, and BP-3." So, I set out to see how easy it would be to make the switch.
"These are controversial chemicals," said UC Berkeley's Dr. Kim Harley, who worked on the HERMOSA study. She explained that while they are legal to use and deemed safe by the FDA, "we're starting to get evidence from human studies that these chemicals may have long-term health effects."
The hormones produced by our bodies cause a range of bodily responses, like reproductive development, brain development, and metabolizing fat, according to Harley. The problem is that man-made chemicals, including phthalates and paraben, can behave like hormones and bind with our hormone receptors, blocking the role of natural hormones. This interferes with our normal bodily functions. The risk of this happening is especially troublesome for children, teenagers, and pregnant women. Harley says: "The times we may be more susceptible to hormone disruptors are during times of rapid growth and development."
"Chemicals in the products we put on our bodies are getting into our bodies." — Dr. Kim Harley
As for the FDA, the agency has reviewed third-party literature on chemicals like parabens and phthalates and says they are safe to use in cosmetics. But according to Harley, there are issues with the research the FDA is reviewing. Harley points out that it mostly involves testing on animals and there are big gaps in knowledge. "At this point," Harley says, "my opinion and the opinion of many scientists is that there are enough questions about what these chemicals do for us to be concerned."
The bottom line for Harley is that "chemicals in the products we put on our bodies are getting into our bodies." The bright side? Her study found that consumers can avoid these chemicals by simply reading ingredient labels. Harley told me that in the HERMOSA study "we weren't doing any special testing that only scientists can do. We said, we're going to go to the store, look at the ingredient list, and go for the brands that don't have the chemicals we're concerned about and that generally have fewer chemicals." Through urine tests, Harley explains "we found that when girls did smart shopping, their levels went down on average between 25 and 45 percent after three days."
I felt relieved that you could swap out your products for safer ones and see a relatively quick reversal in potentially dangerous chemical levels. Looking at my makeup bag and vanity with this new information, it was time to rethink what products I use.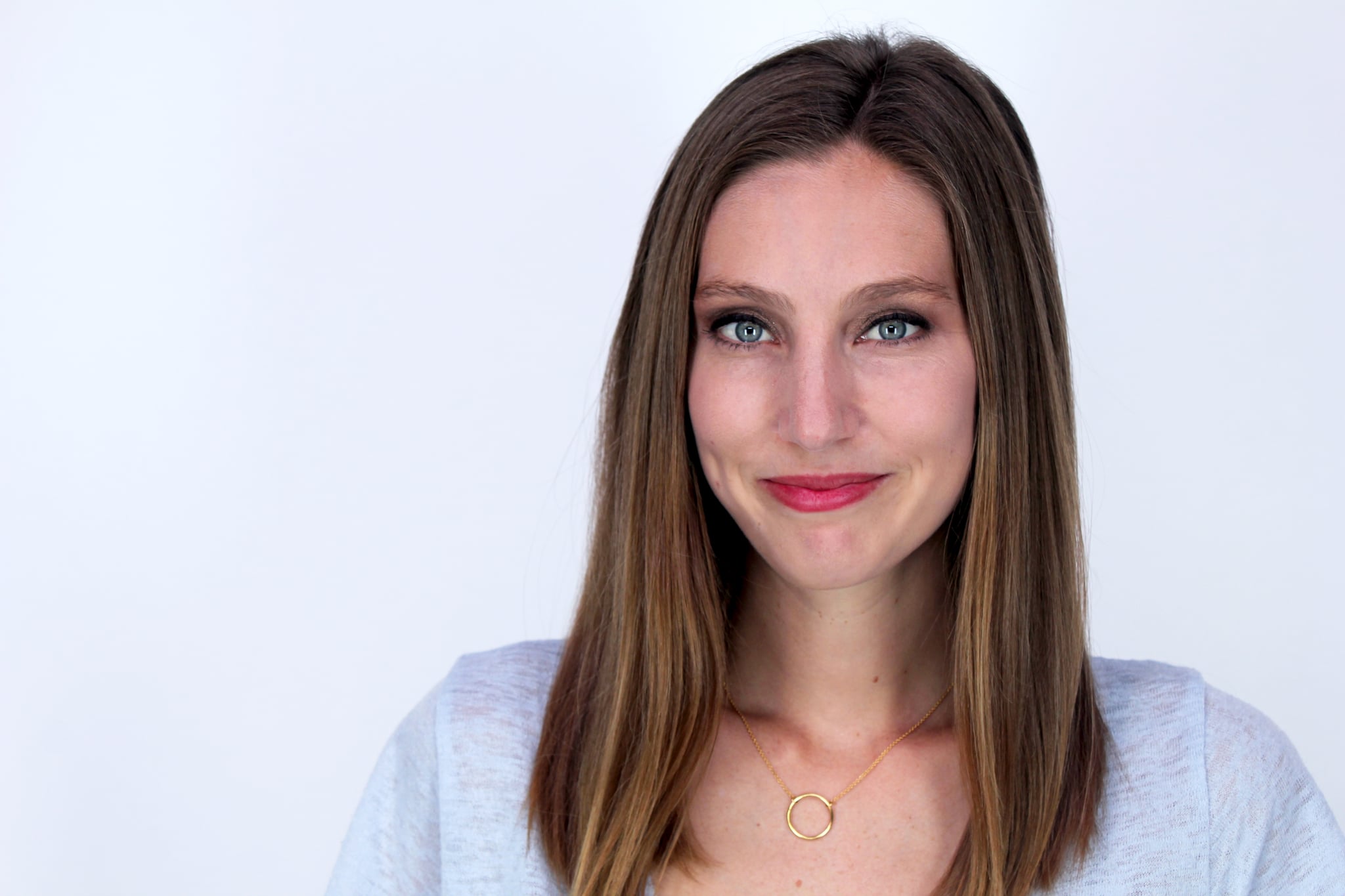 Image Source: POPSUGAR Photography/ Lisette Mejia
Building a Safer Makeup Bag
I began by researching a safe cosmetic "starter kit," focusing on the body, shower, skin care, and makeup products I use on a daily basis. The FDA has shockingly little authority over cosmetics (more on that later), and my research taught me that terms like organic, eco, natural, and nontoxic have no legal or regulatory meaning when it comes to cosmetics.
Luckily, there are helpful online resources and apps like Think Dirty (available on iPhone) that help consumers understand what exactly goes into the products they use. The Environmental Working Group, a nonprofit, nonpartisan organization that is "dedicated to protecting human health and the environment," also researches environmental health issues, like pesticides, GMOs, and chemicals in consumer goods. As part of their work, EWG powers the Skin Deep database, cataloging more than 60,000 cosmetic products. While the HERMOSA study focused on hormone disruptors, cosmetics can include other harmful chemicals, and Skin Deep screens for those as well.
Terms like organic, eco, natural, and nontoxic have no legal or regulatory meaning when it comes to cosmetics.
In EWG's Skin Deep database, each product is given a "hazard score" from 1 to 10, and the site breaks down the ingredients used by each brand or product. Anything with an overall score of 1 or 2 is considered "low hazard." EWG also has a Healthy Living app (available on iPhone and Android), which allows you to scan a product's barcode to pull up a rating. When creating my starter kit, I included any products that achieved a score of 1 or 2.
Using the Skin Deep database as my jumping-off point, I started exploring brands and items to fill out my new makeup bag. Just because I was going "safe" didn't mean I was opting for a bare face. I needed eye shadow, eyeliner, mascara, foundation, concealer, lipsticks, and lip glosses. Luckily, some products from easily accessible brands, like e.l.f., made the cut. (Added bonus: e.l.f. is cruelty free.) My search also introduced me to new luxe-feeling specialty brands like BeautyCounter and RMS.
I also saw my local supermarket with fresh eyes. Instead of chemical-packed scented lotions, I opted for almond oil from the cooking aisle, which is hydrating but not too greasy, and I turned to my local Whole Foods for shampoo and body wash. During my research, I asked Maren Giuliano, Whole Foods's executive whole body coordinator, what standards the store uses when selecting cosmetics. She told me that the store screens for 50 ingredients that could have negative health or environmental impacts, including phthalates, microbeads, triclosan, BHT, BHA, and aluminum chlorohydrate; anything with those are not allowed on the shelves.
The Results: Did the Products Work?
Despite nerves about giving up my favorite eye palettes and lipsticks, I was pleasantly surprised by the quality of safe cosmetics. RMS's UN cover-up ($36) had a silky texture and made blemishes disappear, and the coverage lasted all day. I also appreciated that its Lip2Cheek ($36) product could be used as lipstick and blush, convenient for traveling light. When I used e.l.f.'s shockingly inexpensive Flawless Eyeshadow in Golden Goddess ($2), I got multiple compliments from my coworkers on my eye makeup. I did have to try a few shampoos and conditioners before I found one I liked (John Masters Organics Lavender Rosemary Shampoo for Normal Hair ($16) and John Masters Organics Rosemary & Peppermint Detangler ($16)). But once I did, I was happy with the way it left my hair and enjoyed the mint and rosemary scents.
Making the switch to safer cosmetics didn't feel like a sacrifice, and I didn't see a huge difference between conventional and low-hazard makeup. Now I'm excited to explore more products from some new favorite brands.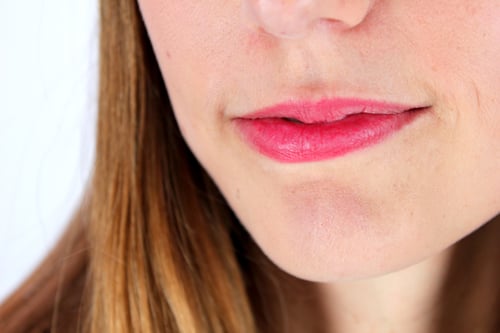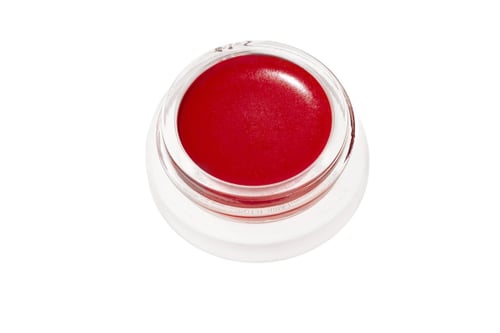 Image Source: RMS , POPSUGAR Photography/ Lisette Mejia
Efforts to Improve Regulation
The biggest downside of my safe makeup starter kit was that the research took a lot of time. That's why groups like EWG are pushing the FDA to change current regulations. Tina Sigurdson, the assistant general counsel for EWG, told me that the federal law governing cosmetics has gone largely unupdated since 1938. "There's no actual requirement that companies substantiate the safety of their products before they sell them." That is scary — and true. Lauren Sucher, a press officer for the FDA, confirmed the lack of oversight via email: "The FDA does not have the legal authority to approve cosmetics before they go on the market."
Today, the FDA can only take action against a cosmetic on the market if they have reliable information that the product does not comply with existing laws. According to the FDA, the burden is on the agency, not the product maker, to show that it is harmful to consumers when used according to labelled directions or the customary way.
Because the industry has been unregulated, it's hard to know what ingredients are harmless and which ones could be connected to health issues like cancer, allergies, or reproductive problems. A proposed law, the Personal Care Product Safety Act, would attempt to add even minimal transparency. It would:
Require the FDA to study at least five chemicals per year.
Require manufacturers to ensure products are made in a clean environment.
Require companies register their facilities, products, and ingredients with the FDA.
Require companies report serious problems to the FDA within 15 days.
Close loopholes for cosmetics sold in salons and online.
Sigurdson told me that the proposed law has bipartisan support in Congress and is supported by both consumer and industry groups. Brands like L'Oreal, Revlon, Johnson & Johnson, and Procter & Gamble have also joined groups like EWG to support it. These brands already have to conform with stricter regulation in places like the European Union. According to the Campaign for Safe Cosmetics, the EU law on cosmetics was last updated in 2013, and it bans or restricts more than 1,300 chemicals that are linked to cancer, genetic mutation, reproductive harm, or birth defects. Compare that to just 11 chemicals banned by the FDA. The EU also has more pre-market regulation and registration requirements for cosmetics.
Unfortunately, a recent survey found that a third of respondents already believe the FDA has basic authority over personal care products. "If you're a consumer in stores," Sigurdson says, "you're looking at a shelf, you assume, 'oh, FDA's already made sure this product is safe.'" Christine Hill, who also works for EWG as its director of government affairs, said it's crucial that the public has some insight into what they use. "We're talking about products that consumers use every day, maybe more than once a day, with the whole family," she explained. "These are products that are used more widely than any other things we have on the market today that are not directly regulated."
Image Source: POPSUGAR Photography / Lisette Mejia
How Consumers Can Drive Change
When it comes to changing the system, informed consumers are key, and there are signs they're becoming more savvy about the ingredients they put on their body. Whole Foods has been carrying safe and natural beauty products since it opened in 1980. But according to Giuliano, the demand is more alive than ever and the store's selection is growing. "Our buyers are always finding new, innovative products and working with suppliers to create exclusive product selections for us," said Giuliano "We've really expanded our private-label beauty products."
The quest to start a safe beauty starter kit has let me continue to experiment with makeup.
Thanks to the current regulatory reality, the FDA agrees that cosmetic consumers must be proactive about their safety. Sucher told me: "Because our authority is only post-market, one of our most important sources of cosmetic safety information is for consumers to report problems to us." Consumers can file a report online or by phone at 1-800-FDA-1088.
The quest to start a safe beauty starter kit has let me continue to experiment with makeup, this time with my health top of mind. As Dr. Harley explained, we don't know the long-term impact of chemicals in cosmetics yet, but there are steps that concerned consumers can take to avoid potentially hazardous ingredients. Good news for beauty junkies: one of those steps involves buying new makeup.