Candy Cane Manicure Tutorial
Deck the Halls With a Candy Cane Manicure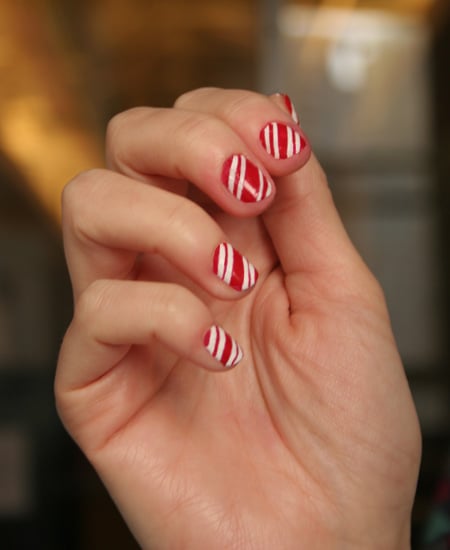 Candy canes are synonymous with the holidays, and nail art is hotter than ever right now. So what better way to celebrate than to fuse the two together with a candy cane manicure? It takes a bit of patience and a steady hand to create this festive, two-toned look, but once you get the hang of it, you'll have earned your stripes in no time. See how to do it when you read more.
Start by applying an opaque white nail polish color (we used Sinful Colors Snow Me White) as a base, using thin, even strokes. After the polish has dried completely, it's time to create stripes using painter's tape.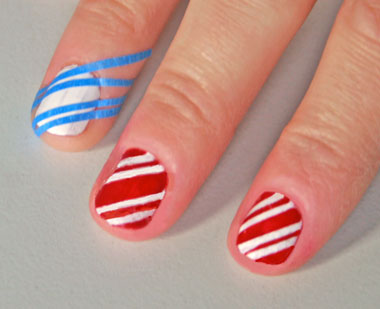 Cut four skinny pieces of painter's tape for each nail (about 1/16 of an inch wide and one- to one-and-a-half inches long). Next, apply two of the strips close together diagonally at the top of one of your nails. Repeat the same step toward the bottom of the nail, leaving a noticeable "gap" between the sets of stripes.
After all nails have been taped, polish each nail entirely with a bright red polish (we used Sally Hansen Insta-Dri in Rapid Red), and allow to dry completely before peeling off. Optional: use a clear shimmer top coat for extra sparkle.
Manicure adapted from Blue Tape and Nail Tips