Cane and Austin Miracle Pad Peel Review
This Miracle Product Is a Must Have For Peel Junkies
As POPSUGAR editors, we independently select and write about stuff we love and think you'll like too. POPSUGAR has affiliate and advertising partnerships so we get revenue from sharing this content and from your purchase.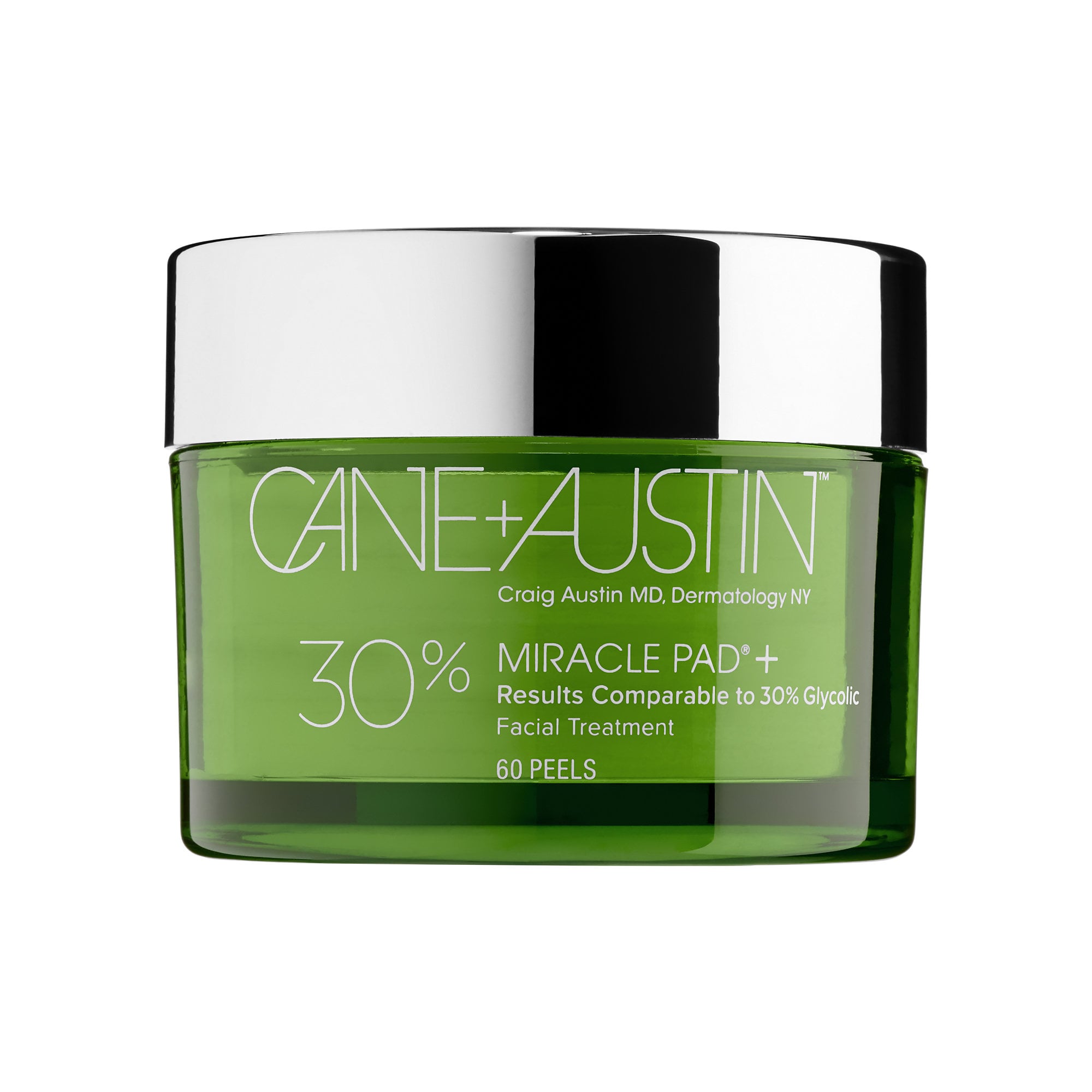 I'm not much of a risk-taker in my everyday life. I'll eat practically anything (food poisoning, be damned!) and wear blue lipstick in public, but if there's potential for pain, suffering, or bodily harm, I pass. I think my wonderful, sensible boyfriend is a complete lunatic for loving his skydiving experience, and I'm too terrified to ride with him on the back of a clunky, fume-spewing motorcycle. I get my adrenaline rushes elsewhere: I'm a skin care thrill seeker.
I've used expired fruit acid peels and given myself a mild chemical burn in the quest for better skin. I'll ignore warning labels and apply products more than twice a week. And I am wholly convinced that if a treatment freaking hurts, that means it's way more effective than one that doesn't.
That's why I was amped to get my hands on a jar of Cane + Austin's Miracle Pad+ ($88). Each little face wipe is soaked with a cocktail of alpha hydroxy acids and vitamins, but the star of the formula is glycolic acid, possibly the most celebrated and effective AHA.
In case you're unfamiliar with AHAs, let me give you a brief primer. Alpha hydroxy acids are powerfully exfoliative ingredients that work by breaking down the "glue" that binds the cells of your top layer of skin (which are dead and ready to be sloughed off). That dead skin is what causes your complexion to look dull and lifeless. Sugar cane-derived glycolic acid boasts the smallest molecule of all the AHAs, so it can penetrate deep into your skin. This promotes cellular turnover, which smooths out fine lines, causes pores to purge sebum and grime (more on that later), and leaves you with a fresh, polished face. That makes glycolic acid a popular choice for chemical peels of both the at-home and dermatologist-office variety.
A quick swipe over my skin provided an immediate, very powerful tingling sensation. I absolutely relished the minor pain and kept going, rubbing the pad in circular motions across my face, neck, and the back of my hands. If you have a sensitive complexion or shave your face, you'll want to use this product with caution or try one of the brand's gentler products. The light burning feeling subsided shortly after, which is when I started to inspect myself in the mirror. Not only was my face positively glowing, but it felt smooth to the touch. So smooth, actually, that I didn't recognize my own skin. It felt like a piece of satin fabric — seriously!
The product is meant to be used twice daily, and my results just kept getting more impressive. A small sunspot shrunk and faded. My pores got tighter. And aside from my ever-present dark circles, I barely needed foundation, as the redness around my nose was rendered practically invisible.
The only downside to using AHAs is the inevitable, though typically mild, breakout. These ingredients are causing the gunk in each pore to get pushed to the surface, which can cause pimples. In my case, I only suffered a few little bumps on my forehead that vanished after three days. They certainly didn't prevent me from getting my high off the addictive sting of the Miracle Pads+!
In fact, because the formula contains salicylic acid (a blemish fighter), the product is more likely stopping future pimples, rather than creating new ones. Thanks to the added bonus that this tiny wipe takes literally seconds to use and requires no rinsing, Miracle Pad+ has now found a permanent home in my daily regimen. If you like powerful, tingly skin care, it'll become a staple of your routine, too.