ColourPop x My Little Pony Makeup Collaboration
Giddy Up! ColourPop Launches a My Little Pony Collection
Hay is for horses, but the upcoming ColourPop x My Little Pony is for all of us. The cult-favorite brand that's famous for its bright, affordable makeup has officially teamed up with everyone's favorite rainbow horses. Go ahead, we dare you to take a gander at the My Little Pony x ColourPop collection and not feel nostalgic for your totally '80s youth.
We know this news is making your childhood dreams come true, so we're excited to say that even your 12-year-old self could afford this collection. Everything in this 12-piece release ranges from $5 to $22.
We're so glad that "Pony Palettes" are officially a thing — the Pressed Powder Eye Shadow Palette ($16) features 12 new shades all named after your iconic hoofed friends. Butterscotch, one of the OG horses, always said that "Friendship is magic," but her honorary opalescent rosy-white powder is pretty dang enchanting, too. Blossom got her own fresh, peach-gold chrome color, and Skydancer's official shade is a Winter-ready icy lavender look.
Along with the palette, there are also two Highlighters ($8): Trickles is a soft purple, and Starflower is a peachy gold.
Three more Super Shock Highlighters ($8) are coming for your beauty bag — we're especially obsessing over Cherries Jubilee, an opalesent, glittery hot pink.
New Ultra Matte Lips ($6) are coming, and Moondancer, a dark black plum, is the one goth exception to this otherwise soft, bright collection. Guess that shade is what ponies wear when they're feeling angsty.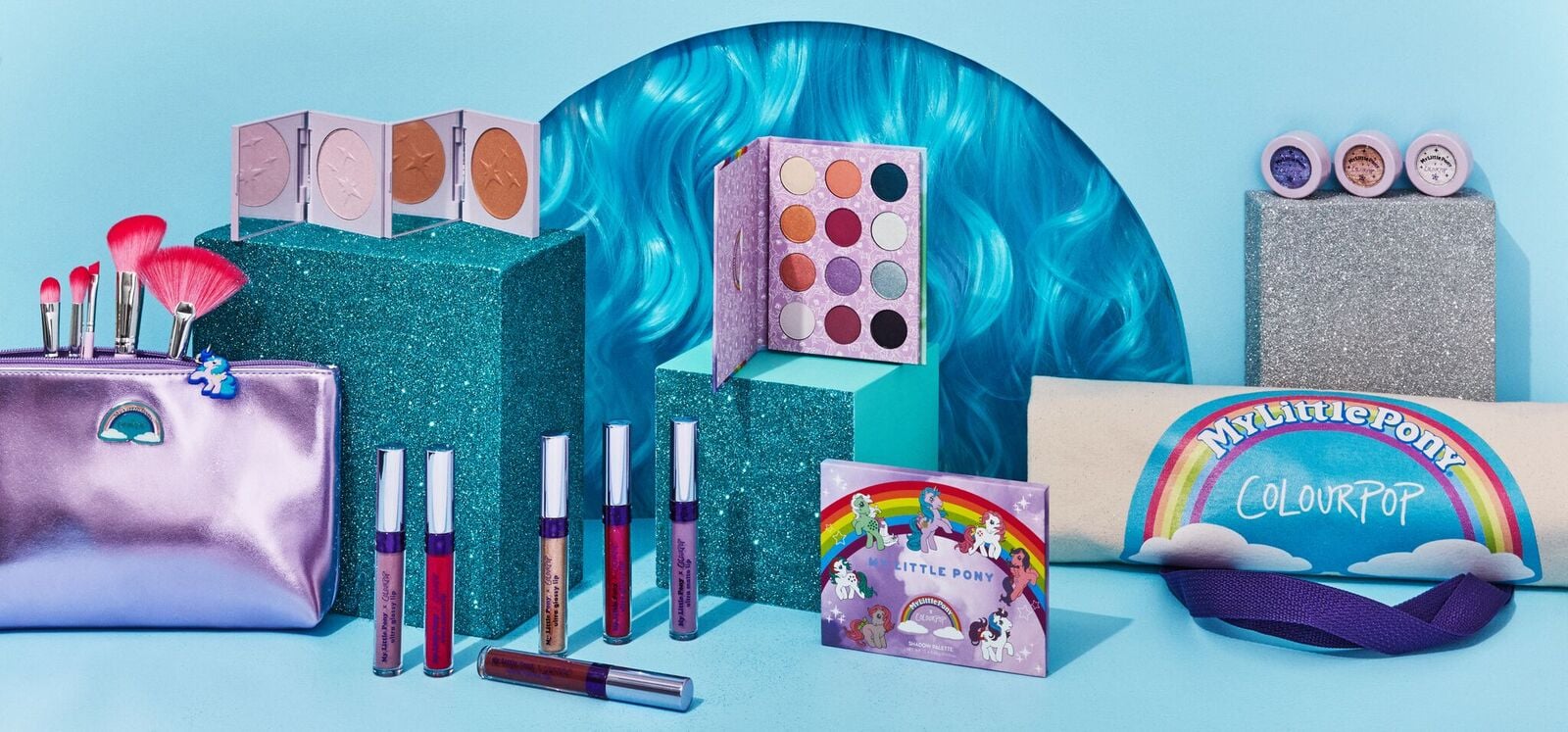 Along with the makeup, you can also get a Brush Set ($22), which includes five new brushes with hot-pink, fluffy bristles. Mermaids, watch out — these four-legged animals are coming for your throne.
Since that's a pretty huge haul, you'll need an on-point bag to carry it all in. Luckily, the folks at ColourPop were so kind enough as to release a Cosmetics Bag ($18) that's holographic silver with a pinch of purple — sealed with a rainbow design on the front.
If you're going to see the My Little Pony movie on Oct. 6, then be sure to pick up your swag before you hit up the theater. The My Little Pony x ColourPop assortment will be released on Oct. 5, one day before the film opens. Ahead, see every single product in this whinny of a collection.