Game of Thrones Night King Getting Makeup Done
The Game of Thrones Night King Lip-Syncing to Drake in a Makeup Chair Is All of Us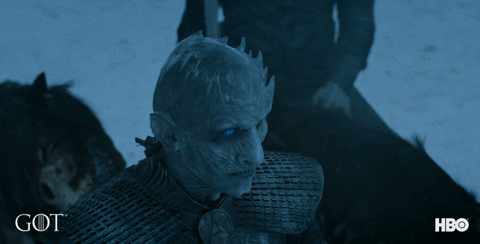 Image Source: HBO
The Night King is one fellow you do not want to cross — you don't even have to watch Game of Thrones to get that. You just have to look at him. Chills.
New footage, however, has made the leader of the army of White Walkers seem a lot less terrifying and a lot more . . . like you. A now-viral video shows the character in a makeup chair, bopping his head and listening to none other than Drake's "Passionfruit." The Night King is basically you getting ready to go out on a Saturday night. Warning: you're going to want to hit replay. Over and over again.
In reality, this isn't from the official Game of Thrones set, and The Night King is actually a she — YouTube sensation Lilly Singh, to be precise. In celebration of season seven, she created several Thrones videos, including, "If White Walkers Made a Rap Diss Track" (which is probably where the Drake clip happened).
Thank you, Lilly, for this internet gold.