Glossier Invisible Shield Daily Sunscreen Review
Believe the Hype: Glossier's New SPF Is Seriously Amazing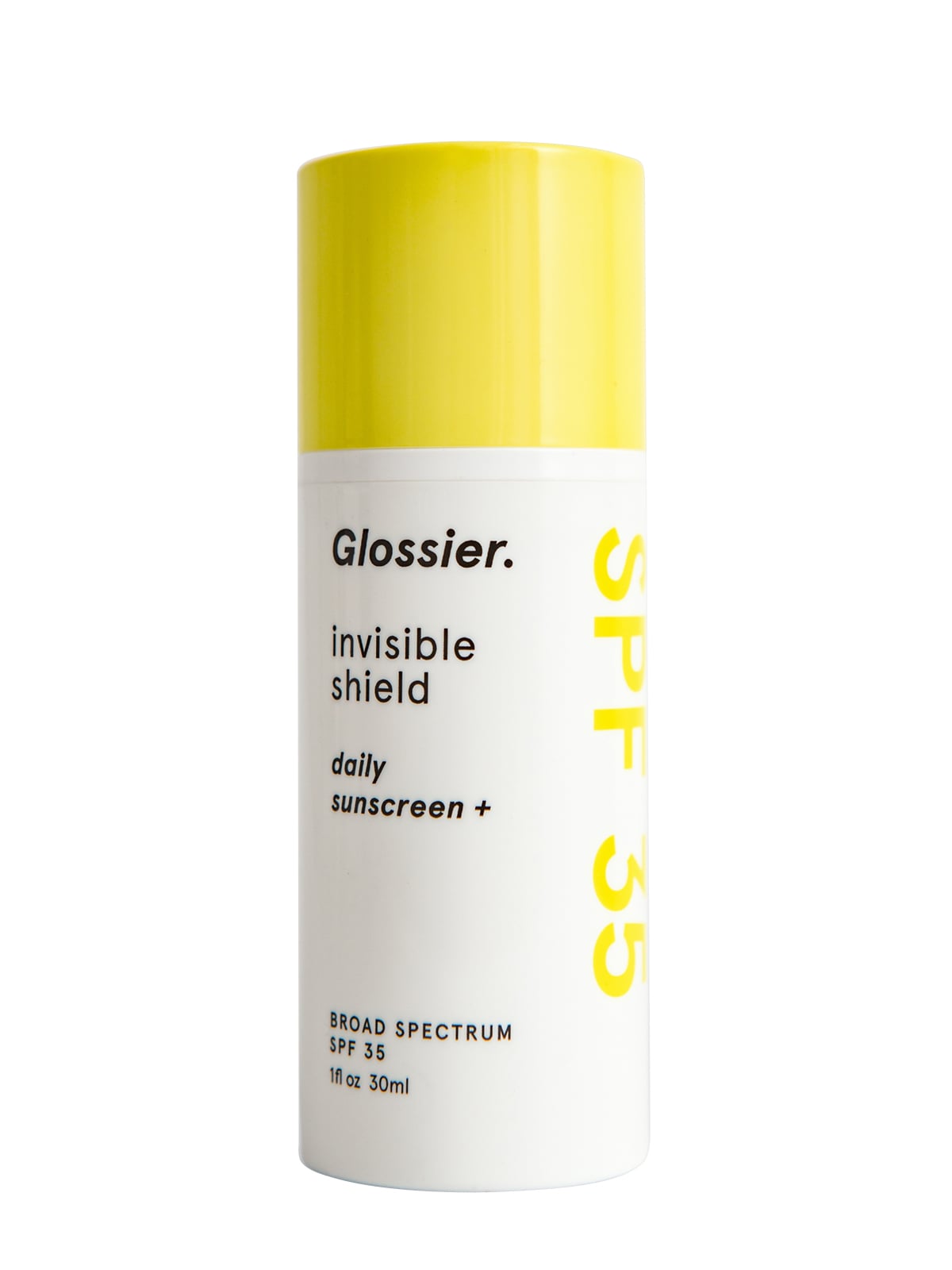 Glossier has achieved what I had believed to be impossible: created excitement around wearing sunscreen.
SPF has traditionally been a less-than-fun product to wear. It's typically greasy (making it a challenging base for makeup), chalky (not ideal for women of color), and all around dissatisfying to use. And because of these characteristics — and despite the horrifying risks of skin cancer — many women have opted to skip applying it for years. I am one of those women, and I feel guilt every single morning because of it.
But now, I have absolutely no excuses. That's because after a great deal of speculation from its fans, Glossier released its very first SPF, Invisible Shield Daily Sunscreen+ ($34). Just like the rest of the items in the millennial beauty brand's lineup, it was carefully developed — over the course of two years! — and its launch painstakingly planned, resulting in hype from fans around the world even though it's only available in the states. I've been watching redditors on the /r/SkincareAddiction subreddit posting about it for a while, getting excited about the product's prospects and theorizing about the formula. It seems to me that most will be deeply satisfied by Invisible Shield Daily Sunscreen+, as I am.
Its purpose is two-fold. It features broad spectrum SPF 35 protection with chemical sunscreens to provide defense from UVA/UVB rays. However, it's also loaded with tons of antioxidants, including vitamin E, vitamin P (flavonoids), broccoli, and aloe leaf extracts to shield your skin from free radicals and pollution.
The benefits are obviously stellar, but it's the formula itself that makes it stand out. It's a completely clear gel that feels silky upon application but absorbs practically immediately, leaving no residue or tint behind. This is great news for women with deeper complexions – no chalkiness to speak of, here! Bonus: that same silky texture lends itself beautifully to layering makeup on top.
As a packaging junkie, I'm also really pleased by the container Glossier chose for Invisible Shield Daily Sunscreen+. It's a lightweight tube with an airless pump with a completely opaque exterior, so no external factors like air, sunlight, or bacteria can get inside and spoil the formula.
If you are looking for a completely odorless SPF, this formula is not it. Invisible Shield has a subtle citrus aroma that fades as quickly as the product dries, leaving behind a classic (albeit light) sunscreen smell. It's also a little on the pricey side, however, its texture and feel are so satisfying that I doubt its scent will keep you from buying it. I personally plan on using this Glossier launch all Summer long and hope that a full-body formula is in the works!
You can buy Glossier Invisible Shield Daily Sunscreen+ ($34) now on Glossier's website.