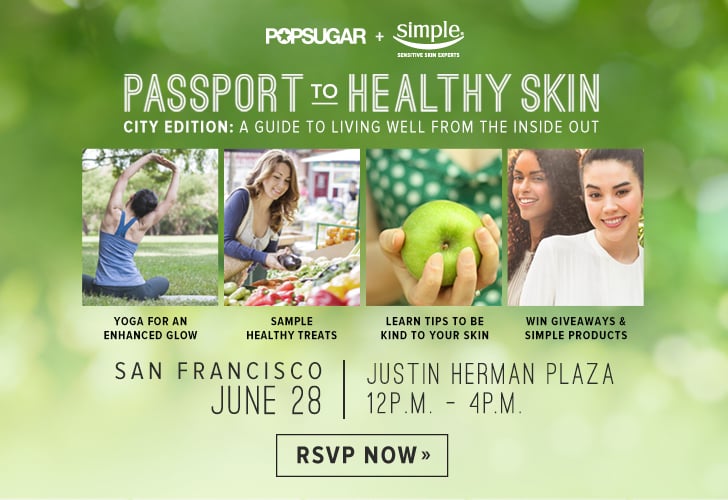 If you live in or near a bustling metropolitan area, you probably consider yourself pretty street smart. But do you have city skin smarts? Simple® Skincare surveyed* women in the top 40 cities across the country to uncover the truth about their holistic skincare habits. The good news? San Francisco is leading the way when it comes to adopting good-for-skin habits:
30 percent care about finding skin care products that are paraben free.
Plus, the majority (52 percent) of women in San Francisco are trying to eat skin-loving food that is organic, produced locally, or farm-to-table.
Want to hone your city skin smarts even further? Join POPSUGAR and Simple® Skincare for the "Passport to Healthy Skin" event in the local San Francisco area! You'll learn how to keep San Francisco at the top of its "skincare game" by incorporating holistic habits into your city routine through:
Yoga workout sessions with Yoga Tree
Stress-relieving massages from Infinite Massage
Healthy treats and detoxifying teas
Skin-loving beauty samples
. . . Plus, get first-hand tips from our POPSUGAR editors and the Simple® Advisory Board.
Date: Saturday, June 28
Time: 12 PM- 4PM
Place: Justin Herman Plaza
*The 20-question Simple® survey was conducted by Kelton Global between Feb. 24, 2014, and March 16, 2014, among 8,186 American women ages 18 and over in the top 40 US DMAs, using an email invitation and an online survey. The margin of error is +/- 1.1 percentage points at the 95 percent confidence level.