How to Look Pretty During Labor
What to Pack in Your Makeup Bag Before Going Into Labor
As POPSUGAR editors, we independently select and write about stuff we love and think you'll like too. If you buy a product we have recommended, we may receive affiliate commission, which in turn supports our work.
The photo below is by far the best picture I've ever taken. And as a fashion blogger and stylist, that may surprise you considering I'm wearing a generic hospital robe, my signature extensions are nowhere to be seen, and my makeup is more au naturel than usual. But this is the first picture I've ever taken as a mom, and that glow you see isn't from a freshly applied coat of bronzer. It's from pure and utter happiness. I had just met my beautiful baby girl, Brooke, and she was perfect.
Don't get me wrong; my hospital beauty routine wasn't nonexistent. And even though I decided to forgo hair extensions — a decision I'm not quite sure I'll stick with for future births — a few easy beauty rituals helped me put my best face forward when we took our first family photo.
Brooke's estimated due date was May 16, 2011, but when that date came and went, my ob-gyn advised me to schedule an induced labor, which helps to kick-start contractions. So we set a date: May 22 at Lenox Hill Hospital. That gave me about five days to obsess over my beauty routine and what to pack in my hospital bag. And obsess I did.
First matter of business: book a manicure and pedicure. If you have a scheduled birth like I did, a prehospital mani/pedi is important on so many levels. My freshly painted nails helped me feel put-together and polished (pun intended) at the hospital and looked great in our first photos. Plus, once Brooke was born, weekly nail appointments weren't as easy to schedule; in fact, it was a few weeks before I was back at the nail salon. If you're not having a scheduled birth, make sure your nails are always done and keep your preferred polish in your hospital bag in case you need a quick touch-up. After all, pictures last forever, and do you really want to see chipped polish while recounting your first moment holding your baby?
The next step is prepping your makeup bag. My philosophy is simple: the more, the merrier. When I was close to my due date, I made sure my everyday products were packed in a makeup bag so I could toss it into my suitcase when it was go time. These goods included Tarte 12-hour concealer, foundation, and eyeliner; Korres mascara; and bareMinerals bronzer and eye shadow. Since I was induced, I was able to do my makeup before laboring, and I was equally happy to have my favorites by my side the next morning when I woke up in the hospital. Concealer and foundation go a long way when you're dealing with hospital lighting and lack of sleep. Even if you're in the Beyoncé suite like I was, but we'll save that story for another time.
Now, hair tools can be bulky, and between the car seat, Boppy pillow, and sugar-free ice pops I needed to bring, I started to get a bit overwhelmed. So I left the curling iron and clip-in extensions at home and settled for travel-size Frederic Fekkai shampoo and conditioner, a hairbrush, a travel-size blow dryer, and a new pack of elastic hair bands.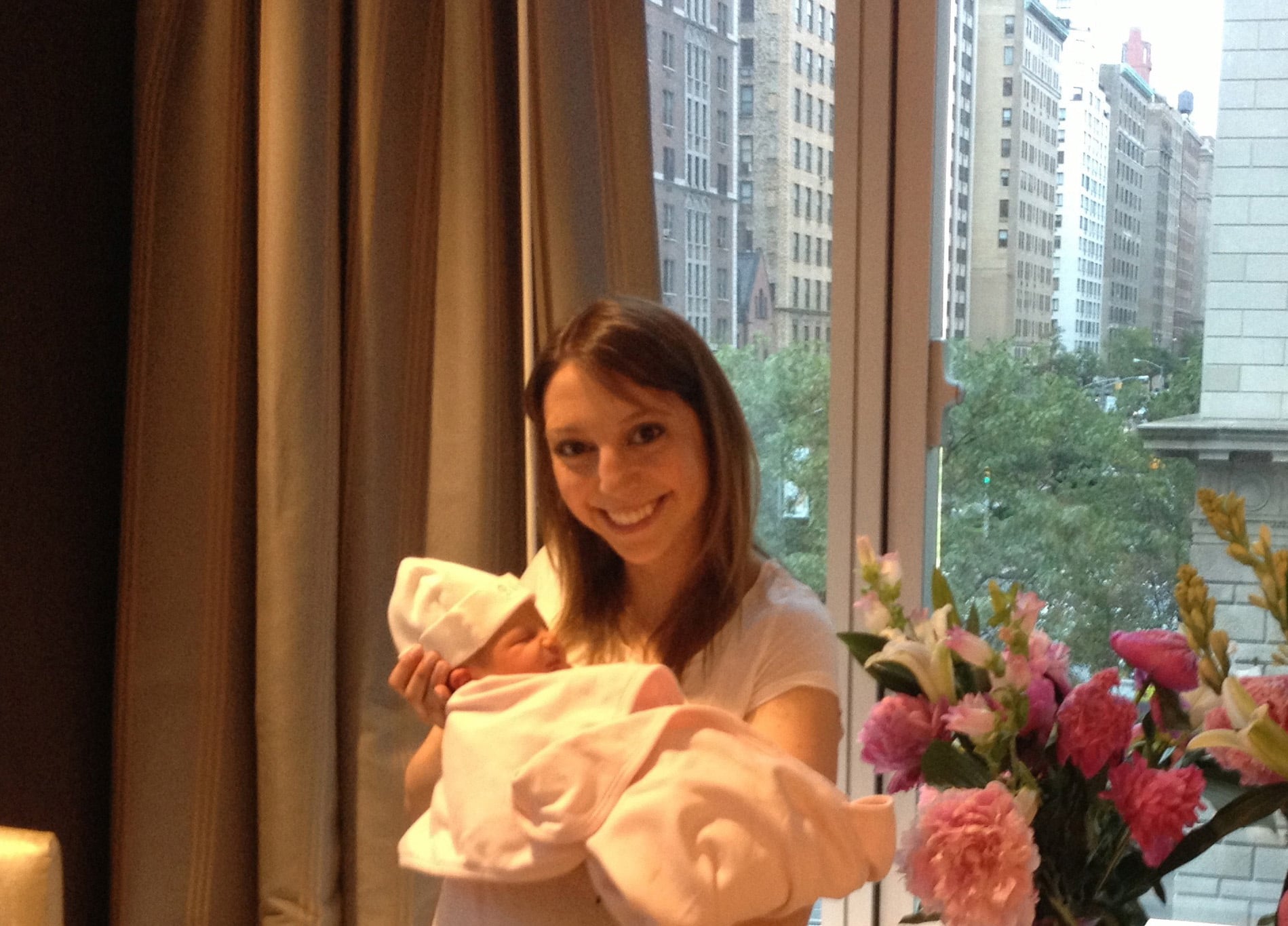 I was induced at night, and when I woke up the next day, my ob-gyn recommended I take a shower and freshen up before the contractions started. (She just gets me.) And I have to admit, having my own shampoo and conditioner washed away that icky hospital feeling and left my hair silky and clean. I did a quick blow-dry and started to feel light cramps in my stomach. I had a feeling the contractions were about to start, but I powered through and did my makeup the same way I do it every day. I feel more confident with makeup on, and I wanted to feel that confidence when I was going through labor. When I finished my makeup, the cramping started to get more intense. A few minutes later, I was leaning over the hospital bed in pain when a nurse asked me if I wanted an epidural. Yes, please!
After getting an epidural, I wasn't really thinking about my beauty routine anymore. I had a hair elastic on my wrist in case I needed to pull my hair up in a pony, and I had my Fresh Sugar lip balm just in case my lips got dry. I'm not wearing either in the picture above, and to be honest, even though I did an abridged hair and makeup routine, it didn't matter. Eyeliner and mascara are great, but meeting my baby Brooke for the first time made me feel on top of the world. This is probably the only picture I've taken without reapplying lip gloss or angling my arm just so, but it's my first photo as a mommy. And there's nothing more beautiful than that.
Of course, if you're prepping your hospital bag, it doesn't hurt to be photo-ready. And like I said, a little touch-up here and there can go a long way. Keep reading for some of my favorite pre- and postbirth beauty products!