Kat Von D Everlasting Liquid Lipstick Vault | Holiday 2017
Kat Von D Is Releasing a Holy Grail Vault of Everlasting Lipstick
As POPSUGAR editors, we independently select and write about stuff we love and think you'll like too. POPSUGAR has affiliate and advertising partnerships so we get revenue from sharing this content and from your purchase.
Reason number five billion we love Kat Von D (there's a lot of reasons): although the brand is known for its left-of-center, goth beauty releases, it doesn't shy away from making life — and your lips — colorful. Case in point: Kat Von D's Everlasting Liquid Lip Liner ($18), of which there are currently 30 shades (and always counting).
You probably have your tried-and-true favorite hues (I'd do some nasty things for a refill of the electric-blue Daggar), but it can be exhausting to keep up with all of the colors. Luckily, you don't have to take sides with Kat Von D's Everlasting Obsession Lip Liner Collector's Edition Vault ($200).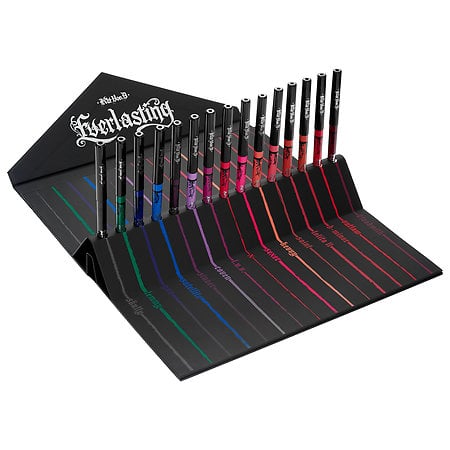 Along with being undeniably gorgeous, the vault boasts 15 lip liners. Two of these shades (a peach and a plum) are brand new, exclusive to this collection, and Saint + Sinner-inspired.
The clutch-like packaging is truly exquisite, and damn do we want one of these wrapped up for us to open come the holidays. Or, you know, like right now. Whether you choose to order this immediately or ultimately decide put it on your wish list, cross your fingers, and hope someone gets the hint, you should know that this is limited edition. So once it's gone, it's gone.
If the price gives you sticker shock, consider this: we did the math, and all together this is a $270 value. So you're definitely getting a break — not to mention a gorgeous gift — should you choose to invest in this vault.