Lash Boost Review and Questions
Everything You Need to Know About Lash-Growth Serums Before Buying One
As POPSUGAR editors, we independently select and write about stuff we love and think you'll like too. If you buy a product we have recommended, we may receive affiliate commission, which in turn supports our work.
These days, getting longer hair isn't relegated to just waiting and letting it grow: there are supplements, hair extensions, and wigs, too. And it's not just for the hair on your head — eyelashes are getting their own treatments, like extensions, perms, and, of course, lash growth serums.
Brands like Allergan and Rodan + Fields have created two of the most popular lash growth products on the market: Latisse and Lash Boost. There are plenty of other options that are popping up — Grande Lash MD, Rapid Lash, and RevitaLash — but how do you know which ones are worth the investment or time?
I've tried almost every lash serum on the market. A few of my personal favorites are the tried-and-true Latisse, which requires a prescription. Lash Boost gave me results as well, but it cannot claim to grow the lashes; instead, it calls itself a "conditioner" and "nightly eyelash serum." One of our editors here at POPSUGAR, Britt Stephens, swears by Grande Lash MD. Different strokes for different folks.
Here's what you need to know about lash serums, their ingredients, and how they work.
How Do Lash Serums Work?
The questions I commonly get asked is how do these products actually work, and are they safe? What ingredient is responsible for making the lashes grow? In the more popular lash-enhancing products, the key ingredient is a prostaglandin analog, which is found in and around the eye. Without getting in the weeds with medical jargon, PAs are an FDA-approved type of medication used to help treat glaucoma, a disease of the optic nerve.
Latisse was born as a result of the side effects from using Lumigan, a medicine originally created for treating elevated intraocular pressure; those patients had longer and darker lashes. There are years of research backing the prescription, which contains 0.03% bimatoprost among other ingredients. And it's the darling of lash growth products because it is currently the only FDA-approved lash growth product on the market, meaning its the only brand that can actually tout "lash growth" instead of "lash conditioning." It also requires a prescription because it's actually a medication, and it is not considered a cosmetic product, which is an important distinction.
If you're not in the market to get a prescription for your lashes — which, yes, typing that out feels extra bougie — plenty over-the-counter products exist. Like I mentioned, they are typically touted as lash conditioners or for "cosmetic use." They claim to strengthen your lashes and help aid growth that way, without claiming to actually grow them. They're full of peptides and and fatty acids to help make lashes strong, and also vitamins like biotin, which we all recognize for hair growth. However, some products might include a prostaglandin analog, like isopropyl cloprostenate.
Isopropyl cloprostenate is in Rodan + Fields Lash Boost and several other popular lash enhancing products, which I had great results with. (No, I don't sell it, and I don't want you to sell me any more either. Thank you.) "Get the appearance of lush, longer-looking lashes with R+F Lash Boost, a nightly eyelash serum. You'll see a difference in as little as four weeks, and the best results in eight weeks. This conditioner can also be used to achieve fuller-looking brows," reads the brand's website. The word appearance is important here, because Rodan + Fields Lash Boost is considered a cosmetic.
For what it's worth, my lashes were longer and thicker after a few weeks, and the price is comparable to Latisse.
Are Lash Serums Safe to Use?
Prostaglandin analogs have a few side effects, including eye redness, irritation, intraocular inflammation, and darkening of the skin of the eyelids, all of which are commonly reversible by ceasing intake of the drug. "Darkening of the iris has also been reported, which is not a reversible side effect," said Rebecca Taylor, MD and clinical spokesperson for the American Academy of Ophthalmology.
Rodan + Fields faced a class-action lawsuit in April 2018, in which customers say the brand failed to disclose harmful side effects linked to isopropyl cloprostenate. In the court filing, several side effects of the isoproyl cloprostenate are mentioned: iris and lid discoloration, eyelid drooping, thinning and loss of eyelash hair or vision. But in regards to the lawsuit, Rodan + Fields told us they stand behind Lash Boost.
"It's important to note that many of the allegations in the pending litigation involve unrelated products, including prescription products that have different ingredients and formulations. Lash Boost is intended for use as a cosmetic, advertised as improving the appearance of eyelashes. R+F provides clear directions to users, including those who experience irritations – which can occur with any cosmetic product," said a spokesperson for Rodan + Fields.
Currently, here are the disclaimers and instructions for Lash Boost, as of June 2019, versus Allergan's prescribing information.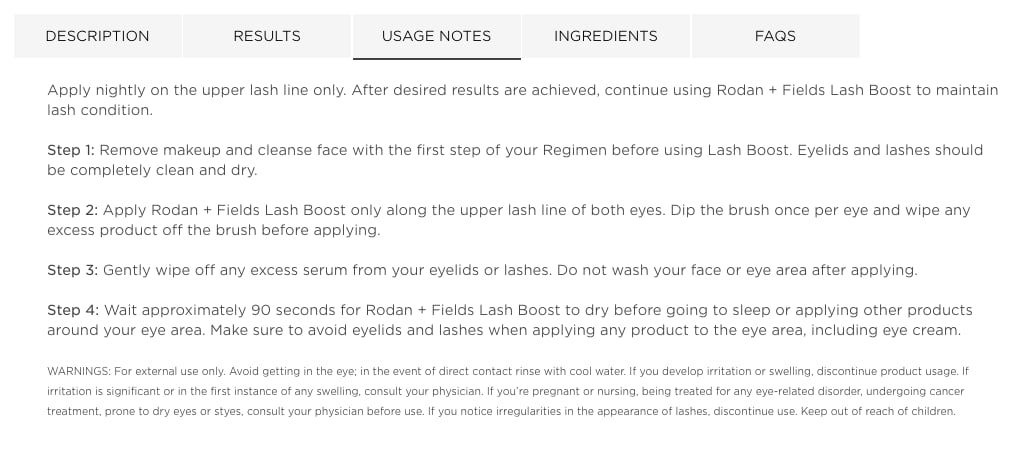 Disclaimers and instructions for using Rodan + Fields Lash Boost.
Cosmetics vs. Drugs and the FDA
I asked Dr. Taylor what the big difference was between bitmataprost and isopropyl cloreprostenate, since both are prostaglandin analogs. Shouldn't they wield the same effects, both good and bad?
"Bitmataprost is FDA-approved and isopropyl cloprostenate is not," said Taylor. "Because isopropyl cloprostenate cosmetic products have not been FDA tested, efficiency in eyelash growth has not been officially proven and it can be difficult to monitor safe usage. Bimatoprost-based Lastisse has been approved by the FDA for safe eyelash growth promotion and is a prescription drug."
The point of difference is that Lash Boost is marketed as a cosmetic, so it is not subject to FDA approval before hitting the market. Cosmetics are defined by the FDA by their "intended use," in which they say are "articles intended to be rubbed, poured, sprinkled, or sprayed on, introduced into, or otherwise applied to the human body . . . for cleansing, beautifying, promoting attractiveness, or altering the appearance." Things like moisturizers, perfumes, eye and facial makeup, hair color, and deodorant fall in this category. Soap does not, and neither does Latisse. Latisse is considered a drug because it was created to help with glaucoma, and requires a prescription, although the benefits of using it are cosmetic.
"If the product is intended for a therapeutic use, such as treating or preventing disease, or to affect the structure or function of the body, it's a drug (FD&C Act, 201(g)), or in some cases a medical device (FD&C Act, 201(h)), even if it affects the appearance." FDA website as of 6/19/2019
Check out the latest episode of The Makeup to learn more about which lash growth products worked for us, and be sure to let us know what ingredient or product you want explained next.
Note: We at POPSUGAR are not providing professional medical advice, and we are not chemists/scientists well-versed in chemical and/or biological reactions.
Image Source: POPSUGAR Photography