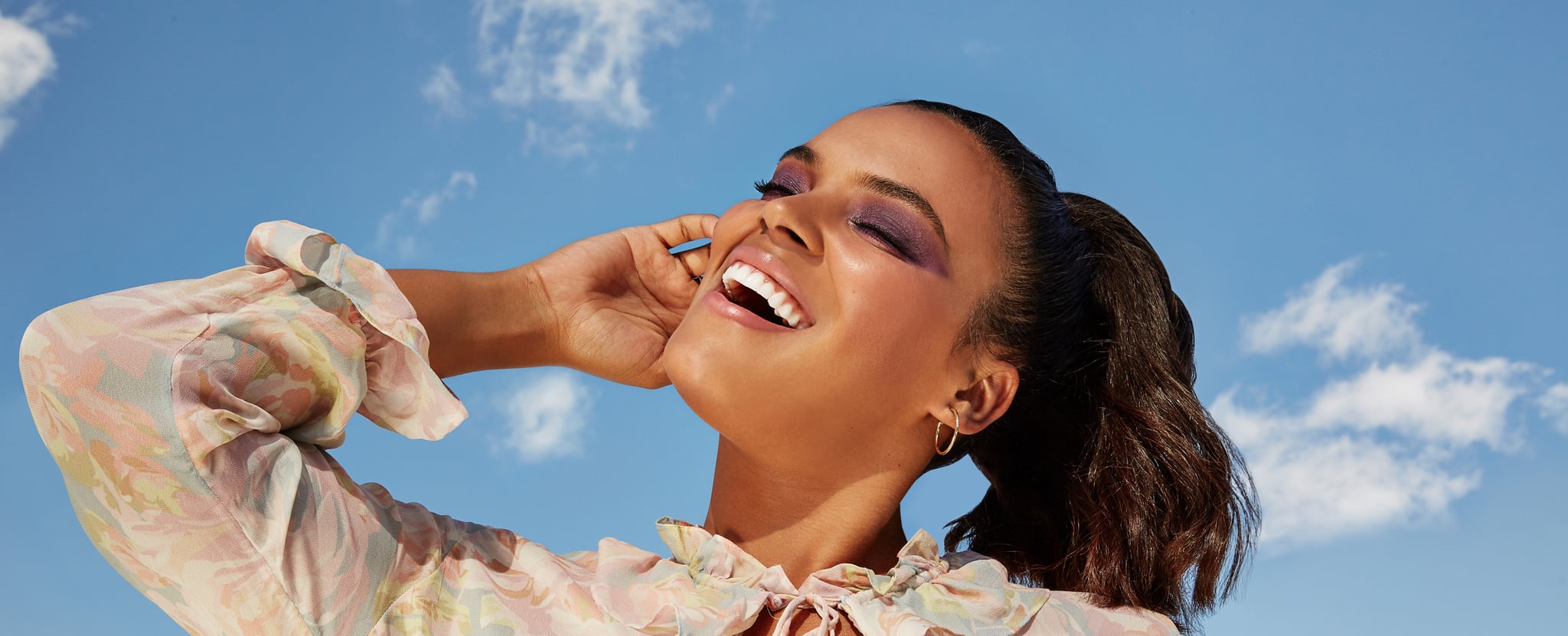 Image Source: POPSUGAR Photography / Diggy Lloyd
The Most Affordable and Versatile Eye Palette
Your Makeup Bag Called, and It Wants You to Pick Up This Superversatile Eye Palette

You hear that? It's the sound of your makeup bag begging for a fun refresh! We've partnered with
Almay®
to help you feel empowered and ready to try every new eye trend when you equip your routine with these key products.
Is your Summer social calendar already filled with engagements, meet-ups, and casual hangs? Then you know the importance of having a few beauty looks in your arsenal to whip out at a moment's notice. But before you can prove your beauty know-how, you need to deck out your makeup kit with the right products — specifically, the right eye shadow palette. Lucky for you, the new Almay Palette Pops™ Eyeshadow comes in two palettes, Naturalista and Fabulista, for when — you guessed it — you're feeling low-key yet glam or slightly daring. Each palette comes with nine creamy, ultrapigmented shades that can be worn dry or wet for max color payoff. Scroll through for ways you can incorporate this new must-have palette into your existing Almay® Eyeliner routine while earning you mega "likes" when you share these trendy eye looks on the 'gram.
Don't worry, we have your beauty look totally figured out for any fancy fete you plan on attending this season.
Normally, a dark gray or black smoky eye is reserved for a night out, but you can lighten the look and rock it for a day-to-night event when you use the Pantone color of the year, violet. Just use the Almay Palette Pops™ Eyeshadow in Naturalista to re-create this plum smoky eye. It's the perfect plus-one for an upcoming special occasion!
Use a combination of violet, taupe, and champagne tones to create this chic daytime look. Starting at the inner corner, pack on product before creating a wing-effect out towards the tip of your brow. Then use a fluffy shadow brush to blend and soften the edges. Next, add a touch of definition with a sweep of the Almay Pen Eyeliner™ in Black along your top lash line. The ballpoint pen is supereasy to control so it's great for even eyeliner novices! Next, add two coats of Almay Thickening Mascara™ on your top and bottom lashes for a bold look with no smudging or flaking . The combination of all three creates a daring yet appropriate eye look. Finally, fill out and shape your brows with your Almay Brow Pencil™ for the perfect finishing touch.
If you're planning on attending a low-key or casual event you should still want to show off your savvy beauty skills. Capitalize on the sparkling evening sun with a halo eye look that's quick, easy, and Instagram-friendly!
Use the shimmery pearl, champagne, and taupe shades in the Almay Palette Pops™ Eyeshadow palette in Naturalista to create this truly angelic-effect. Just start with an all-over taupe base color blended toward the crease of your eyelid. Then, using a wet shadow brush, pat the lighter, sparkly shade on the center of your lid and along your bottom lashline. Concentrating the sparkle creates a halo effect around your eye, picking up the shine from every angle. Use the shimmery finish out of the four different finishes in the Almay Shadow Squad™ Eyeshadow in Here Goes Nothing on your inner corners for extra sheen before tightlining your top and bottom lash lines with the Almay® Eyeliner to help intensify your eye color. Finish with Almay Multi-Benefit™ Mascara on your lashes for added definition, length, volume, and nourishment and use the flat edge of your Almay Brow Pencil™ to fill in your brows and the spoolie end to shape and fluff your arches.
Have a fun outing you've been looking forward to for a few weeks now? You probably already have your outfit planned, but what about your beauty look? For an casual evening out with friends, this sunset eye look will bring the right dose of glam to your entire ensemble.
Using the vibrant pink and gold shades in the Almay Palette Pops™ Eyeshadow in Fabulista, you can create this fiery shadow look all on your own. Start with gold at your inner corner and work in the fuchsia shade to make an almost gradient or ombré effect. Then, out of the four finishes in your Almay Shadow Squad™ Eyeshadow in Here Goes Nothing compact, use the glittery finish to highlight your brow bone and inner corner. Since this is such a colorful look, keep the rest of your face simple with just a touch of Almay Multi-Benefit™ Mascara for instant length and definition on your lashes and a quick shape-up using the Almay Brow Pencil™ to fluff and fill in your brows. You'll definitely be bringing your beauty A game with this one.