Peyton List Beauty Interview | MIMI
Proof That Peyton List Is Hollywood's Newest Beauty It Girl
Do you have Peyton List on your radar? You definitely should! Our friends at MIMI spoke to the 17-year-old It girl about personal style, experimenting with her look, and why every girl is a queen.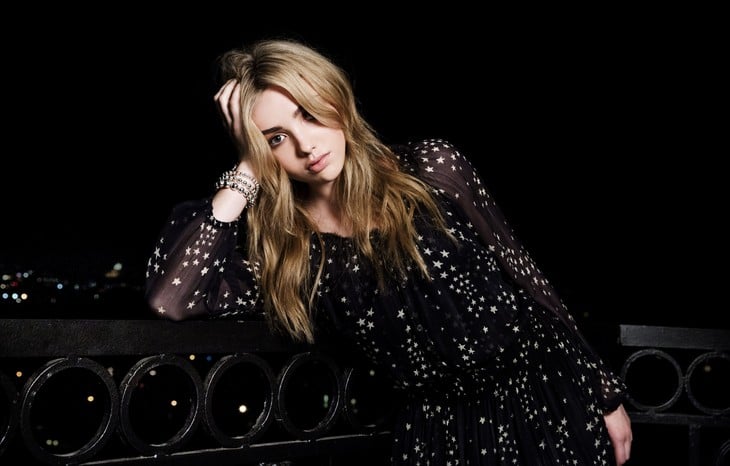 While every one of Kylie Jenner's hair changes, perfectly contoured faces, and Snapchat smizes of the 18-year-old are not-so-quietly being obsessed over, there's another young woman — around the same age and who similarly grew up in front of the camera — that people are paying attention to for her quiet confidence and seemingly natural beauty: Peyton List.
"I think that girls should do whatever they want to their bodies, as long as it makes them feel confident," List remarks. "I like Kylie Jenner. She has been lovely to me whenever I see her," she continues, as we ask about Jenner's social media and ever-evolving beauty. "I love how she is constantly changing her hair."
Don't get us wrong, the Jenner and (by proxy) Kardashian clan are hardworking and talented, but in a world full of their over-curated feeds and calculated and attention-grabbing career moves, it's refreshing to hear Peyton doesn't want to overthink it. "I just post what feels good," she tells us from the glam chair at her shoot for MIMI at The London West Hollywood. "I do feel really bad for the kids who are young right now on Instagram because those pictures are going to come back to haunt them — because photos that I posted a couple of years ago are already coming back to haunt me."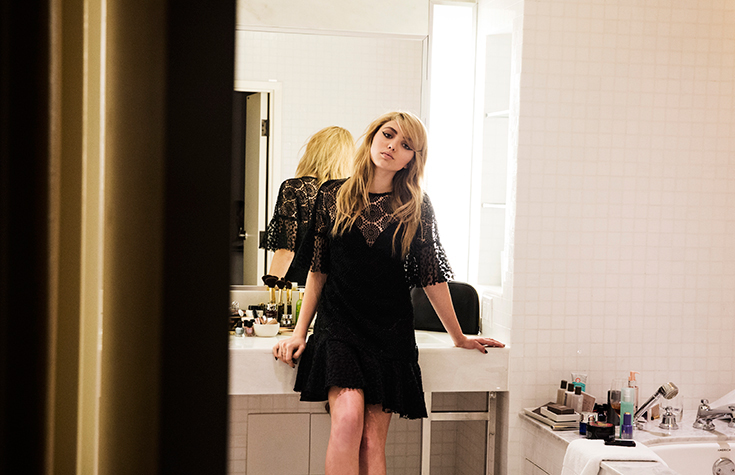 Inspired by the French girl whose slept-in makeup matches her three-day-old blowout in the the most badass, chicest way possible (a look Peyton calls, "I woke up like this, but I really didn't"), this shoot marks a new glimpse into the world of Peyton List, who is delicately managing a process that many before her have navigated (we're looking at you Bella, Miley, and the OG, Britney Spears), with varying levels of success. It's in this moment that List is beginning to slowly shed her Disney Princess veneer and emerge into her more adult and sophisticated career. "I want people to perceive me as more than a goodie Disney girl. Disney does not teach [young girls] to be these perfect little darlings; they encourage you to be yourself and do what you want," insists List, saying that an action movie is right up there on the list of #CareerGoals. As it stands now, the next iteration of her career is setting her up for just that — with new music in the works, a Mean Girls-like role opposite Victoria Justice and Avan Jogia, and the lead character in a brand new show, Bunk'd.
"I have been doing a lot of experimenting lately. I am still finding myself, but I feel like I'm finally finding my style [and] voice, and what I love — it's been really fun. I have a big say in what I wear and what I go out in — I have to feel confident in it before I leave [the house]."
Arriving on set, Peyton was fresh faced, not a stitch of makeup or sign of fatigue on her porcelain, doll-like skin, even after having worked the full day prior on set. That didn't mean the young starlet, who notes Marilyn Monroe, Grace Kelly, and ladies like Gigi Hadid and Blake Lively as her beauty icons, wasn't excited for her beauty shoot. "I love makeup. It just makes me feel complete," she says. "I remember in fifth grade I started sneaking makeup behind my mom's back. I would go into her bathroom and go through all [her] makeup. I remember the day she found out because I applied wayyy too much blush onto my cheeks. I came out of school and I looked so red and she was like, 'Why are your cheeks so red?' And then she realized that I had been sneaking her makeup for a couple weeks."
As an actress, the obsession with makeup has been fueled by her various roles, most notably on Disney Channel's Jessie, where List found fame playing Emma Ross, an upper-crust New York City kid under the care of nanny Jessie Prescott (Debby Ryan). Recently, when doing The Outskirts, a plot-twist film where the school's geeks seek revenge on the popular crowd, List had to play — and look — the part of a Regina George, one which director Peter Hutchings wasn't originally convinced she could pull off.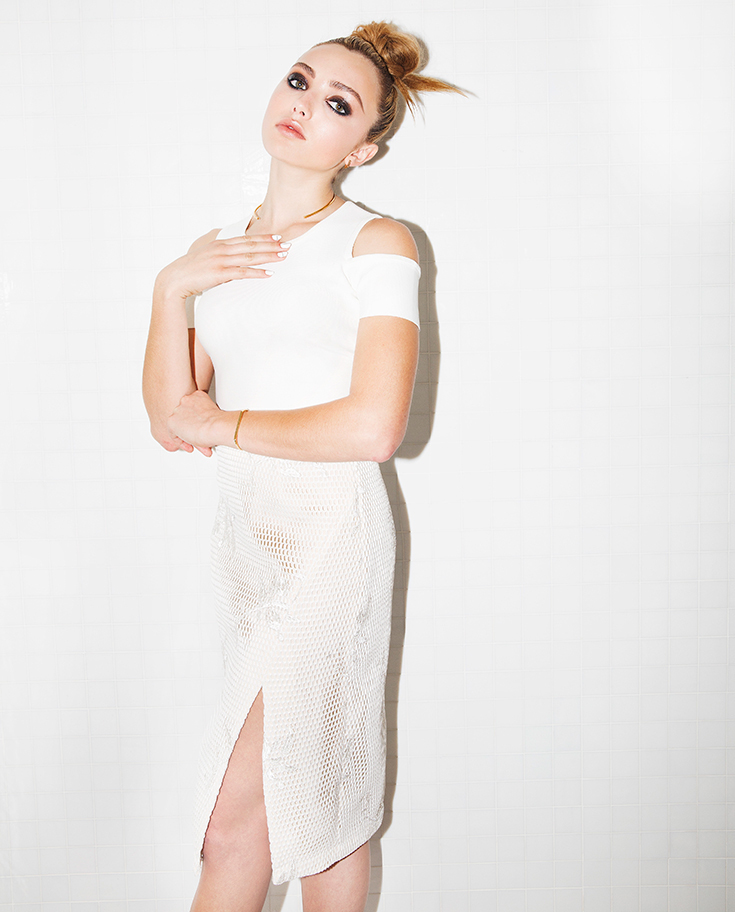 "Peter had me try out for the sweet Girl Scout part at first. The character ends up being a lesbian in the movie, which I thought would be a really fun character to play and I was really excited for it. Then he told me that they were going in a different direction, but asked if I'd be interested in playing Mackenzie, one of the mean girls. So we talked and he asked, 'I don't know, can you play mean?' and I was all like, 'Peter, I'm an actress. Of course I can play mean.'"
To get prepared for the role, List says she channeled the mean girls she's dealt with throughout her life. "I think everyone has at least one mean girl that they have had to deal with," she says. Her beauty look, again, played a big part. "I remember that they toned my eyebrows down and made them look thinner. My makeup look actually made me feel different. It helped me get into character," List continued. "The hair was like this giant lion's mane because I wore a lot of clip-ins — and I never wear extensions — I had all of this hair that they would crimp. It actually did make me feel more powerful."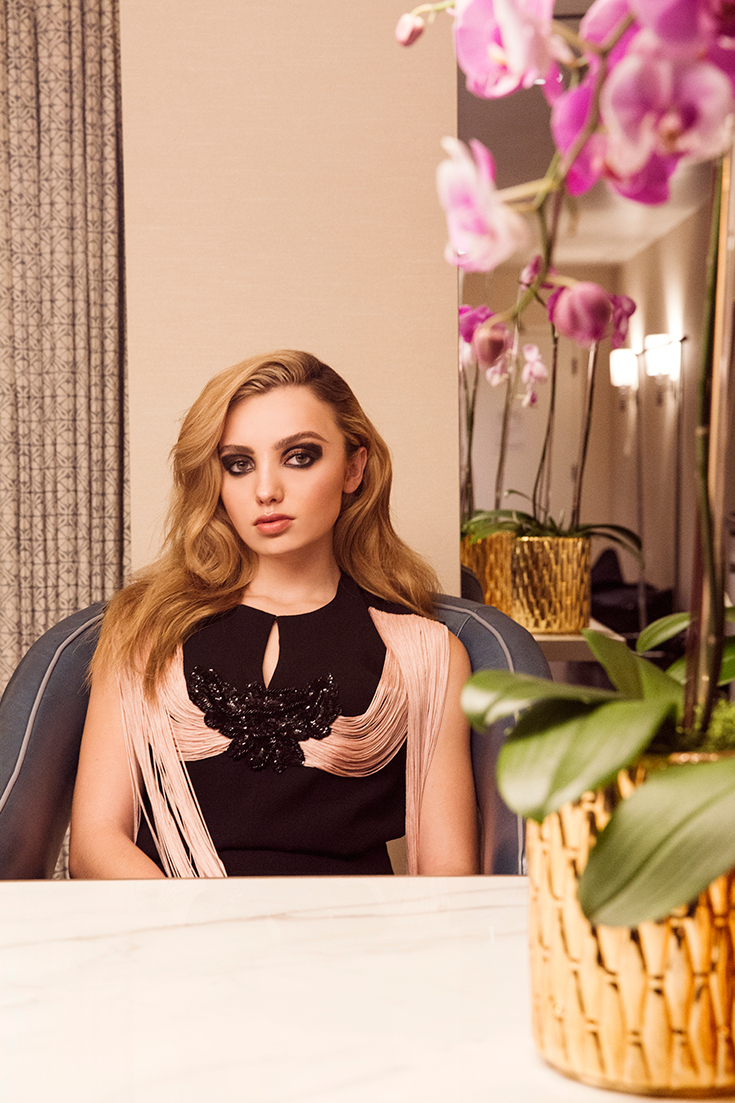 Speaking of that thick, luscious, enviable hair, Peyton knows she wants to stay blonde. "I haven't seen my natural color in a while," she confessed when questioned about being a blonde or brunette. "I was always blonde, so once my darker roots started coming in on Jessie, we dyed it. I remember not wanting to be brunette whatsoever. When I was eight, I had these blonde, Shirley Temple-like curls and people would always be like, 'Oh my gosh, you're so cute.' And when my hair was colored brunette for 27 Dresses, nobody complimented me. So I said, 'Mom, I don't ever want to be brunette.'" But that doesn't mean List is staying a blonde forever: "I wanted to dye my hair a champagne pink over the last [filming] break, just to start off slowly with hair color." While she never did dye it, List says she's ready to take the plunge during her upcoming hiatus. And we'll be keeping tabs.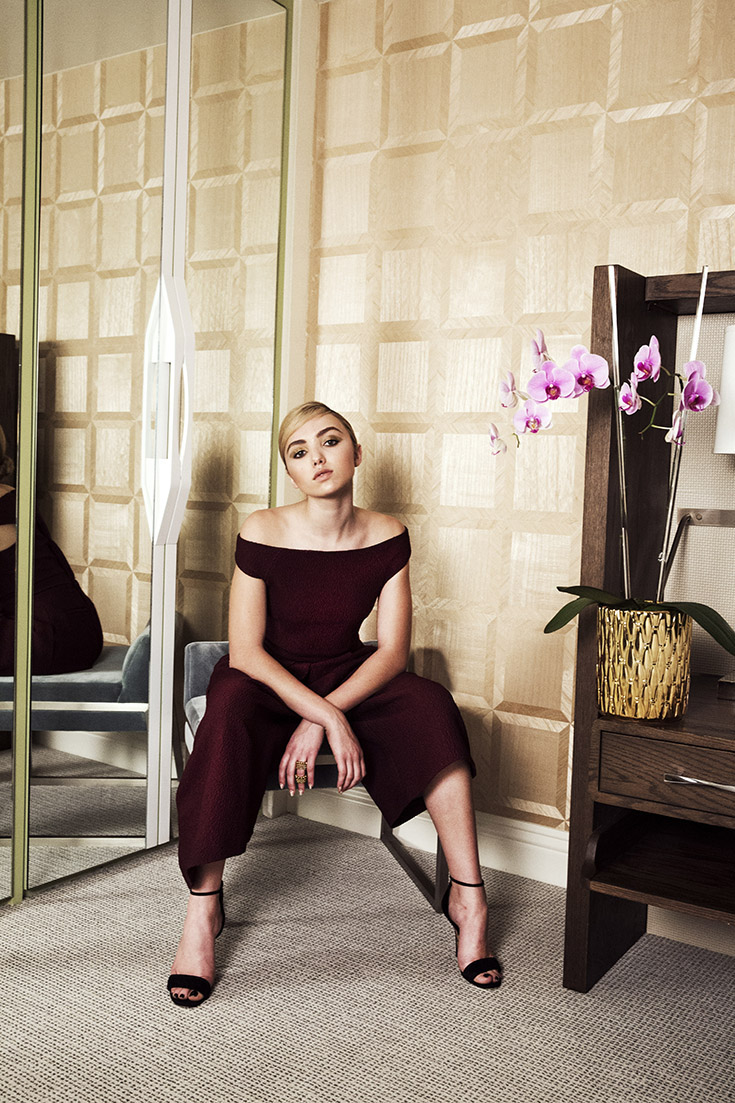 It's sometimes hard to remember that Peyton List is still shy of 18. Unlike most women at such a young age, she exudes a quiet confidence for someone with almost 10,000,000 people following her every move between Instagram (her favorite), Snapchat, Twitter, and Vine.
"I think every girl always has doubts about her body," she says. But I am so glad that I live and am working in Hollywood right now, at a time where people aren't judgmental of your body and you don't have to be a stick — it's okay to have curves! I'm really glad we have Jennifer Lawrence, Amy Schumer, and all of these girls who are embracing of different body types."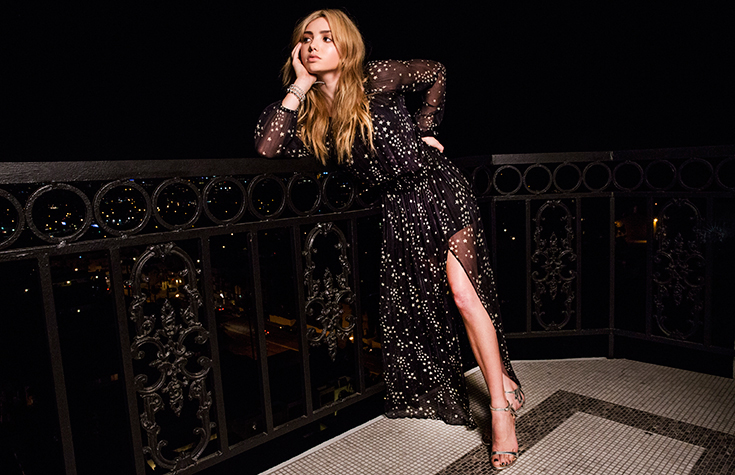 But that doesn't mean List — who is obsessed with peanut butter açaí bowls from her local Berry Bowl — doesn't take good care of herself. "I personally eat so much food and I workout a lot. I saw Amy Schumer say something the other day that I totally related to and found hilarious. I was watching her standup and she said, 'I don't know how people are like, "Oh my gosh, I missed lunch, I can't believe it."' She's like, 'I have never missed a lunch.' I was like preach! Same. I've never missed a lunch — I'm always the first one in line for food."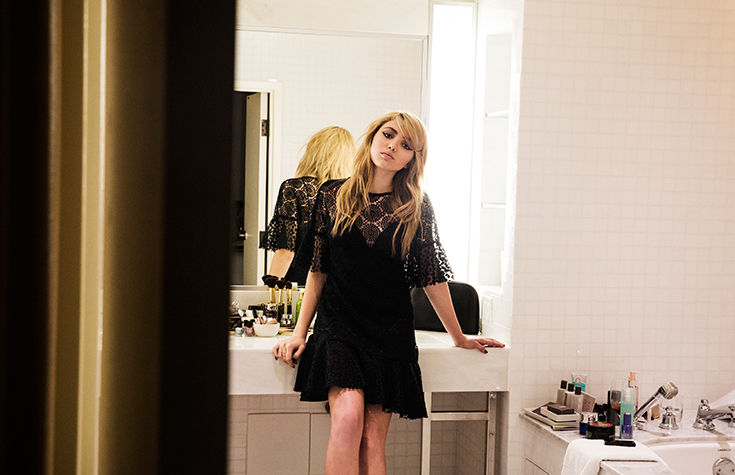 And if Amy Schumer wasn't #RoleModelGoals enough for someone like List, she's also taken a few cues from Queen Bey herself. "There's really only one fragrance that I use — and it's because I once heard Beyoncé say 'I wear one fragrance and then whenever I walk into a room or whenever someone smells it, they think of me.' I liked that because people will remember me."
More from MIMI:
Why I Use 10 Different Face Washes
Kylie Jenner's Must-Have Travel Products Are Surprisingly Attainable
Jennifer Lawrence Thinks She's "Aging Like the President"