Spring Clean Your Bathroom Shelf For Better Self-Care
This Clean Shelfie Is a Minimalist's Dream While Still Maxing Out on Self-Care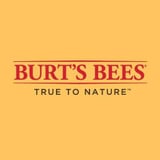 You've never seen Spring-cleaning results like this before. We've teamed up with
Burt's Bees
to show you how a quick purge and few updates to your routine can be a skincare game changer.
As a beauty editor, I've always been under the impression that more is more when it comes to an effective beauty routine. As such, my bathroom became a graveyard for once-used or expired products that I just couldn't seem to part with. But after one mysterious leak, it felt like I needed a hazmat suit just to open my medicine cabinet, which was a pretty clear sign I needed to Spring clean — not just my bathroom, but my whole routine.
After sequestering myself in my bathroom for one weekend with a packet of wipes and some soothing spa music, I was able to turn my over-the-top routine into an effective (and pristine) skincare regimen. Click on the interactive medicine cabinet below for five quick tips I learned that will help you clean up your bathroom routine without sacrificing quality or results.