What Is a Jet Peel Facial?
I Tried a Jet Peel Facial and Had My Skin Irrigated and My Blackheads Vacuumed Out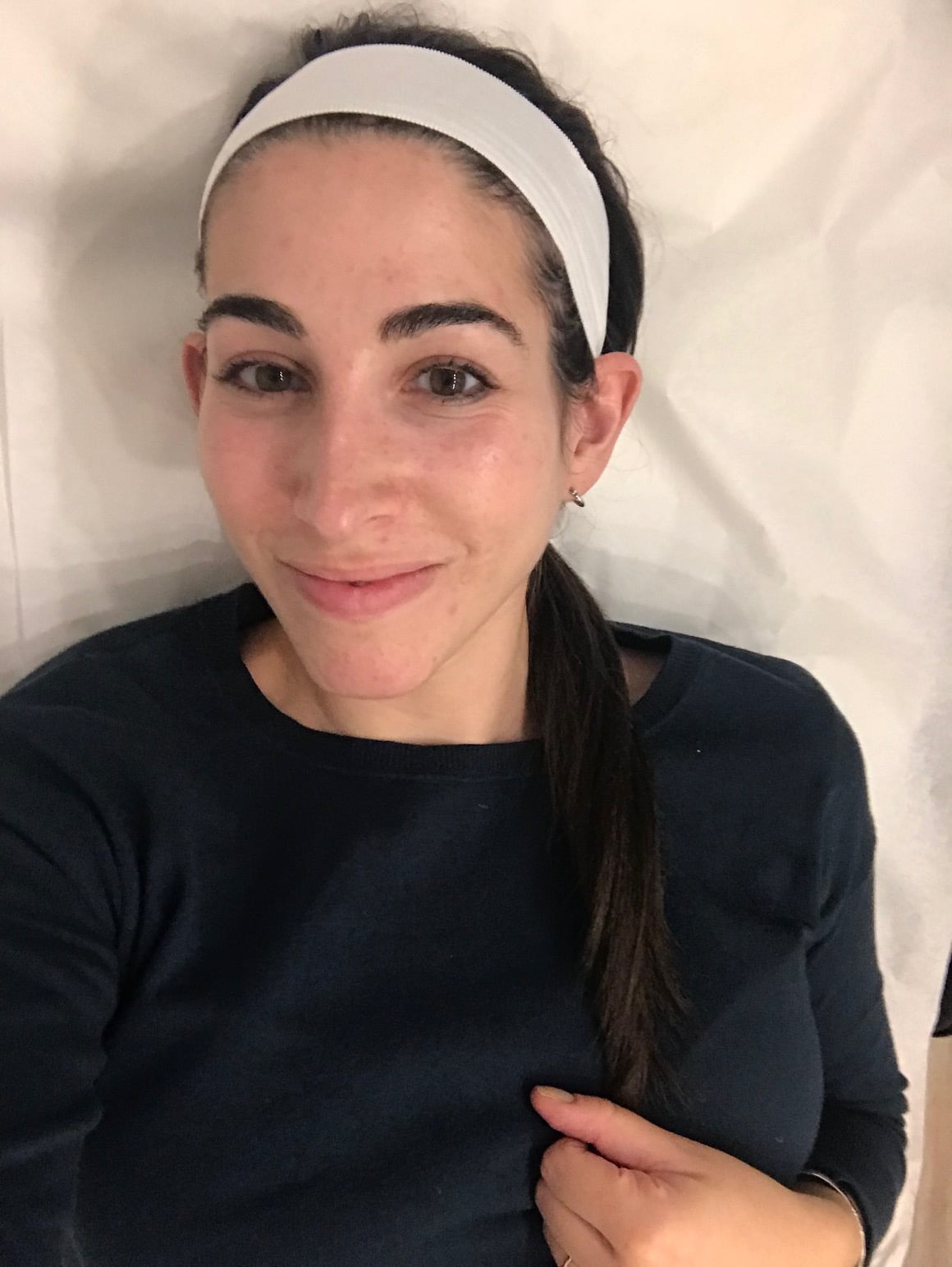 My skin and I have a love-hate relationship of sorts. I'm constantly loving on it. And just sometimes, it loves me back. I've gone through blissful times of clarity and then, of course, those lovely moments where you're basically playing whack-a-mole on your face. So, over the years working for various fashion and beauty magazines, I took a deep dive into the world of creams, serums, and face masks, always hoping that the next thing would finally be the secret to that dewy, glowing skin I desired so much. Nothing was too weird — snail products included — and let's get real, I was game for pretty much anything that promised a top-notch result.
So, when I heard about the brand-new jet peel facial at Erase Spa in NYC, I had no qualms about trying it, and became even more intrigued when I learned about its origins. It's called "jet peel" because it was designed by a jet engineer, and the force behind it is just like it sounds: extremely powerful. Erase Spa founder Lisa Guidi calls it "needle-less microneedling" because the device can open up the skin without even touching it. "The jet stream is so strong, it penetrates the skin and allows the subdermal layer to absorb what we're infusing it with," she explains. Penetrating the skin without even touching it? I was apprehensive, but so excited (as you can tell by my prefacial photo above.)
It's almost like your skin is being taken through an icy car wash, getting out all that gunk so you can get your windshield sparkly clean.
Now, the first part of the treatment is meant to irrigate it, if you will. Its goal is to cleanse with a solution of oxygen, hyaluronic acid, aloe, and salt water and get it prepped for what's ahead. That being said, the jet peel facial doesn't ease you into anything. If you're looking for a relaxing, calming, meditation-like experience, you're not going to get it here. Once it begins, it instantly feels almost sharp on your face. You can have your facialist adjust the distance of the device from your face, though, so it doesn't actually hurt, but it's almost like your skin is being taken through an icy car wash, getting out all that gunk so you can get your windshield sparkly clean.
Then, like any other facial, comes the exfoliation. But the cool part about this is you can personalize it to your needs. I had some tiny bumps on my forehead from a product I had tried that didn't agree with me, so she used a salicylic acid treatment and sprayed it through the jet stream. You can also do an antiaging complex, or if you have hyperpigmentation, they have a skin-lightening formula. This is also where the "peel" part of the jet peel comes in. My skin is super sensitive, so I didn't want anything too strong and therefore didn't actually peel from it. But Guidi says she did when she got hers, and you can change the intensity to suit what you might be looking for.
Now, the next step might've been my favorite part. Normally when getting a facial, they squeeze the living daylights out of your blackheads while you just keep reminding yourself, "Beauty is pain." But here, they use a vacuuming tool to do it. It literally feels like a suction cup is extracting those dead skin cells, and because it happens all at once vs. one individual blackhead at a time, you don't feel any pain, only the satisfaction of the device doing its job and clearing it all away. And yes, it's just as satisfying as it sounds.
After that, they do a quick rinse to get the remaining residue off and finish up with a vitamin supplement of your choosing. You might pick B5 if you have rosacea or inflamed skin, or you could choose a simple hyaluronic acid or antiaging mixture.
Again, you're not going into this facial to clear your mind from the stresses of the day. You're going in full force, ready-to-fight-the-patriarchy style. By the end, my skin was pretty red from all it just went through. But you know the feeling you get when you're sore after a workout and it's amazing because you feel like you did something good for your body? This is the same thing. I really felt like my skin had gone through a much-needed detox, getting out a lot of things it didn't need and becoming open and ready for the good things that were ahead.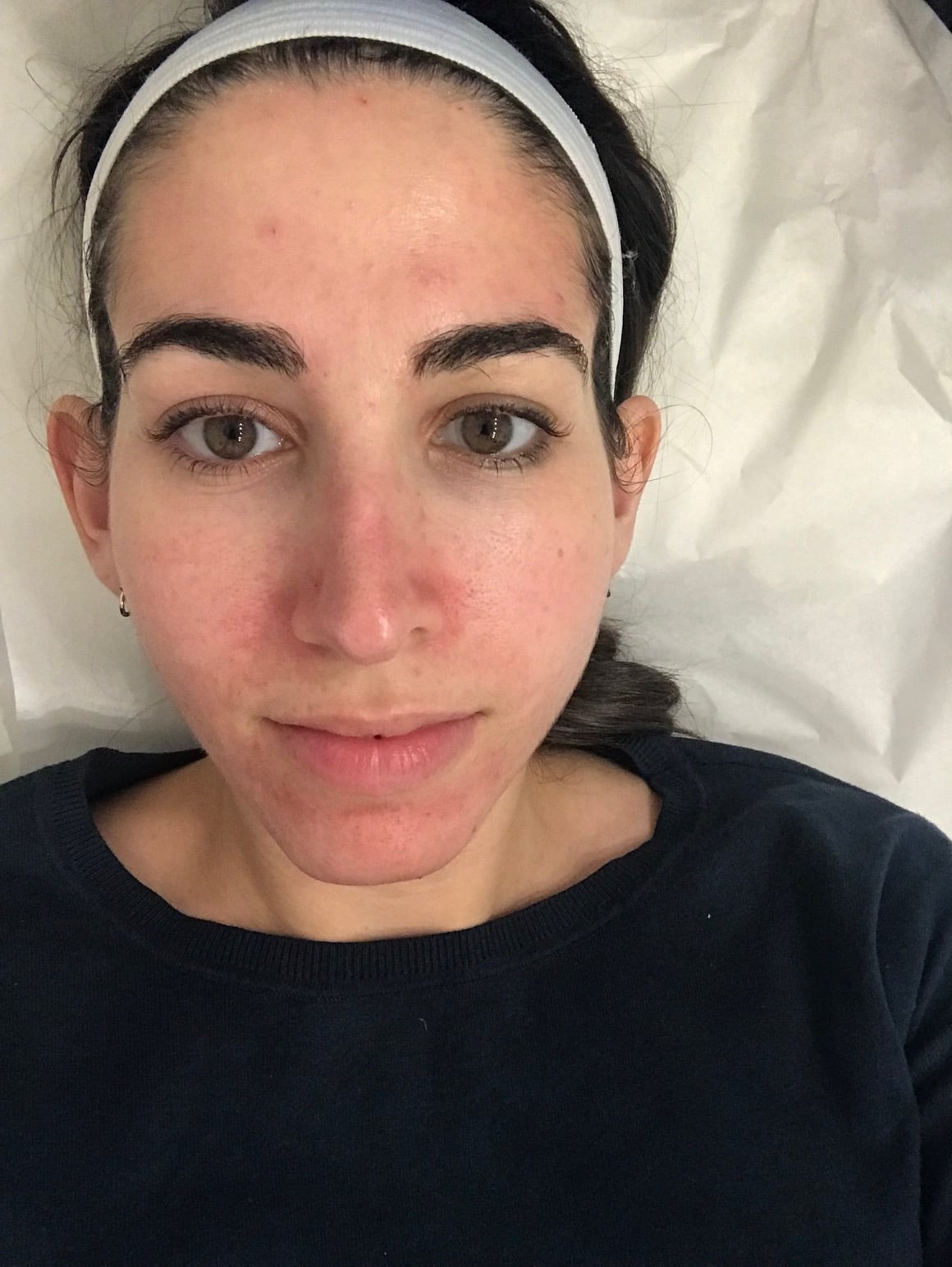 A few hours later, the redness had calmed and my skin instantly felt smoother and more refreshed. In the days following, it only continued to glow. A couple of weeks later, things seemed to go back to normal, so I would recommend doing it a few days before you have a big event, as you'll see the biggest effects then. "It resets your skin," Guidi says. "So if you've been out a lot drinking, or traveling, it's a great treatment to hydrate your skin and get you back on track with your good skincare regimen."
Image Source: Alex Abel