When Does Makeup Expire?
Makeup Bag Rx: Have Your Products Gone Bad?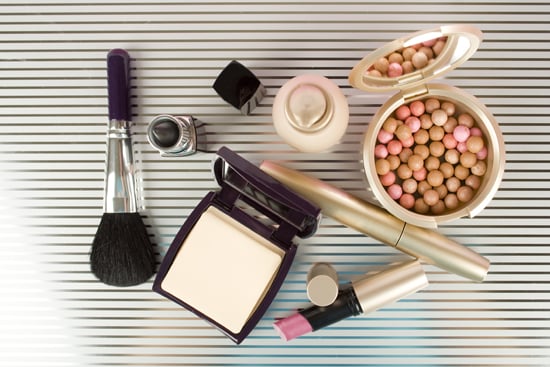 Like the food in your fridge, the makeup in your bathroom goes bad after a while. Even though a swipe of day-old lipstick doesn't warrant a trip to the hospital like food poisoning, expired makeup can wreak havoc in its own nasty ways. The FDA doesn't require makeup companies to print expiration dates on their containers, so how do you make sure your makeup bag has a clean bill of health? Keep this chart on hand, and count from the day you break the seal on the product:
| Product | When to toss |
| --- | --- |
| Powders (including blushes, bronzers, and shadows) | Two years |
| Cream shadows and blushes | 12-18 months |
| Oil-free foundation | One year |
| Cream compact foundation | 18 months |
| Concealers | 12-18 months |
| Lipstick and lip liner | One year |
| Lip gloss | 18-24 months |
| Pencil eyeliner | Two years |
| Liquid or gel eyeliner | Three months |
| Mascara | Three months |
Still not completely sure? Read on for more tips.
If a product is beginning to develop a seriously funky odor, it's time for it to go. Better to be safe than sorry.
Nail polishes are no longer good when they begin to separate.
Makeup sponges can be cleaned after a week of use, but toss them after two. Makeup brushes should be cleaned once a month.
Make sure the caps to all your products are secured after using, and store makeup in a cool, dry place (not the bathroom). The FDA stresses that "a product's safety may expire long before the expiration date if the product is not properly stored."
This does go both ways, though. Storing makeup in desirable environments, like lipstick in the refrigerator, can keep them fresh after the expiration date.
Do not "pump" your mascara wand in and out of the tube in order to collect more product. All you're doing is forcing air in, causing the product to break down more quickly.
Pencil eyeliners and lip liners last longer when sharpened regularly.
If you have a problem with remembering exactly how old a product is, use a thin permanent marker to write the date that you opened it on the bottom of its case for easy reference.