Has the Pandemic Impacted the Acne Positivity Movement?
Has the Pandemic Fueled the Acne Positivity Movement — or Done the Complete Opposite?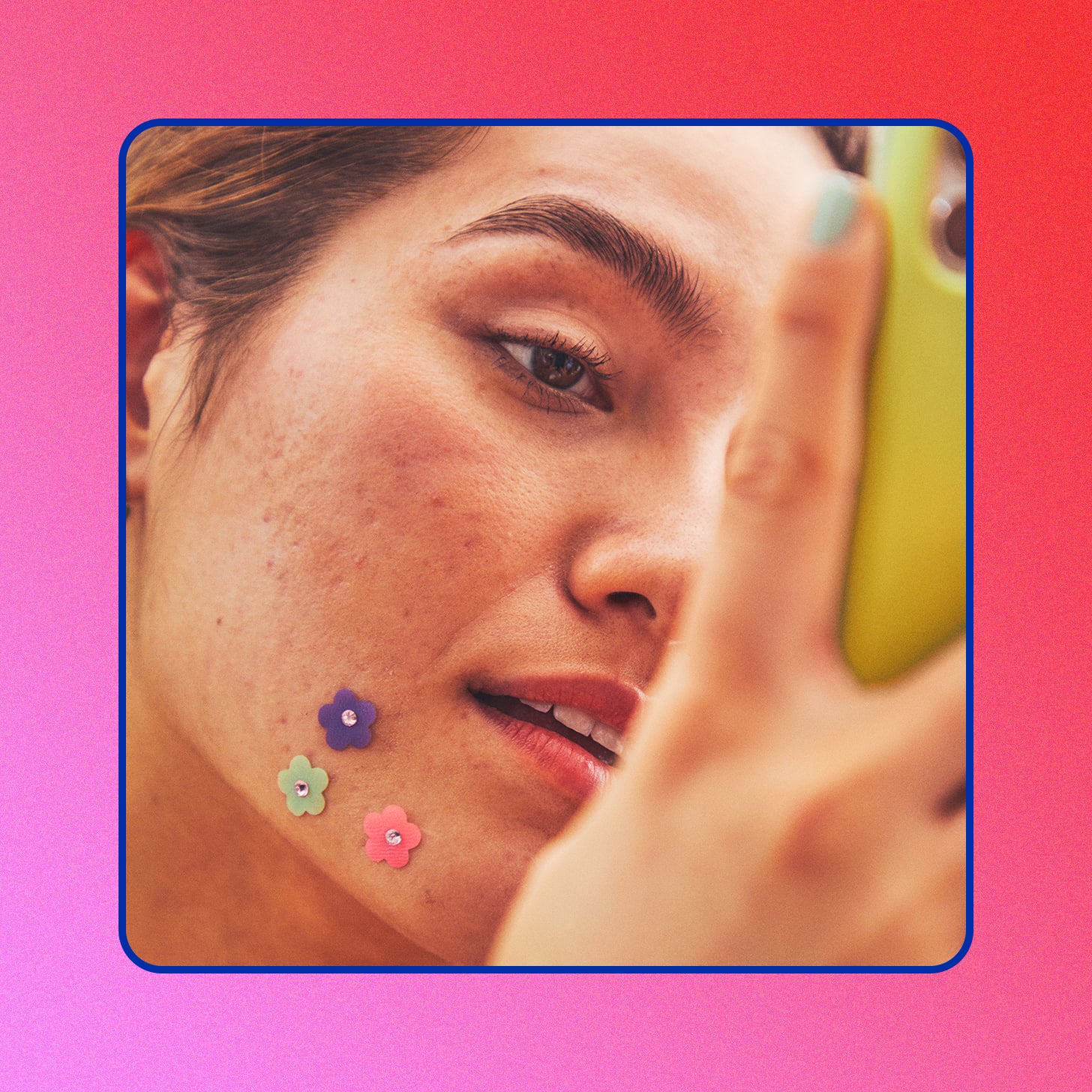 Picture this: the year is 2019. You're dealing with acne, but the world is a kinder place. Your Instagram feed is full of real-skin texture, kitschy pimple sticks are worn as a badge of honor, going public about your acne is a way toward building community, and you don't feel so alone in your experience with breakouts. It's a refreshing shift from the FaceTuned, airbrushed feeds of yore. Social media messaging is beginning to feel like it's headed in the right direction.
Flash forward to 2021. Our lives — and the world, for the matter — are in unchartered territory. Where we used to spend minutes on camera catching up with grandma or showing off a new haircut, for the past 15 months, the majority of people have spent 40+ hours each week staring at our faces on virtual appointments, FaceTime happy hours, and endless Zoom meetings.
If you're already living with acne, turning the camera on yourself can bring up some insecurities. Add in a global pandemic, one that led to an increase of acne in 25 percent of US women (a number of which jumps to 55 percent for women under 25), and the anxieties are through the roof. All this extended face-time with ourselves has led to lower self-esteem and confidence, studies show. It begs the question: will that move us in the opposite direction when it comes to acne positivity online?
The Screen Time-Mental Health Connection
"We're facing an elevated crisis around self-confidence, with 78 percent of women ages 18 to 35 now spending time on video calls each week, and 37 percent spending at least five hours on video calls in a typical week," said media psychologist Pamela Rutledge, PhD. "In addition to the external pressures women are encountering, constantly evaluating one's own reflection is having a significant impact on their mental health."
Dr. Rutledge partnered with CVS (a brand long-striving toward beauty image transparency) and The Harris Poll to conduct a survey about the role post-pandemic screen time plays on mental health. The results are both surprising and not at all. The survey revealed that one in three women are less confident in their appearance than they were before the pandemic. And this decrease in self-esteem is beginning to impact how people live their daily lives. Forty-five percent of the women surveyed who spend time on video calls each week use filters to alter their appearance during these calls.
We know, we know: the "Touch-Up My Appearance" button on Zoom can be pretty tempting, especially when you're experiencing acne and you know smooth, poreless, pimple-less skin is just a click away. But it's not just video calls that are impacted by the rise in screen time. The pressures of social media are having negative effects on self-esteem, too. Research shows that women who spend at least one hour a day looking at their own image are more likely impacted by the types of photos they see.
The CVS Harris Poll revealed that more than half of women would rather give up something they love for an entire week than post a photo online about which they don't feel confident. And it's impacting women at younger and younger ages. Teenage screen time has nearly doubled during the pandemic, only increasing their exposure to unrealistic, perfect images. New research from Dove's Self-Esteem Project even found that 80 percent of girls have used a photo filtering app by 13 years old.
So, What Does This Mean for the Acne-Positivity Movement?
When you're struggling with your skin, it's easy to get sucked into the negativity cyclone (especially when you take into account the significant link between acne and depression and anxiety), but now more than ever it's important to push back against the "perfect" skin you're seeing online. Not only is the notion of flawless skin complete BS, but it's also more likely that the images you're seeing aren't real anyway.
That's what the acne-positivity movement is all about. It's a way to destigmatize what 50 million people are experiencing year-round. Despite the images you're being inundated with every day, the movement is not dead — you just need to know where to find it. Take a quick search for #acnepositivity and #freethepimple on Instagram, and you'll discover a combined 260,000 like-minded people. You'll discover makeup-free selfies revealing pimples, and cysts, and discoloration, and textures, and pores. Follow these creators and curate your feed to be a more positive place.
And when you're most in need of a little self-esteem, Dr. Rutledge recommends treating yourself to a little self-care. Investing in yourself through a face mask, DIY mani, a relaxing soak in the tub, or whatever your SCOC (self-care of choice) can help counteract those negative feelings. In fact, 68 percent of women feel better about themselves after completing a beauty practice. Now if only we could convince our insurance to cover monthly facials as a mental health expense.
Image Source: POPSUGAR photography / Matthew Kelly
Product Credit: Flower hoop earrings by Above Average Studio