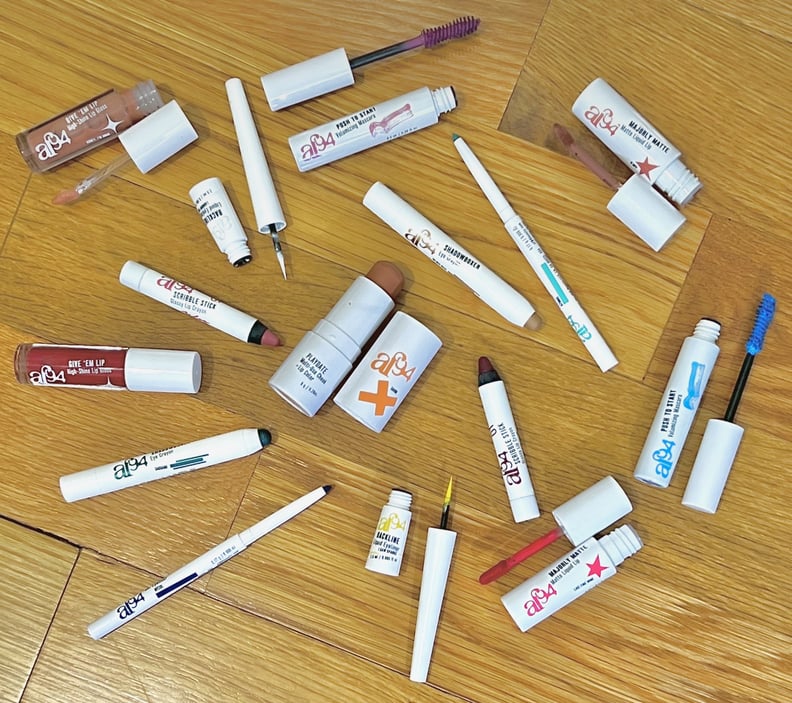 POPSUGAR Photography | Anvita Reddy
POPSUGAR Photography | Anvita Reddy
As POPSUGAR editors, we independently select and write about stuff we love and think you'll like too. If you buy a product we have recommended, we may receive affiliate commission, which in turn supports our work.
When it comes to creative and vibrant looks, Halsey is one of our biggest inspirations. Whether it's experimenting with bold colors or attempting graphic liner looks, the singer, songwriter, and now beauty enthusiast always brings their A game, from red carpets to stages. Her first line, About-Face, is a favorite among POPSUGAR editors. One loves the Matte Liquid Lipstick, which has a formula that lasts all day, and another adores the versatility of the Matte Fluid Eye Paints. Once I got wind of Halsey's latest beauty venture, AF94, I knew I had to try it out for myself.
Halsey came out with a second makeup line that's affordable and packed with bold and bright colors, exclusively at Walmart. How affordable are we talking? Everything is under $10. The line has an extensive selection of colors to choose from, whether it's for the eyes, lips, or cheeks. The collection includes eyeshadow crayons in 10 shades, retractable gel eyeliners in eight shades, liquid eyeliners in 10 shades, volumizing mascaras in four shades, high-shine lip glosses in eight shades, matte liquid lipsticks in 10 shades, multiuse cheek and lip products in five shades, and balmy lip crayons in eight shades. It also includes three styles of false eyelashes, gentle makeup-removing wipes, Joystickers ($10) face and body gems and cute decals, and a five-in-one hydrating setting spray and facial mist. Fun fact: the line is named after Halsey's birth name Ashley Frangipane and the year they were born, 1994.
I was pleasantly surprised by the quality of the products at such an affordable price point. The line exemplifies accessibility. Each product has an elegant formula and feel that isn't difficult to work with. The line is pigmented and bold, but it's easy to blend and build to the vibrancy or sheerness you prefer. Most of the time, I just used my fingers to blend it out. With this line, you can go bold or just add a flush of color; it's something makeup enthusiasts of any skill level can use to experiment and get creative. I created two looks using the affordable color-cosmetics line and give you my thoughts on the best picks ahead.
Look 1: A Green Smoky Eye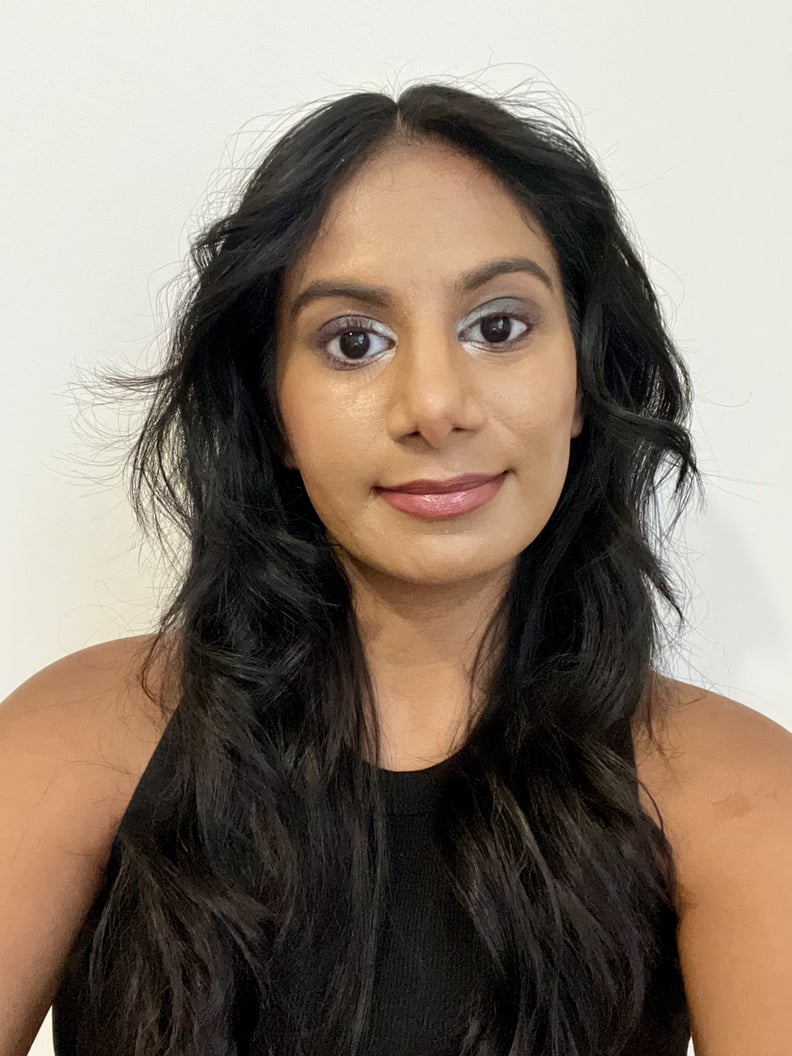 I created a dark-green smoky eye with a pop of shimmery champagne in the inner corner. I also incorporated a pink glossy lip as well as rosy, peachy cheeks.
What I Used:
For blush, I used the Playdate Multi-Use Cheek + Lip Color in Soft Smile ($9), a rosy pink shade. It has a soft and silky texture that's blendable with just your fingers. It's pigmented enough to give you a wash of color, and it's buildable as well for something bold.
For eyeshadow, I experimented with the Shadowboxer Eye Crayons in Suite & Lo ($8), a shimmery champagne shade, in the inner corner; Saguaro ($8), a shimmery dark-green shade, in the middle; and Tenderizer ($8), a shimmery bronze shade, in the outer corner. It's a retractable, cream-based shadow that has an opaque, pigmented color payoff. A little goes a long way, unless you want something bold. The texture is soft and creamy, perfect for the delicate area of your lids, and it's easy to blend out. Once it's settled and dried down, it does not crease and moves with my lid, and it's pretty long-lasting, even without a primer.
For my lip shade, I chose the Scribble Stick Glossy Lip Crayon in French Disko ($8), a rosy, brick-red shade. It's the perfect blend between a tinted lip balm and lipstick. It has a smooth and hydrating texture with a good amount of pigment per swipe. Topped off with a beautiful glossy finish, it's something you can throw in your bag and have a cute lip on the go. Plus, it has a nice fruity scent, kind of like a cherry lip balm.
Look 2: Graphic Liner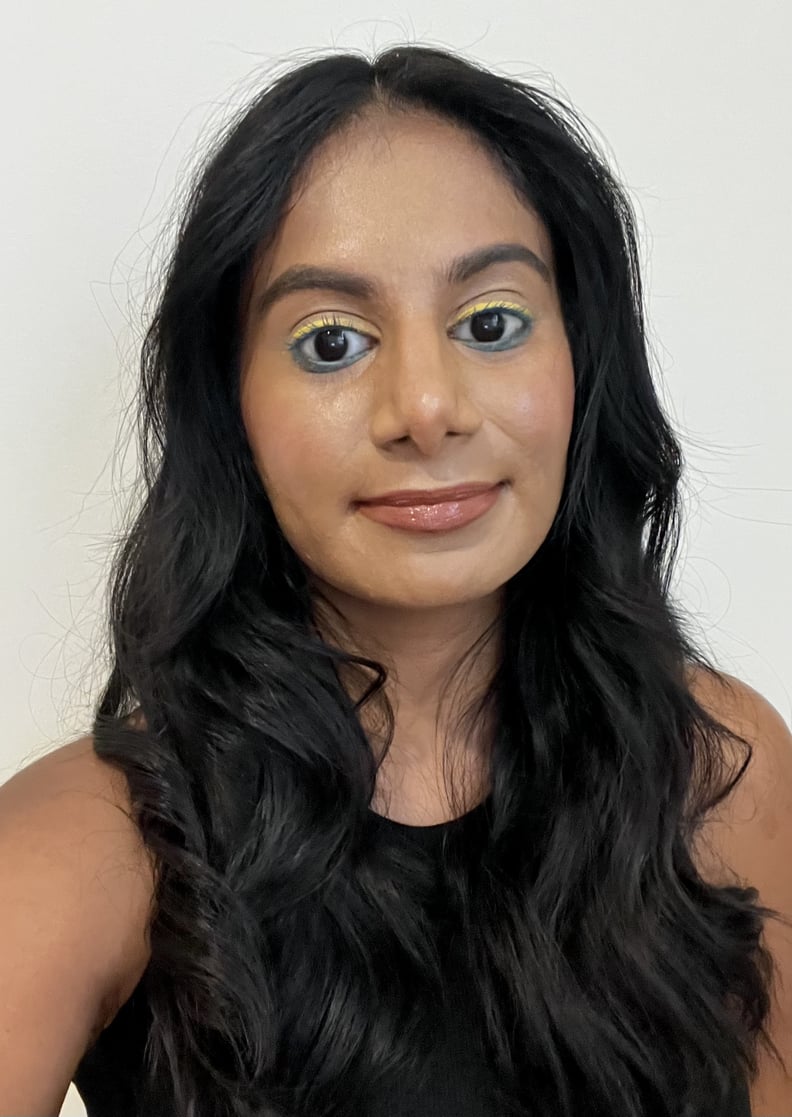 For this look, I wanted to try my hand at graphic liner with bright-yellow and neon-green eyeliners on a shimmery gold base. I also used a brown matte liquid lipstick topped off with a brown high-shine gloss as well as a flush of red on my cheeks.
What I Used: