Akt Deodorant Balm Is the Best Aluminium-Free Formula I've Used — and I Don't Say That Lightly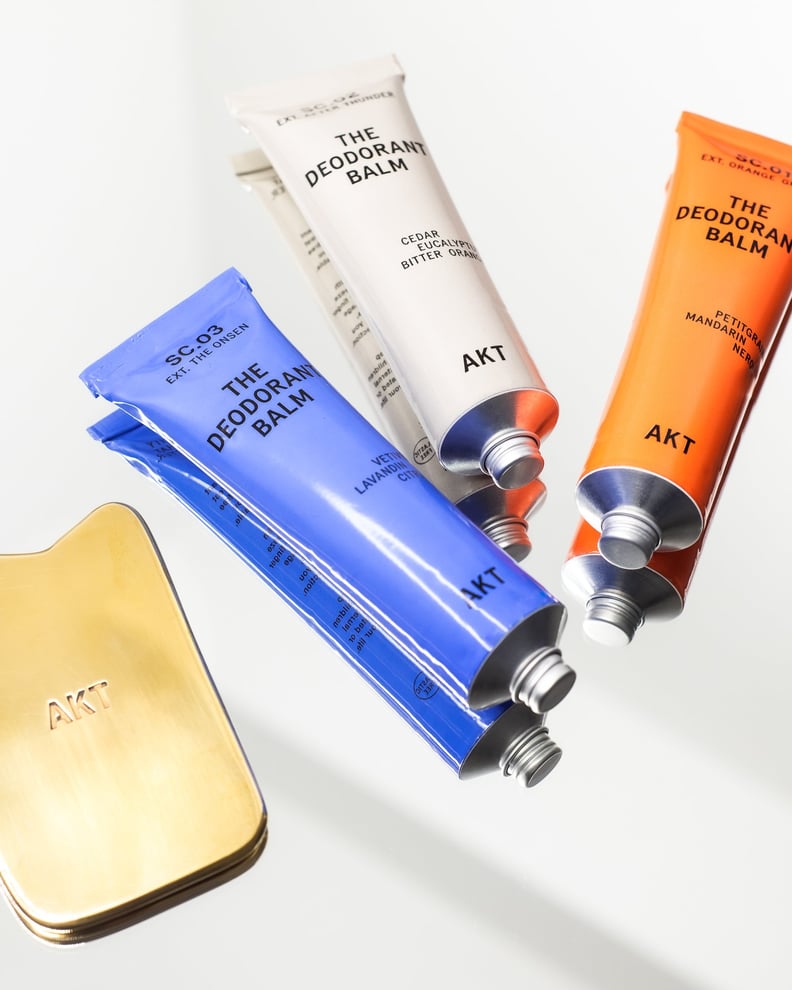 Akt London
Akt London
As POPSUGAR editors, we independently select and write about stuff we love and think you'll like too. If you buy a product we have recommended, we may receive affiliate commission, which in turn supports our work.
I never really believed in natural deodorant. I'm the kind of person who settles for nothing less than a clinical-strength formula that wicks away moisture (or stops it from appearing in the first place), and keeps me smelling fresh for the entire work day. So, when I pitched an article to my editor about the best natural, aluminium-free deodorants on the market right now, I was more shocked than anyone to find a formula that I could not only tolerate, but genuinely loved. Enter, stage right: Akt London: Born to Perform Deodorant ($20).
Akt London is a local British brand founded by Ed Currie and Andy Coxon, two dancers on the West End who know a little something about needing to feel fresh while working an extremely physical job. "We were in a show together called Beautiful: The Carole King Musical, at the Aldwych Theatre in London, back in 2015," Currie told POPSUGAR. "That's where it kind of started because, doing eight shows a week under the hot lights, training during the day, rehearsal, gym, class — you can imagine the amount of sweat that is inducing. Plus, we wear the same costumes every night, so there's no way of keeping them fresh. No matter how much they wash them."
Currie explains that it got to the point where he was throwing away t-shirts every single week, and he thought, "something's got to change." This is how he came to create Akt Deodorant Balm, which started as an experiment in the kitchen of his Camden apartment. Fast forward three years — and countless iterations of the formula later — and Currie was finally ready to use his fellow West End dancers to test whether his deodorant was efficacious. Spoiler alert: they loved it.
"It's their reaction that really made us realize how good it was," said Coxon. "It wasn't until we went to the RSC (Royal Shakespeare Company) to see a play that my friend was in with Caroline Quentin (from Men Behaving Badly). Her husband is a cosmetic formulator, so she put us in touch with him, who then sets us up with a mentor and it just got a bit more serious than us wanting to sell it on Etsy, which was the original plan: making it on the hob, packaging in tins, and shipping it out ourselves." Their new mentor suggested they start a Kickstarter to raise some money — they smashed their target within a day, and to date, have raised nearly $200K.
The best way to describe Currie and Coxon's brand, Akt London, is to say that it's beautifully considered. The packaging (from the box, to the tube, and even the custom aluminum cap) is recyclable and waste-free, which was extremely important to them. But aside from its functionality and nod to sustainability, the packaging is also extremely chic.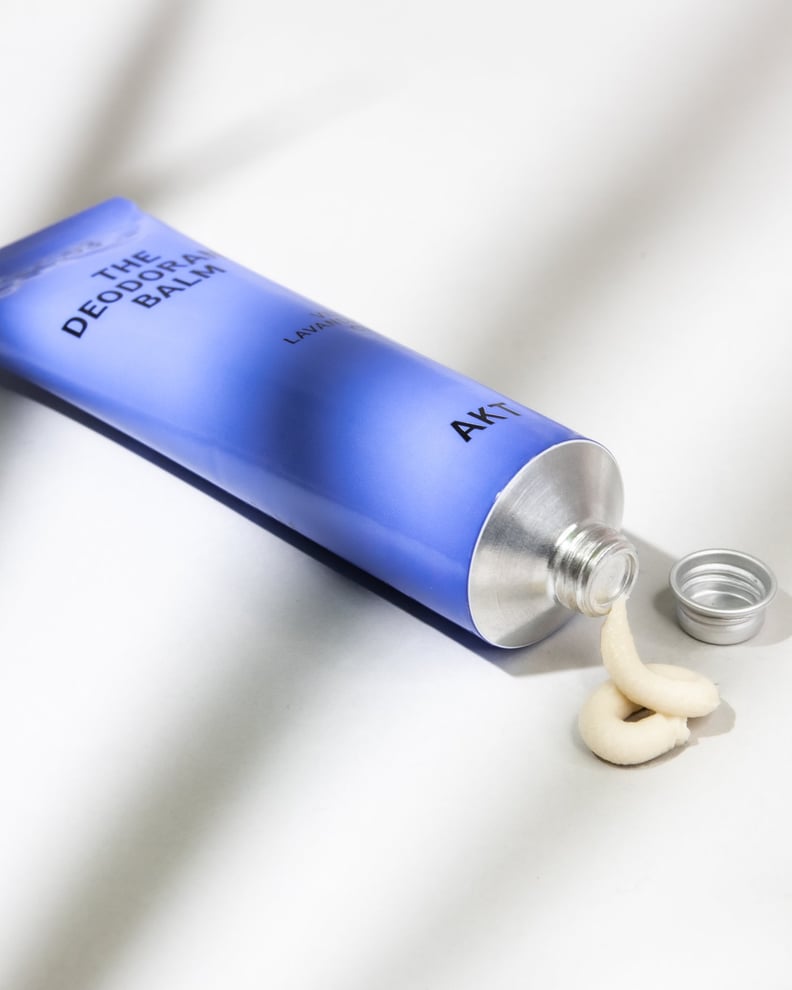 Inspired by their industry, the typography is based on the old theatre billboards, the spacing is like cinema and movie theatre signs, and they've even named the fragrances after scenes. My favorite detail, though, is the directions for using the product. "Let's set the scene," it begins. "You open the box and take out The Deodorant Balm . . . Akt lasts all day. But you put it in your bag. Who knows where today will take you." It's this level of consideration and, let's be honest, cheekiness, that made me so excited by Akt — but to find out the product works? Well, I'm sold for life now, aren't I?
Like I said, the deodorant balm actually works. When I asked what the magic ingredient behind Akt's efficacy, Coxon joked, "fairy dust!" Coxon also explains that they never set out to create a natural deodorant per se, especially given the reputation that natural deodorants usually don't work — it was just a happy coincidence, he says. "We created something called Deo-Barrier Complex, which is a proprietary blend," Currie elaborates. "It's made of a combination of plants and mineral powders. They're all natural and they rest invisibly on the skin, so you won't ever notice them being there, but they absorb the sweat and wick it away from the skin." Coxon adds, You'll see a lot of natural deodorants use very similar ingredients to us. This is why we call it Deo-Barrier Complex. So, it's the right measurements of all the ingredients in the perfect amounts that we've spent three years figuring out. We feel we nailed it."
The balm is a thick, dry-ish paste that spreads easily and while it feels creamy on application, it dries down almost instantly. Surprisingly, the Akt London: Born to Perform Deodorant Balm does a pretty good job of keeping me dry throughout the day, which is almost unheard of for an aluminum-free deodorant formula. According to cosmetic chemist Ron Robinson of BeautyStat Cosmetics, this is thanks to "baking soda (sodium bicarbonate) as well as magnesium oxide, which also helps to absorb odor and wetness." Robinson did also note that baking soda can be irritating for some people who have very sensitive skin, but Currie assures me that this was a key consideration when formulating the deodorant, to ensure only a small amount was used in the balm.
Where many natural deodorants smell feminine, floral, or are very citrus-heavy, Akt's fragrances are created for all genders. In my opinion, they have more fresh, earthy, and spicy notes — which I love and actually think is sexy — and would compare all three to style of perfumes that Le Labo or Malin + Goetz are known for. "We never wanted it to be gender specific," said Currie. "Because it's 2020 — it's just a good deodorant that's going to work for anyone."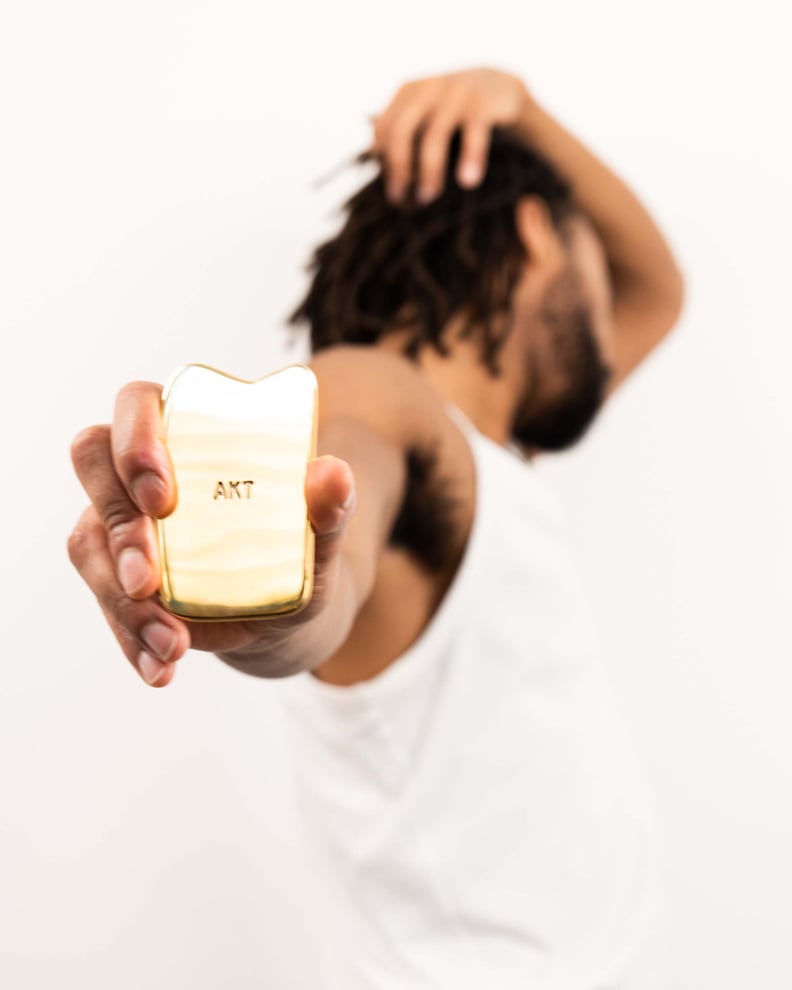 Running with the luxe and efficacious ethos behind Akt, Currie and Coxon also wanted the deodorant balm to be a self-care moment for people, too. That's why they've designed the brass applicator that's inspired by the ancient Chinese healing technique, Gua Sha. The applicator has dual purpose: first, to help apply the product and second, to give yourself a little massage afterward. "So you put a pea size amount on the applicator, and just apply it to your underarm," said Coxon. "You can literally, like spreading butter on your toast, just spread until it's absorbed."
Currie also says that while creating the deodorant balm, they wondered why people don't care for underarms in the same way they do with other parts of our bodies, especially given the high concentration of lymph nodes in this area. "We wanted something that was going to not just apply the deodorant, but it was going to massage that area to encourage microcirculation for lymph nodes and correct lymphatic drainage," he said. "If you do this specific massage afterwards . . . once you do it, you feel so zingy." I can personally vouch for this and, thanks to the deodorant balm's coconut oil and shea butter ingredients, the massage is a lovely self-care ritual that feels good for the soul — plus, it spreads the deodorant's fragrance around my upper body, leaving me smelling fresh all day.