As POPSUGAR editors, we independently select and write about stuff we love and think you'll like too. If you buy a product we have recommended, we may receive affiliate commission, which in turn supports our work.
Visually, "Amsterdam" is a beauty-lover's paradise. The film spans roughly 15 years, taking place from 1918 to the 1930s, and follows three friends — Valerie (played by Margot Robbie), Burt (Christian Bale), and Harold (John David Washington) — that accidentally stumble into a murder investigation. As if those big names weren't enough, the ensemble cast also includes Taylor Swift (as Liz), Anya Taylor-Joy (as Libby), and Rami Malek (as Tom).
Beauty-wise, we're treated to period hair and makeup from three different decades and get to see our characters evolve with the times. Makeup department head Nana Fischer tells POPSUGAR how important it was to "tell this story through makeup" and hair. "I was almost like working on a really old Hollywood movie," she says. "It's like going back in time."
Robbie alone has approximately six different makeup looks in the movie and three wigs that she cycles through. To create the looks, not just for Robbie but the whole cast, Fischer took inspiration from art deco paintings and the black and white portraits by George Hurrell of Old Hollywood stars such as Marlene Dietrich and Audrey Hepburn. Meanwhile, hair department heads Lori McCoy-Bell and Adruitha Lee went to thrift stores to pull old books and even looked at old family photographs. "A lot of the looks came from pictures of my great-grandmother," says Lee.
Ahead, Fischer, Lee, and McCoy-Bell walk through a few of the standout hair and makeup moments in "Amsterdam" and share the exact products used on set.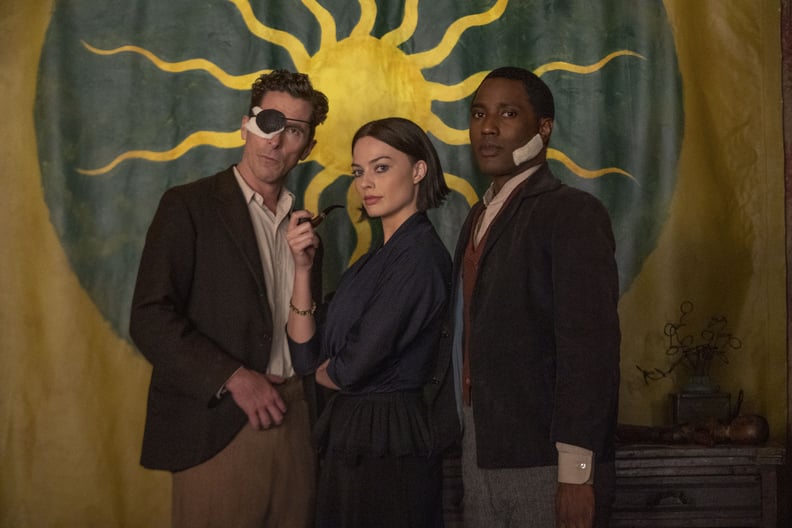 How Margot Robbie's Makeup Evolves
Robbie's look is constantly changing as we jump through time in "Amsterdam." When she's first introduced in 1918, she's working as a nurse and an artist. "I kept her makeup really natural," says Fischer. She gave her a warm skin tone, freckles, rosy cheeks, and pink lips. Fast-forward 15 years later, she's living with her brother and is very sick. "She's on medication, but she's been kept at home," she says, so all of the color has been drained from her face, and she's in foundation three shades lighter than her natural skin tone to make her look pale. For this, she used the Suqqu The Cream Foundation in Shade 110 ($94).
"Then when she's back with her friends, and she's decided to come off the medication, [we] introduced some colors back into her," says Fischer. During the flashbacks to the friends' time in Amsterdam (the city, that is) in the '20s, Robbie's character, Valerie, is at her happiest. The fashion of the time period is very Bohemian, and Fischer really pushed her look to match that vibe. "I played around with very heavy dark eyeshadows and then used my fingers to put an ointment on it to make the eye look very shiny and dewy," she says. She used the Mac Matte Eyeshadow in "Carbon" ($21) to get the smoky look and layered a bit of Lucas Papaw Ointment ($9) overtop. "Then I went in with the contouring, and then played around with the lips." Blush placement was imperative — at the time, it was worn directly under the eyes. For this, she used the Chanel Joues Contraste Powder Blush in Love ($45).
Eyebrows are another feature that Fischer paid close attention to. The trend back in that time period was to wear them in a sharp, thin, half-moon shape, and Robbie, being fully committed to the role, allowed Fischer to pluck her natural brows to achieve the look. Her lip changes from scene to scene, but one combo used again and again was the Chanel Rouge Allure Velvet in Libre ($42) with the Mac Lip Liner in Spice ($21).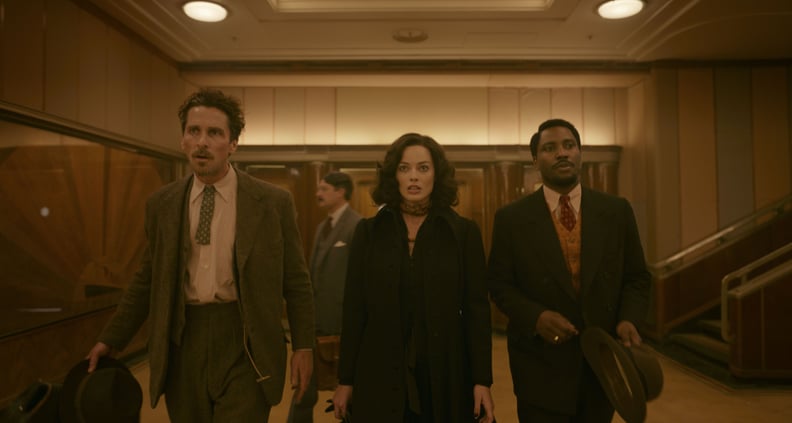 The Symbolism Behind Margot Robbie's Evolving Hairstyles
Just like her makeup, Robbie's hair evolves as the movie progresses, but her ever-changing styles pack a deeper meaning. "We just took her on her journey in that movie, and the hair went along with it," says Lee. "Whatever was going on in her life and in her head."
As a nurse, Robbie needed a softer look. "I pulled a lot of photos from the dust bowl period where the women just didn't have a lot to do their hair with, so we just tried to do something that was soft [and] framed her face pretty," says Lee. In the city of Amsterdam is where she really shined. "There were different hairstyles that came out of that, and one of them was the artsy looking straight-edge shingle haircut." To style this sleek look, they used the Tres Flores Three Flower Brilliantine ($6), which is a product from that period.
When she's sick and staying with her brother, we see her hair become loose and undone and have more of a lived-in feel. This symbolizes where she was mentally at the time. It's not long though before she returns to her more polished waves, which coincides with her reunion with her two best friends. "It's just an homage to the strength and being grounded with the good people in her life," says McCoy-Bell.
They used old-school styling techniques to keep the hair as authentic to the time as possible. For Robbie's undone look, Lee used paper towels as rags to create DIY rollers (because hot rollers wouldn't have been invented yet) and sprayed the hair with the Davines Oi All-in-One Milk ($38). She also used old-fashioned oven irons instead of the curling irons we have today. "We went as far as we needed to go to try to mimic that period," says Lee.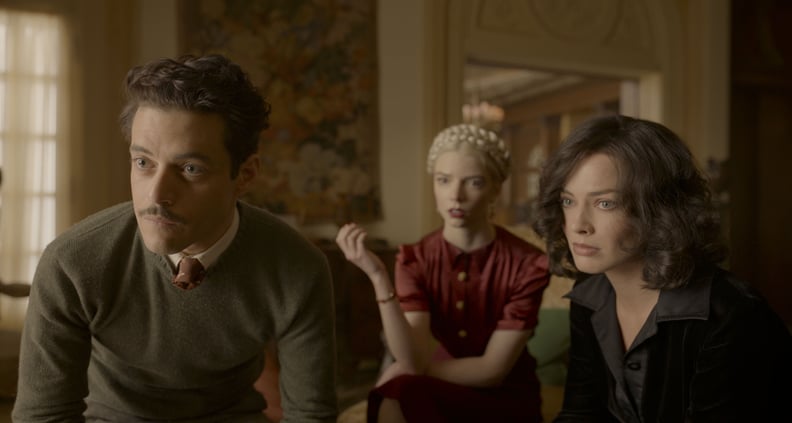 Anya Taylor-Joy's Angular Beauty Look Is Intentional
Taylor-Joy has quite a striking look in the movie that's influenced by the German Aryan look at the time. Her character, Libby, and Malek's character, Tom, who is her husband, are secret members of the Nazi party. The actor has two looks in the film, but both follow a similar protocol. "We wanted to keep her quite clean, sharp, and to the point," says Fischer. This was accomplished by a heavy, chiseled contour to her cheekbones "to give her this really angular look." For her base, they used the Chantecaille Future Skin Foundation in Alabaster ($82), the Armani Beauty A-Contour 21 ($36), and the Dior Forever Natural Powder Bronzer ($48).
Taylor-Joy's eyebrows didn't require any plucking like Robbie's did, as they're already on the thinner side. Fischer emphasized Taylor-Joy's natural lip shape with the Dior Rouge Dior Refillable Lipstick in 999 Velvet ($42).
The two hairstyles Taylor-Joy wore were created with her real hair and saw it pulled back off her face, showing off her bone structure. "She enjoyed her rich lifestyle," McCoy-Bell says, and her hair had to look as such. The most standout look featured intertwining braids that formed a halo on top of her head. "They called it coronet braids at the time — that's like [what] Dorothy Lamour or Barbara Stanwyck wore in the day, but it wasn't hugely mainstream," says McCoy-Bell. To create the braids, they used the Olaplex No. 7 Bonding Oil ($30).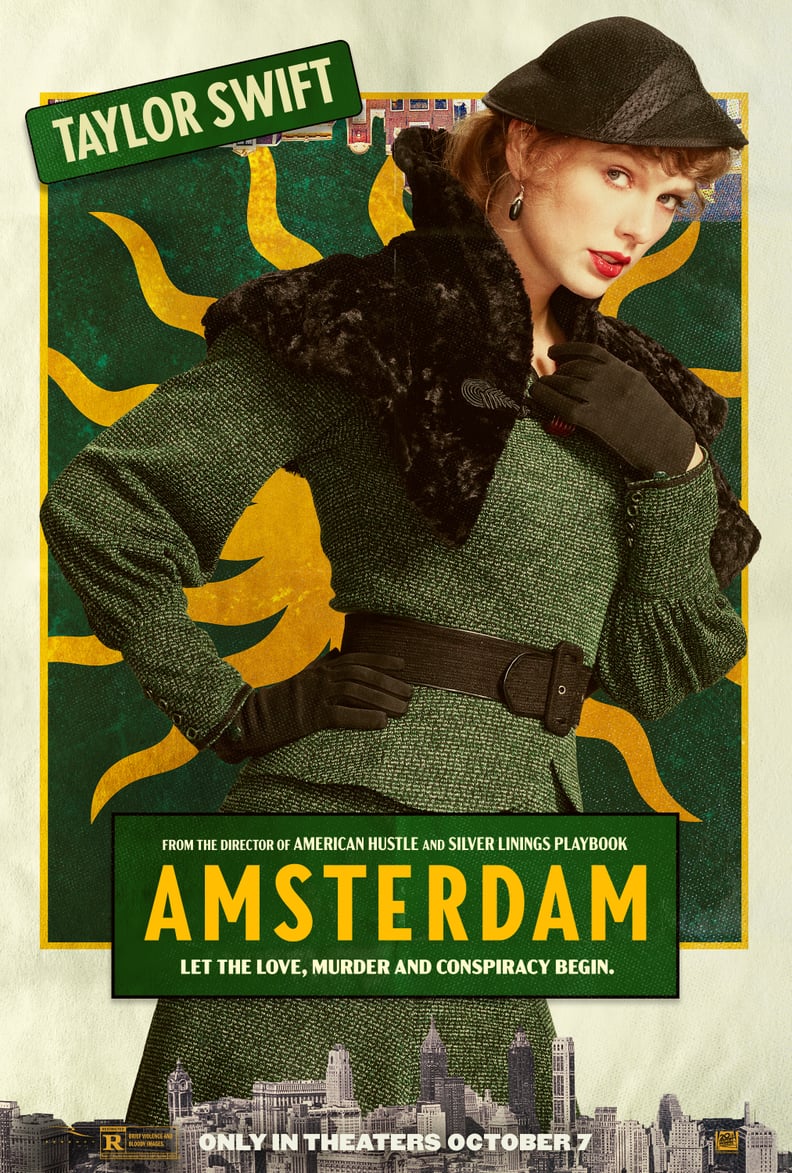 Taylor Swift's Beauty Look Needed to be Budge-Proof
Swift as Liz, the daughter of the man who has been murdered, is a surprising, yet exciting addition to the ensemble cast. "She was so committed to this character," says Fischer. So committed, that she, too, let them pluck her real eyebrows into that ultra-thin half-moon shape. "I powdered [her] face quite a bit, so everything looked really matte," says Fischer. "And then the lips just really pop out because they're so shiny. So, they look like glass." Her eyes received the "Marilyn Monroe look" to give them a romantic, sleepy feel — this included soft brown eyeshadow, a flick of liner, and layers of waterproof mascara. "She actually cries a lot," Fischer says.
The hair departments used Swift's real hair in the film. "We thought that the color and the tone and the shape of her hair could do a great look for a '30s feel, and we didn't want to do anything too different," says McCoy-Bell. "We wanted her to be recognized for who she was." To keep the star's hair in great shape, they used the Hask Keratin Protein All-in-1 Leave-In Spray ($8).
We see her chignon hairstyle change ever so slightly throughout the day. When she's first introduced in the funeral home, her hair is styled neatly. At the end of the very tumultuous day, it has more flyaways. "Some of the hair pieces have fallen down from that," says McCoy-Bell. "That shows some time had gone by."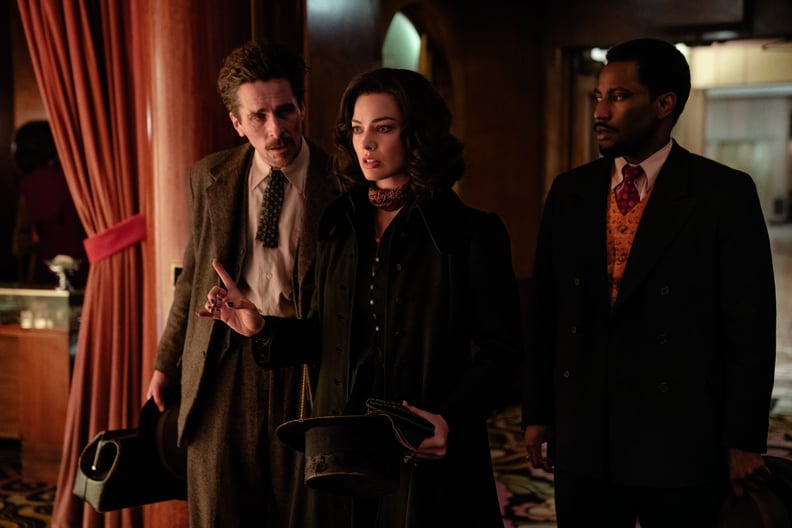 A Popular Nail-Art Trend Makes An Appearance
The period details didn't stop with the hair and makeup. Fischer also created the nails that we see in "Amsterdam," particularly for Robbie and Taylor-Joy. "In the 1930s, [Robbie] has this typical half-moon nail varnish," she says. "But with Margo, we could really push it." To mix things up slightly, Fischer used a dark maroon shade for the nails and added an accent dot to the center of each finger, inspired by Valerie's artistic style.
Taylor-Joy also wore half-moon nails but with a slightly different vibe. "She's the lady of the house, [so] we kept her nails a bit longer and went for a bright, daring red," says Fischer. Whereas Robbie's nails had to be short because she was playing an artist who would frequently be working with her hands, Taylor-Joy "wouldn't do any housework."