FYI: the following contains some spoilers for Black Panther.
Among many things, Black Panther is a celebration of natural hair. The head of the film's hair department, Camille Friend, insisted that the cast arrived on set with their natural hair and her team would take it from there. One look in particular — referred to as the "pièce de résistance wig" by Camille — has viewers especially surprised and excited.
In the many Black Panther trailers, you'll probably notice that Angela Bassett — portraying Queen Ramonda — is always wearing regal and elaborate headdresses. (It's hard not to notice them!) At a critical moment in the film, however, the queen appears for the first time without a headdress, revealing stunning white dreadlocks.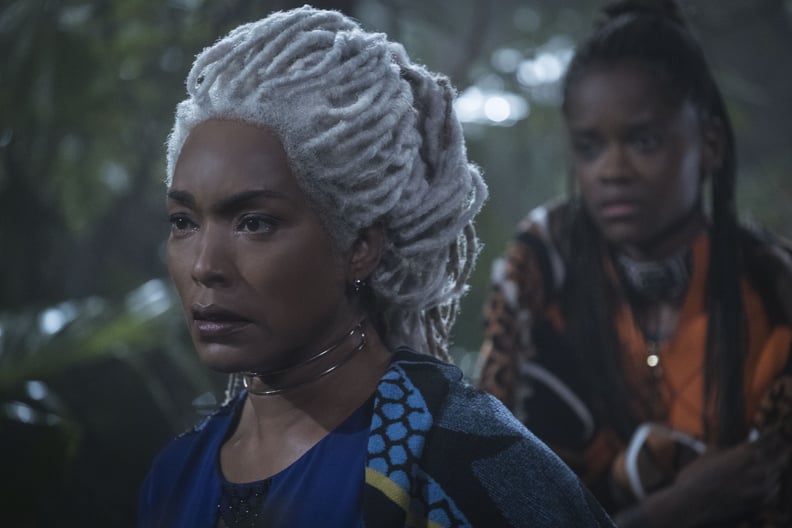 In an interview with The Cut, Camille gave a little insight into the elaborate process that went into making the wig. "All of the dreads were handmade, and they were blended with four different colors," she said. "Once those were made — there were about 110 pieces of individual dreads — we sent those to the wigmaker [Natascha Ladek], and the wigmaker inserted them in the wig. That whole process took about a month."
The unexpected reveal left viewers buzzing online, with some even saying it was their favorite detail from the film. Others online said Angela could totally play Marvel superhero Storm, which, agreed. If you're watching (or rewatching) Black Panther sometime soon, brace yourself for this already-iconic hair moment.
But can we just take a minute to pay homage to Angela Bassett's snow locks and all their perfection

— Ghostface Kamillah (@Kamille_Jones) February 16, 2018