Beyoncé's Hair Color Includes Expertly Placed Money Pieces — Here's Exactly What Those Are
Behold Beyoncé's latest selfie, where she looks like a golden goddess. Or a real-life shimmering angel. Or better yet, an actual living, breathing mermaid because her glossy waves are the stuff beauty fantasies are made of. And part of what makes those waves so beautiful is her gorgeous hair color.
Aside from the fact she's Beyoncé and she always has great hair, the secret to her flattering hue is strategically placed, face-framing blond highlights. Or as it's often referred to by hair professionals: "money pieces."
So what exactly are money pieces? We tapped into the knowledge of Beyoncé's colorist Rita Hazan, New York City-based hair colorist Rachel Bodt, and Jack Howard, balayage expert in the UK, to let us in on everything you need to know about "money pieces" and why face-framing highlights can be so important to your overall hair color.
What Is Money-Piece Color?
Money pieces refer to the strategic placement of lighter hues along the face-framing pieces of hair using the balayage technique, Howard explained.
"By adding light pieces around your hairline, you immediately brighten your face," Hazan said. "If you have dark hair, it's a great way to add some blondish color to your hair without destroying your texture. Beyoncé loves a face frame. The moment you see her it's like . . . Boom! Beauty and power."
Why Are Money Pieces So Important?
Money pieces draw you into the eyes and face, Howard said. It's also a great way to emphasize your bone structure. "I love the technique because it frames the face and makes the complexion glow," Bodt added. "It's the hair color equivalent to highlighter or makeup contour."
It also gives the illusion of more movement and dimension in the hair. "It feels bright and fresh because there is dark behind it, which I find makes the dark look rich and the light look lighter," Bodt said.
What to Ask Your Colorist If You Want to Replicate the Look
Want hair like Beyoncé's? Don't we all. But seriously, if you want money pieces like hers, be sure to specifically request a few lighter balayage pieces around the front of the face, including the baby hairs. Your colorist can help choose the exact tones that will work for your specific eye color and skin tone, but if you're really feeling Bey's exact shade, "ask for honey or baby blond," Hazan said.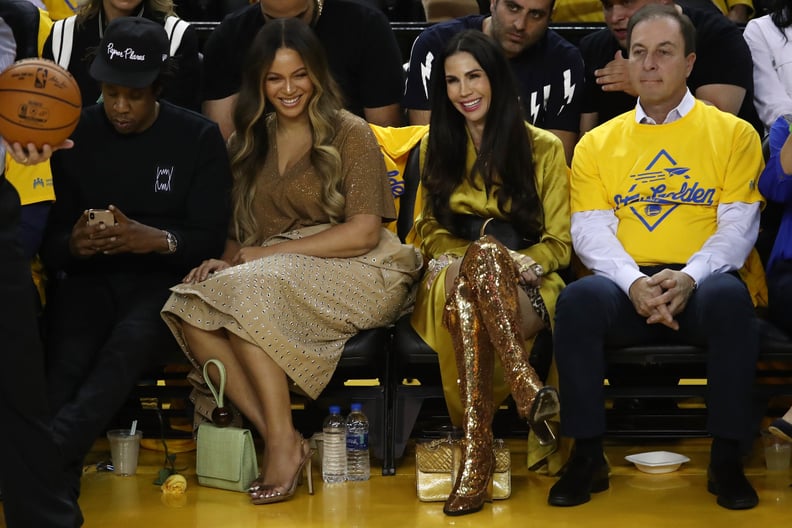 Good Money Pieces Take Time
If you're considering face-framing balayage pieces on your next visit to the salon, be sure to let your colorist know in advance as it may extend the time (and in some cases, the cost) of your appointment.