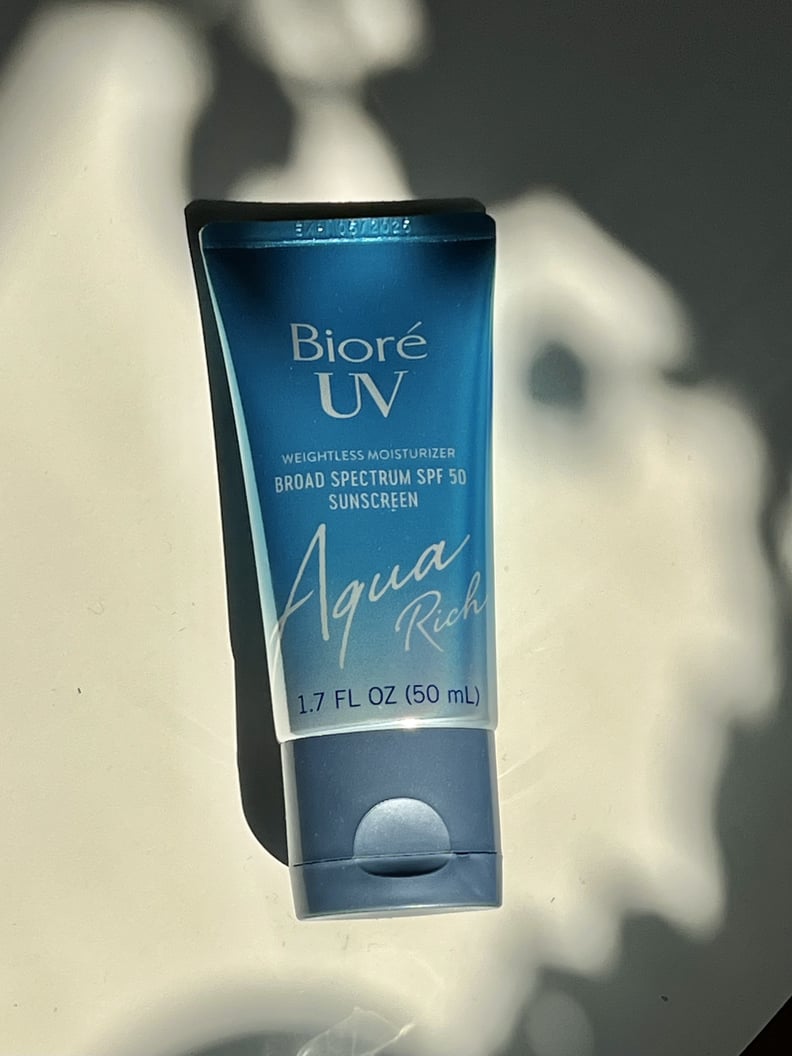 POPSUGAR Photography | Anvita Reddy
POPSUGAR Photography | Anvita Reddy
As POPSUGAR editors, we independently select and write about stuff we love and think you'll like too. If you buy a product we have recommended, we may receive affiliate commission, which in turn supports our work.
Finding the best sunscreen for your skin type and needs can be difficult. From the texture and formulation to the feel and finish, I'm very picky when it comes to my ideal SPF. I've found that Asian sunscreens have worked best at leaving my skin looking radiant rather than chalky, but because the advanced filters used there aren't FDA-approved in the U.S., getting my hands on them is impossible without a trip abroad. However, some of those Asian bestsellers are getting reformulated so they can make their way to the US market. One such sunscreen is the Bioré UV Aqua Rich Sunscreen SPF 50 ($15)
It has gone viral over and over again for its weightless, moisturizer-like feel and now has an FDA-approved formula that's readily available from trusted retailers. The Japanese brand states that it's fast absorbing and leaves no white cast, so I had to give it a try to see what all the hype is about. Keep reading for my full review of the SPF.
About the Bioré UV Aqua Rich Sunscreen SPF 50:
This is chemical-based sunscreen contains three percent avobenzone, 10 percent homosalate, five percent octisalate, and five percent octocrylene for a broad-spectrum SPF 50 protection.
It also contains hyaluronic acid and has an oil-free formulation.
The sunscreen has a weightless moisturizer-like feel that is noncomedogenic and nongreasy.
It's great for normal, acne-prone, dry, and combination skin types.
It's vegan and cruelty-free.
What I Like About the Bioré UV Aqua Rich Sunscreen SPF 50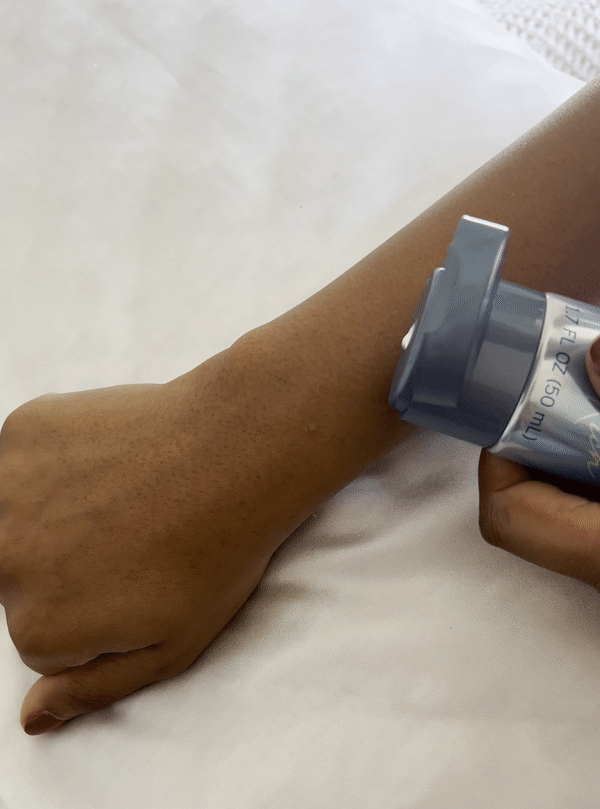 As someone with dry skin, I love how moisturizing the Bioré UV Aqua Rich Sunscreen feels — so much so that I can skip moisturizer in the morning. Like most K-beauty or J-beauty sunscreens, the texture and feel of this formula is elegant and doesn't feel like a traditional sunscreen, which makes me look forward to putting on sunscreen and reapplying throughout the day. The sunscreen also has a broad spectrum UVA/UVB protection of SPF 50, which I love for preventing any additional dark spots and hyperpigmentation from appearing.
Thanks to the formula's hyaluronic acid, the Bioré UV Aqua Rich Sunscreen gives my skin a plump appearance with a subtle glow. And no matter how long it's on my face, I won't break out. Its texture also plays a huge role in how this sunscreen blends into my skin for a white-cast-free wear. At first, it comes out as an opaque white, thick cream-gel-like texture, but then when I blend, it sheers out into a completely transparent, weightless formula that quickly absorbs into the skin. As a person of color, finding a quality sunscreen that doesn't leave a white cast and feels good to wear is a feat, and the UV Aqua Rich Sunscreen is a winner in my book.
How to Use the Bioré UV Aqua Rich Sunscreen SPF 50
Like most SPFs, you should liberally apply this sunscreen all over your face and bring it down to the neck. I recommend using the two-finger rule for adequate sun protection — and don't forget the ears. It should be the last step of your morning skin-care routine, but before applying any makeup. Because of the formula's initial thick texture, I like to apply this in layers and dot it all over my face so it's easier to blend out. Any excess product left over, I bring down to my chest, the back of my hands, and any other exposed areas.
This sunscreen plays well with other products and doesn't pill, in my experience, which is probably due to its oil-free formulation. However, a trick I learned to prevent pilling in the first place is to let the product sit and absorb into your skin for a minute before going into the next steps. I can easily reapply the Aqua Rich Sunscreen throughout the day since its elegant texture allows it to not feel too heavy on the skin.
What to Consider Before Trying the Bioré UV Aqua Rich Sunscreen SPF 50
This sunscreen is in constant rotation in my roster; its elegant formula with zero white cast that leaves a subtle glow is ideal for my minimal and no-makeup days. If you prefer a physical sunscreen, just keep in mind that this is a chemical-based sunscreen. Those who have sensitive skin might struggle with chemical sunscreens; however, I haven't experienced irritation from this one.
Since this is more of a moisturizing sunscreen, if you lean more oily or prefer a matte finish, it may not fit with your skin's needs. Although I haven't experienced eye stinging with this chemical filter blend, I like to set the sunscreen around my eyes with a setting powder so that it doesn't budge.
Where Is the Bioré UV Aqua Rich Sunscreen SPF 50 Available?
The Bioré UV Aqua Rich Sunscreen SPF 50 is available at Amazon and Target ($15).
Rating:
★★★★