The Symbolism Behind the Hairstyles in "Black Panther: Wakanda Forever"
Every editorial product is independently selected by our editors. If you buy something through our links, we may earn commission.
The long-awaited sequel to Marvel's "Black Panther" finally hit theaters on Nov. 11. "Black Panther: Wakanda Forever" tells the story of the women in the nation, specifically Queen Ramonda (played by Angela Bassett), Shuri (Letitia Wright), and Okoye (Danai Gurira), and the great lengths they'll go to in order to protect Wakanda. This movie picks up with the loss of King T'Challa, following the death of Chadwick Boseman, which heavily influenced not just the plot of the movie but the hairstyles as well.
"Everybody is in mourning of T'Challa's death," Camille Friend, the film's hair department head and an ambassador for Prose, tells POPSUGAR. "They lost their king — that's where really it started from." But life must go on, and the sequel lays out that next chapter.
"This movie is about the women," Friend says. "It's about the mothers, it's about the daughters, and it's about the connection women have, how we support each other in the community." Hair is one of the deep cultural connectors between women, especially within the Black community, so it only makes sense that the styles featured in the film are rich with meaning.
Ahead, Friend shares more about the symbolism behind the hairstyles we see in "Black Panther: Wakanda Forever" — from why Queen Ramonda's and Shuri's hair are much shorter this go-around to how the color of Nakia's hair visually tells the story — as well as the go-to hair products the team went through most on set. Keep reading for more.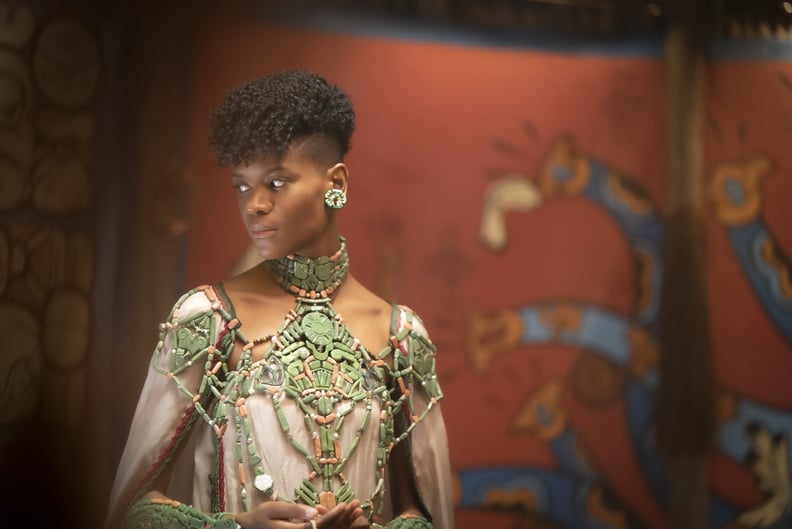 The Symbolism Behind Queen Ramonda's and Shuri's Hair
In "Black Panther: Wakanda Forever," Queen Ramonda and Shuri both have shorter hairstyles than they did in the first. "In West African culture, when you're in mourning, you cut your hair off," Friend says. This change in length is also supposed to represent the passage of time.
"You'll see Angela Bassett initially with her locs from the first one, and then you'll see her in her new shorter style," Friend says, describing the actor's short, four-inch Afro hairstyle featuring colors of white, platinum, and silver in the new film.
The reasoning was the same for Shuri's shorter hairstyle. "Her sides and her back are shaved, but we got rid of the braids, and now she's in a short, curly 'do," Friend says. "It's done with two-strand twists and flat twists to achieve the texture."
As the story goes on, however, both Queen Ramonda and Shuri begin to grow out their hair again. "Them growing back their hair [is] almost like the renewal," Friend says. "Wakanda now is a different nation."
How Nakia's Hairstyle Visually Tells the Story
Nakia (Lupita Nyong'o) undergoes a bit of a transformation in "Black Panther 2" but for different reasons. Before, her hair was styled in what they call "Wakandan knots" in her signature red color.
"In this movie, she has moved to Haiti, and she's totally changed her life," Friend says. "We have her where she grew out her hair, she has beautiful locs, but they are done in an ombré color of her beautiful shade of red." Fading the color from the roots to the ends help illustrate just how much time has passed.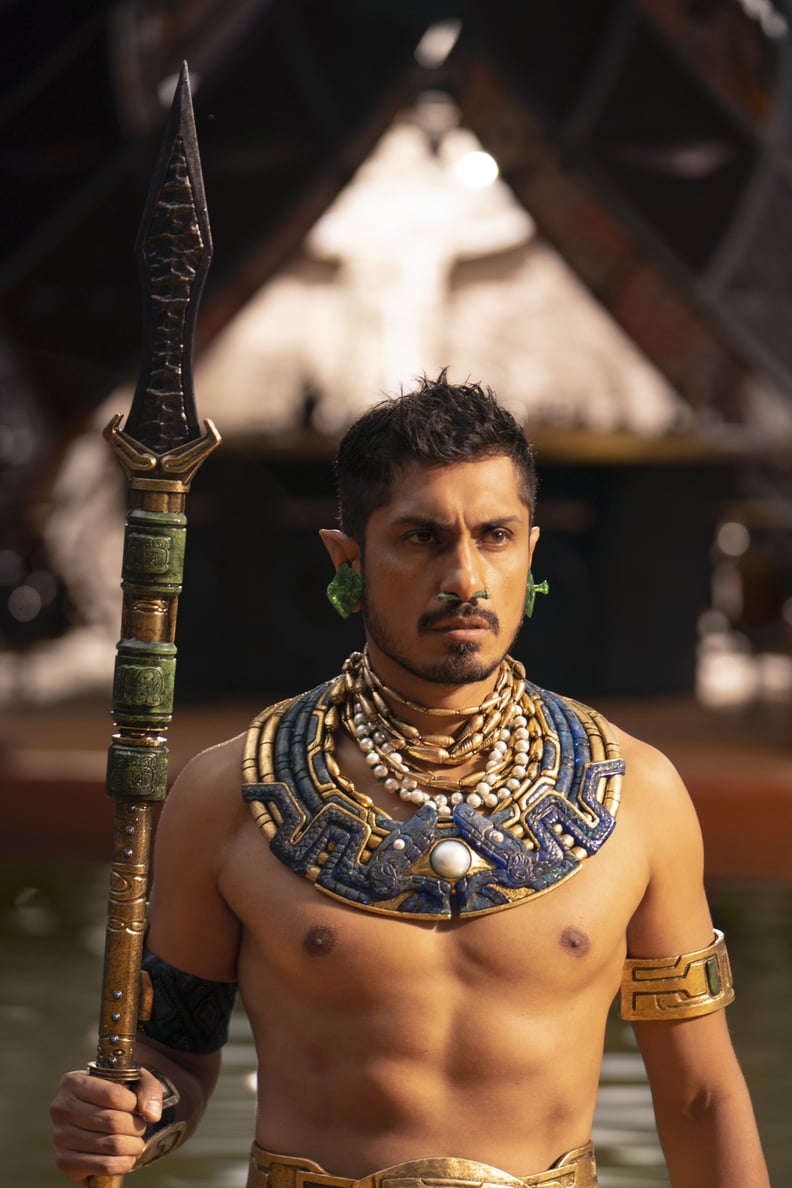 The Inspiration For the Talokan Tribe
In the Black Panther franchise, there are several different tribes, which results in an ensemble cast of over 100 people. "When we get past 99, I stop counting," Friend says. In the second movie, we're introduced to the Talokan people. Their look was inspired by the Mayan culture and their Mesoamerican roots.
Though in the past Friend has used these groups of ancient people as jumping-off points for inspiration, she wanted to keep the hair for the Talokan tribe as historically accurate as possible. "We really wanted to protect what the Mayan culture is about, especially [because] this culture hasn't been seen in a lot of movies," she says. "To have this opportunity, I just wanted to be culturally appropriate and keep it in those styles."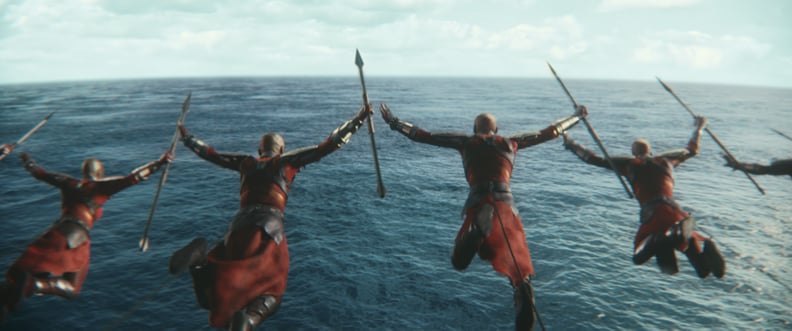 How Filming in Water Posed a Challenge For the Hair
Creating hairstyles for over 100 actors wasn't as much of a challenge for Friend and her team as the water scenes were. Despite many thinking those scenes were all CGI, she's quick to set the record straight: "We were really in the water — we were in tanks." This made it all the more important that the hairstyles, hair pieces, and wigs held their shape. "It's very daunting to put people in tanks and water for 12 hours a day," Friend says. The key to making it happen was setting the styles with the right products (more on that later) and having a unit of hairstylists on hand at all times to fix things as needed.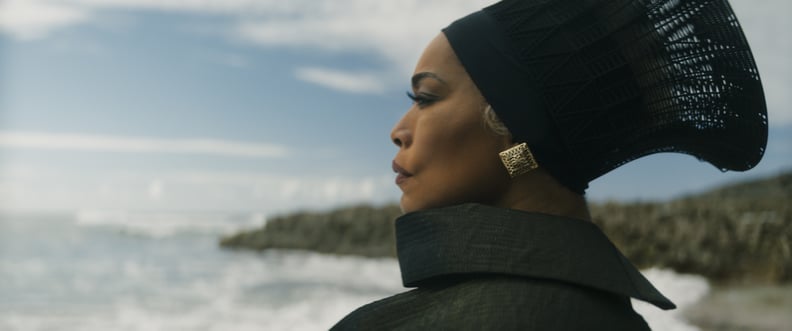 Products Used on Set of "Black Panther 2"
The water, Georgia humidity, and fast-paced action scenes all posed a threat to the hairstyles in "Black Panther: Wakanda Forever," but there are three products Friend and her team used throughout filming to remedy this. "We did a lot of what I call setting the hair with it," Friend says. "Anytime you're getting into a curly texture of hair, I always like to use something with moisture, and then I like to seal it with something like a gel." For this, she used the Prose Custom Styling Gel ($30). "It was something that we really used all the time, and it was very, very versatile."
She also relied on the Design Essentials Avocado and Almond Curl Enhancing Mousse ($17). "Honestly, it's my go-to mousse. I use it for everybody," she says. And last but not least, she turned to the Hask Curling Defining Cream ($7), which she recommends for everyone with curly hair.