TikTok Convinced Me to Try This New No-Rinse Self-Tanner, and It Lives Up to the Hype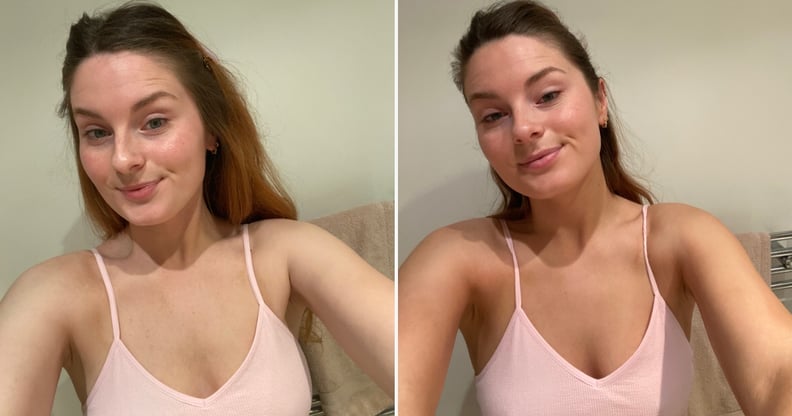 POPSUGAR Photography | Tori Crowther
POPSUGAR Photography | Tori Crowther
As POPSUGAR editors, we independently select and write about stuff we love and think you'll like too. If you buy a product we have recommended, we may receive affiliate commission, which in turn supports our work.
I've been self-tanning pretty much weekly since I was 14, thanks to an Irish dancing hobby that required me to take my faux glow very seriously. Since then, I'm happy to report that not only has my tan become far less orange, but self-tanner formulas in general have become far more elegant and easy to use. This all means that when it comes to tanning at home, I know my way around a mitt and bottle of the stuff. It also means it takes a lot to really impress me when a new tanning formula hits the market. That's exactly why when I saw the Bondi Sands Pure Self Tan Foaming Water ($27) trending on TikTok with Tasha Clegg calling it the best tan she's ever used, I wasn't immediately convinced it would be as good as people said. Much to my surprise, it was.
The Bondi Sands Pure Self Tan Foaming Water has quite a simple promise, which is to give the "iconic Bondi Sands golden glow." There's no doubt that it achieves exactly this, if not an even better glow than some of the other formulas provide - it's one of the most natural-looking at-home tans I've ever tried.
Before getting into the results, let's talk ingredients. If you've previously been allergic or super sensitive to tanning products, this one could be for you. Formulated without fragrance, dye, or sulfates, the Pure Self Tan Foaming Water is designed to be gentle enough for sensitive and dry skin types. Although I do have sensitive skin, I've never had an issue with tanning products irritating my skin, but it is a major positive that more people can now use them. The Pure formula also contains hyaluronic acid, vitamin C, and vitamin E to add extra hydration to the skin while simultaneously giving it a bronzed glow.
Sustainability was at the forefront of this collection, too. The bottles are made from 100 percent recycled plastic and don't contain any metal because they don't have a pump mechanism. This means that you can toss the bottle straight into the recycling when you're done with it.
When it comes to application, instead of applying the tanner my usual way, I followed Bondi Sands's instructions to a T. The Pure Self Tan Foaming Water in Light/Medium bottle said I should apply the foam (although, I must mention that, for the most part, the formula came out as water and not a foam) directly onto my body and then use the mitt to blend in long sweeping motions. However, since the formula didn't foam, it wasn't easy to apply at first because it was too watery; it kept dripping into the sink. The bottle suggested not to shake it, but I think a little shake could've given it the correct foamy consistency.
The product doesn't need to be rinsed off, meaning it doesn't have a color guide. This makes application, even for a tanning expert, a little tricky. I typically use a color guide because otherwise, I always miss a patch. It was no different with this product — I definitely missed areas, especially on my wrists. Having said that, the no-rinse aspect definitely made the lack of color guide worth it in my book and I think I'll be much better prepared for my next application.
Another great thing about the tanning water is that a little goes a long way thanks to its watery consistency. This makes the tanner much more affordable than many other products out there.
Typically, when it comes to tanning my face, I use tanning drops added to my moisturizer but I was curious to see how the foam would work and I can report it turned out great. Since the water is so lightweight, it didn't feel heavy or suffocating like some fake tan formulas do. However, I do think I like the Bondi Sands Pure Self Tanning Sleep Mask ($25) from the same range for my face better.
The results of the Pure Self Tan Foaming Water were impressive, to say the least. I was not expecting to love it as much as I did. It definitely takes a couple of tries to master the application and make sure you don't have any patches, but since it's a no-rinse, zero color guide formula, it's super easy to touch up if you do get a streak or two. The color is incredibly natural and develops, as promised, in as little as six hours and continues to subtly develop over the next 24 hours. Although the formula wasn't completely odorless, the scent was really light and smelled significantly less than any other self-tanning mousses I've tried. It is a teeny bit sticky when first applied, but only very slightly and again, way less than if it were a traditional mousse tanner.
All in all, if you're looking for an incredibly natural-looking tan without the mess and trouble of having to wash it off, I have to agree with TikTok on this one — the Bondi Sands Pure Self Tan Foaming Water ($27) might just be your ticket to a perfect faux glow this year.