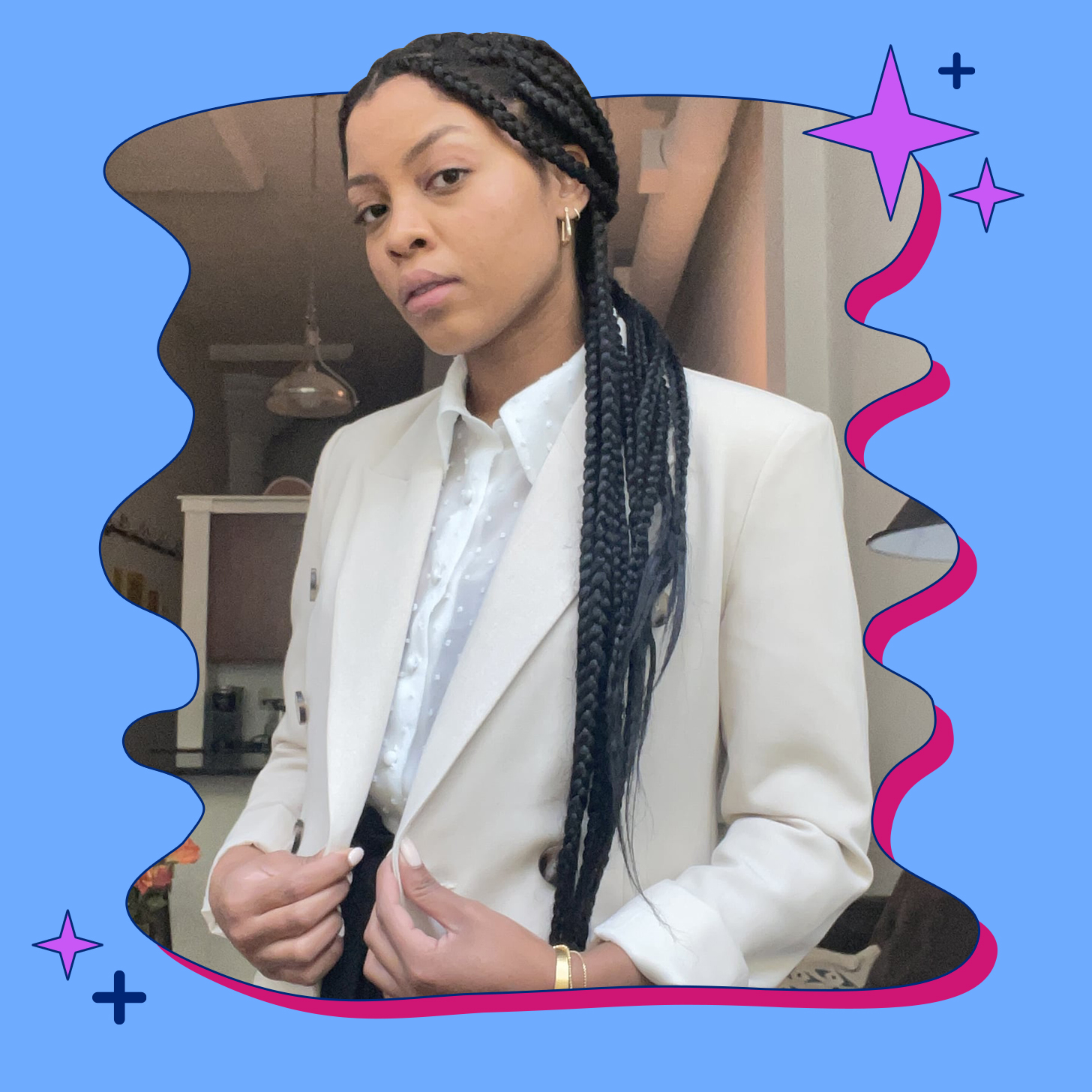 The "Black letter law" rarely makes room for Blackness.
What I mean by that is the legal profession is in need of more diversity, with only 7.8 percent of law students being Black. From my point of view — that of a brand-new, prospective Black lawyer — the lack of representation in the legal field provoked a developing fear of how my colleagues, professors, and future employers would perceive me in the workplace, especially when it pertained to my hair.
As a child, I was taught that I needed to work twice as hard to "make it." It was implied that being successful meant that I had to prove people wrong. I quickly learned that in this society, my appearance triggered an array of harmful assumptions, like that I could only ever be "pretty for a Black girl." Being Black in predominantly white spaces, particularly in edifices for education, also carried over into my graduate school experience.
I started law school in the lost year of 2020 wearing my natural hair. This was a choice I made unthinkingly, because it came after a summer of wearing braids (my go-to protective style), and I was letting my hair grow out. At the beginning of the semester, the virtual format of school gave me more time to focus on the maintenance of my natural hair. Every evening, I would tend to my tightly coiled curls with creams, twists, oils, and satin bonnets, treating my nightly routine as a form of self-care.
However, as the semester progressed into finals, summer internships, and a ramping up of extracurricular activities, I knew that nightly ritual needed to change to accommodate the difficulties of my first (IL) year. Maintaining my natural hair became difficult, as the vast majority of my time was taken up by the academic demands of law school. I wanted to get my braids back, but refrained from doing so for fear of covert criticism.
Braids outwardly convey strength and resilience, especially when it comes to the lived experience of Black women.
My flawed understanding was that the protective hairstyles of Black women, particularly braids, were inappropriate in the legal workplace because they did not properly express all of the straight-laced things that I envisioned a lawyer to be. Maybe it was because of popular culture's archetype portrayal of lawyers, or because Meghan Markle played a young, Black attorney on Suits with perfectly straightened hair, or because the unfortunate fact that I had never met a Black woman lawyer until I was well over the age of 18. Whatever the reason, I certainly held the belief that lawyers must look a certain way.
When I started my first-ever law firm internship this summer, the question of hair acceptance was top of mind. I was nervous to don braids in a professional setting, but eventually I made the decision to do just that. When I showed up to meetings virtually, my coworkers and supervisors and peers did something wonderful: they didn't bat an eye.
The truth of the matter is that braids are compatible with the legal profession. In fact, they are extremely reminiscent of the important qualities of a great lawyer. Braids outwardly convey strength and resilience, especially when it comes to the lived experience of Black women. Our curl patterns create a stronghold for the braided hair to attach to, in such an enduring manner as to last through the wear and tear of life. And that's just what Black women are: enduring.
For me, my waist-length braids are not purely a style choice (although they are stylistically versatile). Protective styles are worn to protect our natural hair, not hide it — these styles are a distinct cultural emblem preserving our crown.
The power of a Black woman rests in her unrestrained ability to be anything she wants to be, and that power is only made more visible with each beautiful, Black hairstyle. As soon as I realized this, I took a trip to the salon for a braid appointment, because the legal profession must make room for Blackness.