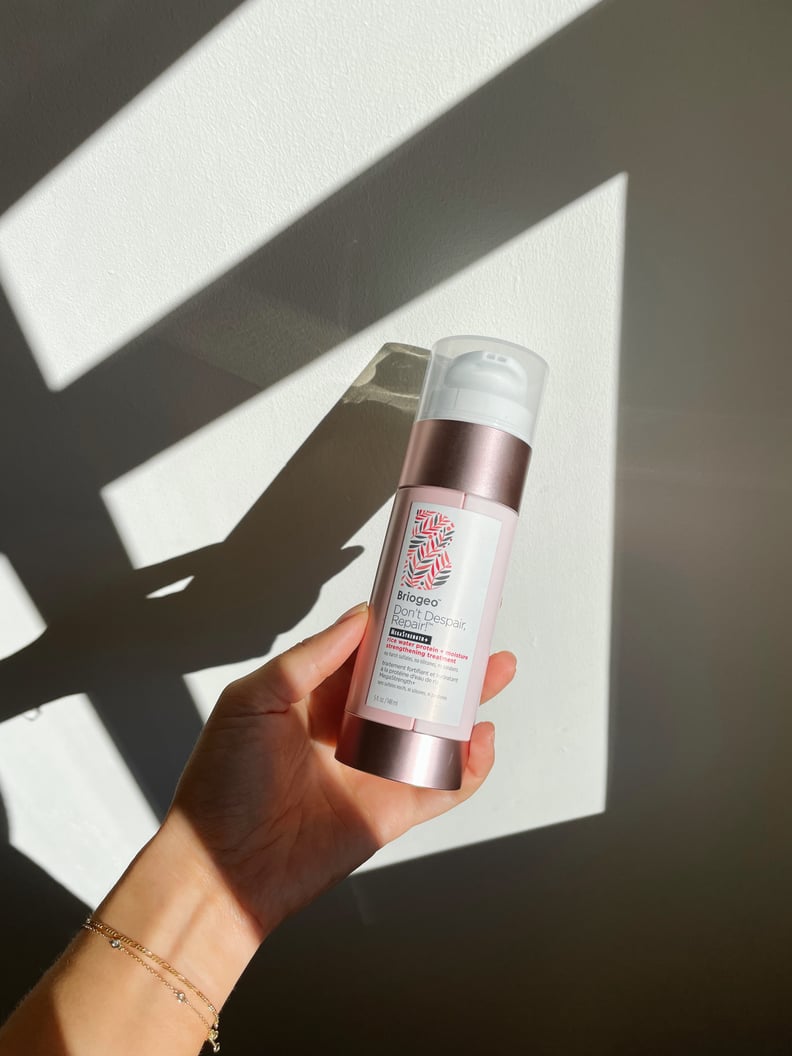 POPSUGAR Photography | Renee Rodriguez
POPSUGAR Photography | Renee Rodriguez
As POPSUGAR editors, we independently select and write about stuff we love and think you'll like too. If you buy a product we have recommended, we may receive affiliate commission, which in turn supports our work.
Briogeo recently released its Don't Despair, Repair Rice Water Protein + Moisture Strengthening Treatment Mask.
The product promises to strengthen hair and protect it from future damage.
One editor tested the treatment mask and was impressed with the results.
A few months ago, it felt like I couldn't scroll TikTok without seeing someone using a rice-water concoction on their hair. Tons of people claimed that the ingredient could heal your hair of all its woes, which I desperately needed and wanted to try ASAP. A cure for my hair breakage and shedding? Sign me up.
However, when I found out the process of actually making rice water took not minutes, not hours, but days, I decided to just keep scrolling. Although I'm game for almost any TikTok beauty hack, my patience is thin and my time is short, and I just didn't have it in me to see if this hack would work for me. So, imagine how excited I was when I learned that Briogeo was coming out with a new product that was basically rice water in a bottle — but better. Introducing: Briogeo's Don't Despair, Repair Rice Water Protein + Moisture Strengthening Treatment ($42).
Briogeo's new mask is an intensive weekly treatment meant for extremely dry or damaged hair (regardless of your type or texture) and is safe for color-treated, chemically treated, keratin-treated, and relaxed hair. It's made with a proprietary rice-protein complex, which strengthens the hair cuticle and protects it from future damage, and rose-hip oil, which helps minimize frizz and split ends. It's also made without sulfates, silicones, parabens, and phthalates and is vegan, gluten-free, and cruelty-free. Plus, the packaging is recyclable, which is always a nice addition.
Over the past few months, I've noticed that my hair has become quite knotty. I'm not sure if it's because I'm overdue for a haircut, or if the products I've been using just aren't working anymore, but every time I go to run my fingers through my hair, they're always getting caught on something. Plus, my hair is dry, damaged, and overall in need of some heavy TLC, so I'm always on the hunt for products that can not only repair past damage but prevent future issues as well.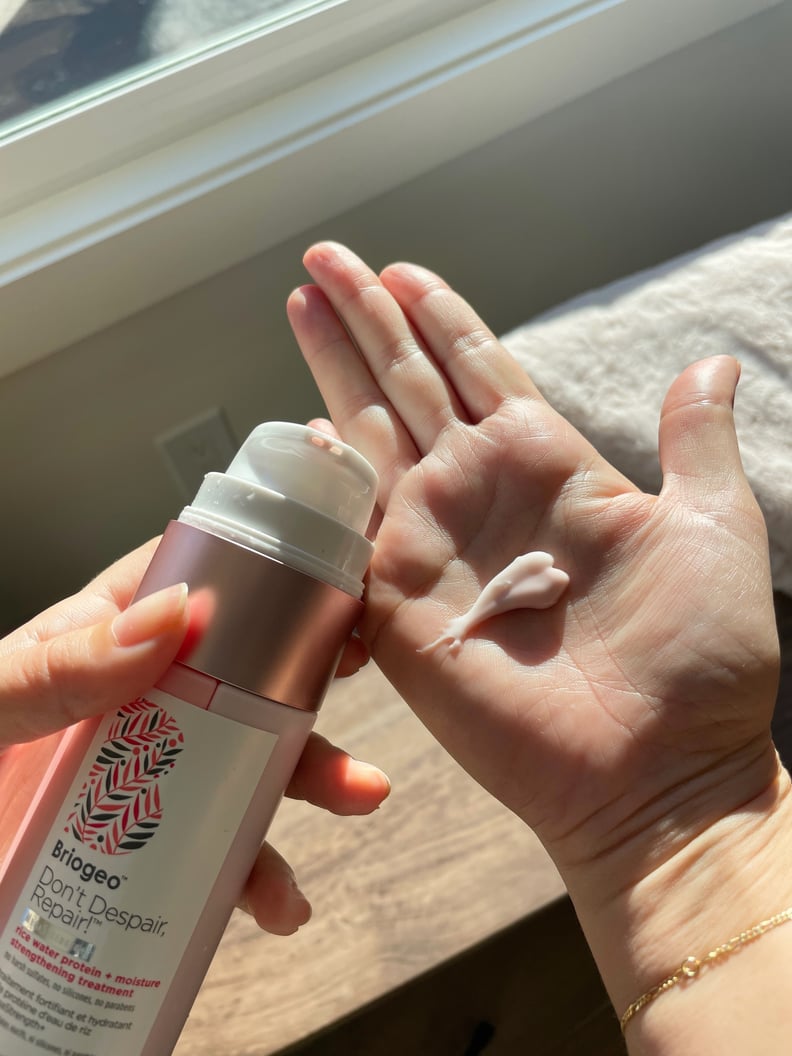 When I used this product for the first time, I started by shampooing and rinsing my hair twice, which is what I typically do whenever I wash my hair. I then wrung out the excess water from my hair and applied three pumps of this product throughout my hair. The formula comes out of a dual-chamber bottle, and the product smells amazing without being overpowering. The directions say to leave it in for at least 10 minutes (you can even sleep in it), so I left it in for about 15 minutes while I completed the rest of my shower routine. I then rinsed it out, conditioned and rinsed my hair again, and then hopped out of the shower.
In an effort to test the formula's efficacy, I opted to forego my typical hair oils and leave-in conditioners, so I could see what the product would do for my texture. The only hair product I didn't skip out on was my heat protectant, which I piled on before giving myself a blowout.
After my hair was fully dry, the first thing I noticed was that although it wasn't completely frizz-free, it was much smoother than normal. It also looked super shiny and felt soft to the touch. The most shocking part was that although I went to bed with smooth (but not quite silky) hair, when I woke up, it felt like it had never been touched by a hot tool — like, ever. After using the treatment a couple of times, I've definitely noticed that my hair continues to feel even softer one day after use. (Note to self: find out if this product has magical overnight healing properties.)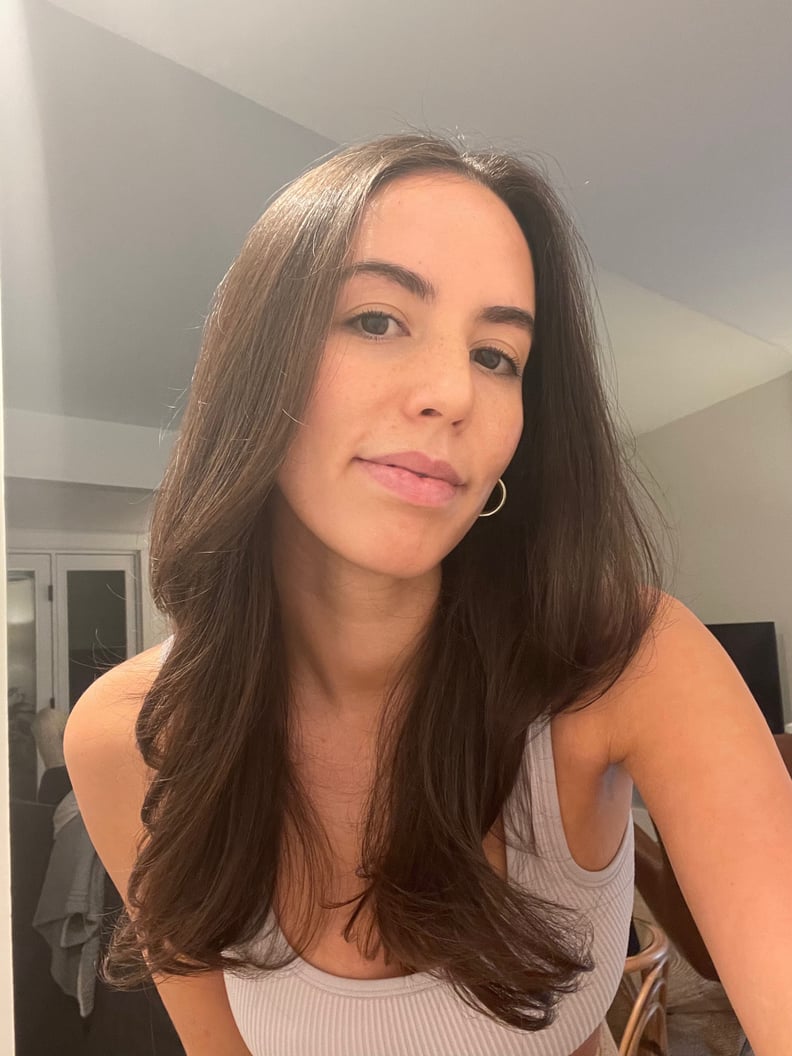 I've used this product three times in total, and every time, my hair gets better and better. The best part? I have no knots in sight. I'm able to run my fingers through my hair or brush it without worrying about getting caught in snarls. I've also been able to let my hair air-dry, and the waves in my hair have looked much more manageable and a lot less frizzy.
However, keep in mind: this product is a protein treatment, not a moisturizing mask. Although the results included extra hydration, I didn't think it left my hair feeling as conditioned as other hair masks I've tried (and that's not the point). My hair didn't feel dry by any means, but the main difference I noticed in my hair was how it helped tame my texture and how it helped eliminate frizz. For the best results, Briogeo recommends you combine this product with their Don't Despair, Repair Deep Conditioning Mask, but I think you could couple it with any conditioning mask you already have on hand. I've been coupling it with a hair mask, and I've noticed the best results when I use both products together.
The bottom line? I'm going to continue using this mask on a weekly basis to help strengthen and repair my hair. I'm hoping that with continued use, I'll start to see even more improvement. If you're looking to add life into your wavy or curly texture, this is worth a try. It worked wonders on my frizzy hair, and it completely eliminated the issues I'd been having with knots. If you've been curious about adding rice-water protein into your hair routine, this is definitely the product for you.
Rating:
★★★★☆