The Brown Beauty Co-op Isn't Just a Beauty Boutique — It's an Experience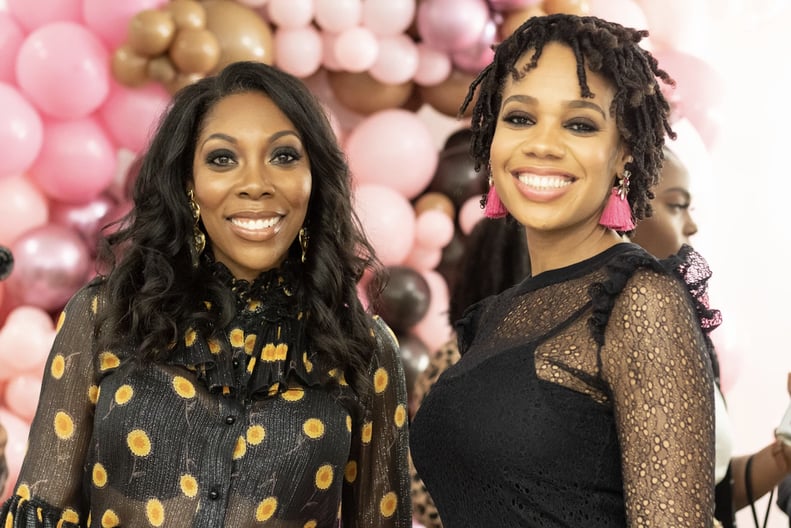 Courtesy of The Brown Beauty Co-op
Courtesy of The Brown Beauty Co-op
In an industry that's been criticized for its lack of diversity, sometimes all you can do is carve out a special place for yourself and the countless other women who often feel underrepresented — and that's exactly what Washington, D.C., residents Kimberly Smith and Amaya Smith did in 2018 with The Brown Beauty Co-op.
The two women — who are best friends, not sisters — joined forces over a year ago to create their D.C.-based retail space that offers a curated selection of makeup, hair, and skin-care products made by and for people of color. The business is a cooperative of Kimberly's Marjani Beauty, an online shop selling women of color-marketed makeup and skin-care products, and Amaya's Product Junkie, a collection of natural hair products from Black-owned brands.
With Kimberly being a corporate healthcare attorney by background and Amaya, a former communications executive at a nonprofit, their partnership was birthed as a result of their frustration with the beauty shopping experience for women of color. "We approached it as consumers," Amaya told POPSUGAR. "We were dissatisfied with our shopping experience when it comes to beauty. Whether it's going to a prestige retailer or a big-box retailer, the experience just didn't match what our counterparts were receiving, and it didn't match the amount of money that we know women of color — specifically Black women — spent."
"This truly is a passion project versus something that was an extension of our careers in beauty."
Any Black woman can tell you that shopping for beauty products is often exhausting, mostly because of the lack of options that are made available to people with darker skin tones. The Brown Beauty Co-op is an effort to resolve that issue, though Kimberly and Amaya have previously made clear that the products they sell are meant to make all women from underrepresented groups feel seen. In total, the store sells from over 60 Black-owned brands including Scotch Porter, AJ Crimson Beauty, and The Doux.
"This truly is a passion project versus something that was an extension of our careers in beauty," Kimberly said. But the women don't only use their space in D.C.'s Dupont Circle to sell products to customers — they also host beauty-related events in partnership with other women's organizations in which those same consumers can network and learn about the products they buy. Marjani also provides in-store makeup lessons in which people can learn the basics of any kind of glam, from bridal to bombshell.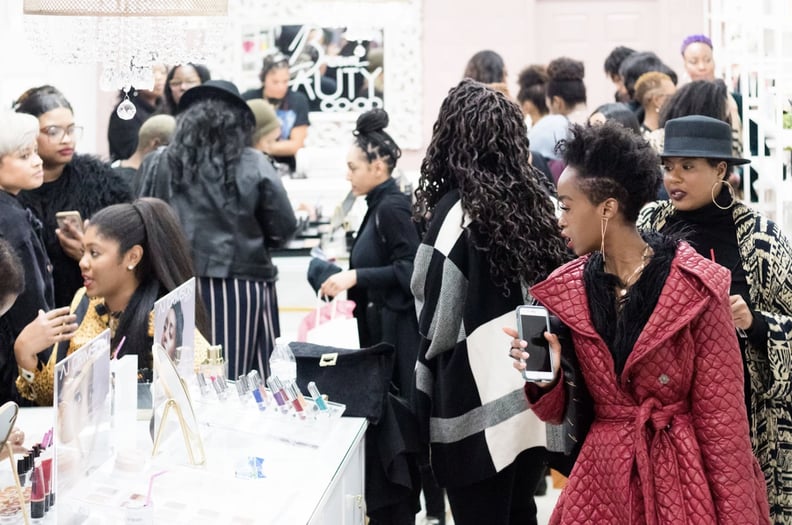 "We thought that we deserved to have a space that was welcoming and inviting, that had the energy where women of color could just feel disarmed and truly experience beauty not just as a transactional experience, but something that could be fun," Amaya said. "[We wanted] somewhere that you could come network and meet people, learn something — we wanted it to be more than what was out there."
"We thought that we deserved to have a space that was welcoming and inviting, that had the energy where women of color could just feel disarmed . . . "
She continued, "I think we took it a step further than just saying, 'Come here and shop for your products.' We also made it more about community and affirming who we are as Black women." Of course, with so much of the business's lifeline being the in-store customer experience, it would be crazy to think that the boutique, much like tons of other small businesses, hasn't been hit hard by the recent spread of COVID-19 in the US. The ladies mentioned that they've seen a significant decrease in revenue since March because of the amount of foot traffic they've lost because of D.C.'s shutdown.
"It's definitely been something that's been pretty devastating to the bottom line," Amaya said. "From the beginning we started quickly pivoting, trying to figure out ways to expand our online presence, to bring more awareness to the business despite COVID-19 and despite what's going." It was a hard pivot, but they've made it work. Over the last few months, they've hosted a series of Instagram Live happy hours, virtual shopping events, and fireside chats with Black beauty founders and experts.
For now, you can still shop from both Marjani and Product Junkie online, though the store also has special "COVID hours" where customers can pick up orders in person from 3PM to 6PM on weekends. Additionally, the co-op has started a GoFundMe where those interested can donate money to help keep the store open as it bounces back from a temporary closure. But those are just the ways that you can monetarily support The Brown Beauty Co-op, as they both mentioned that supporting Black-owned businesses is about more than just buying products.
"There's a lot of free ways to help Black businesses. Go on Yelp, review a business and give them good reviews, recommend them to your friends, do a little bit of the extra legwork to figure out if there's a Black alternative that you can purchase instead of going into convenience stores. Actively support these Black-owned businesses as much as you support these white-owned businesses." To add, supporting these businesses is an act that should be sustained and shouldn't only happen as a result of online activism.
The ladies continued, "As a community, rallying around these businesses and figuring out how to support them are good ways to sustain this movement."