"Bullet Train," which premiered on Aug. 5, follows a group of assassins aboard a speeding train. Though the main characters — Brad Pitt as Ladybug, Joey King as the Prince, Aaron Taylor-Johnson as Tangerine, and Bad Bunny as Wolf — don't know each other, their overlapping missions make for quite an eventful ride.
The film is adapted from the Japanese novel "Maria Beetle" by Kotaro Isaka and directed by David Leitch of "Atomic Blonde" and "Deadpool 2." The entire two-hour and six-minute movie takes place on the train, meaning there are very few costume or hairstyle changes. "Everybody's look, once it was established, was done," Merc Arceneaux, the show's makeup department head, tells POPSUGAR. That meant getting each character's singular look right from the start was essential.
From King's intentionally razor-sharp bob haircut to Pitt's real-life tattoo collection making an appearance on screen, the hair and makeup in "Bullet Train" are loaded with hidden meanings that you might miss if you don't know what to look for. Luckily, Arceneaux is giving us the rundown ahead.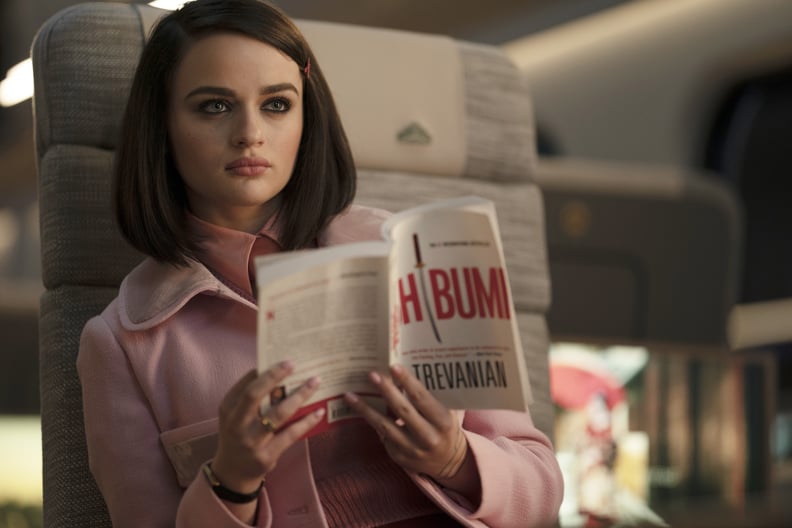 Joey King's Prince Hair and Makeup Had a Deeper Meaning
Of all the characters in the movie, the Prince, played by King, has the most noticeable example of traditional makeup with her dark-black, smoky eyeshadow, which is meant to hint at the duality of her character.
The goal was to make her look innocent but with some edge. In the movie, the Prince is a college student, so they wanted her entire look to be age appropriate, all while also speaking to this darker side of her personality as an assassin. "We wanted her to really be very unassuming because when you first see her, you think she's so innocent and it's like, 'What's she up to?'" Arceneaux says.
"We tested her with a soft smoky-eye look, and it really worked once she committed to chopping her hair into a bob." That blunt, angular bob haircut is also a nod to King's twisted personality and is the haircut of choice for many strong women in TV and film. To create that makeup, Arceneaux and her team used a myriad of products, but two eyeliners really carried the look: the Revlon ColorStay Eyeliner Pencil ($5) and the Inglot Gel Liner ($22).
King's hands also contribute to her story. "Her nails were important because we see her hands a lot," she says. "She's working with the gun, and then she has to do stunts, so we had to really play into that." They knew King's nails had to be short and minimal but also polished, so they ended up going with a classic baby-pink manicure. They also added a dangling rosary tattoo to King's hand.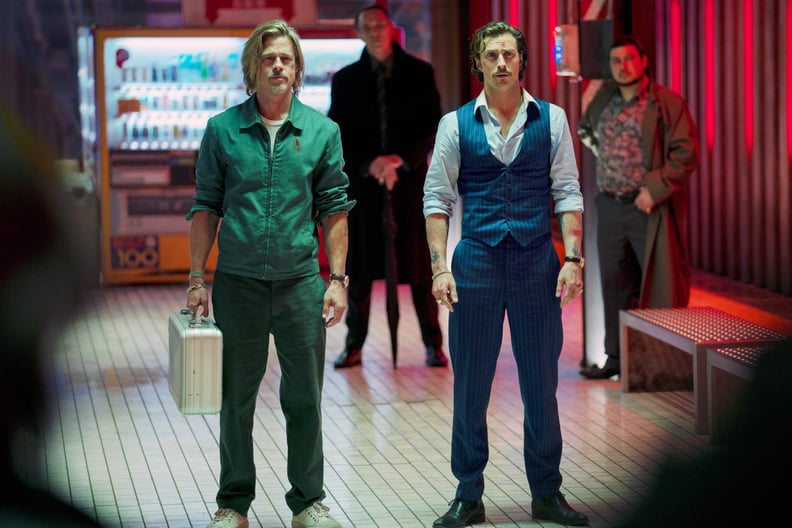 Brad Pitt's Tattoo Collection Makes an Appearance
Pitt's beauty look as Ladybug was created by his own makeup artist, Jean Black, but Arceneaux had the task of replicating Pitt's robust tattoo collection on his stunt double. "None of those tattoos were fake; they were all his — he just wanted to kind of be himself," she says. This is a rare occurrence in TV and film, as permission from the original tattoo artist must be obtained in order to display them.
Once they had that, they had to re-create the designs, get the placement right, and spend 20 to 30 minutes on set every couple of days applying them. "The stunt double could wear the tattoos for a couple of days," Arceneaux says. "They could last because we would seal them and powder them."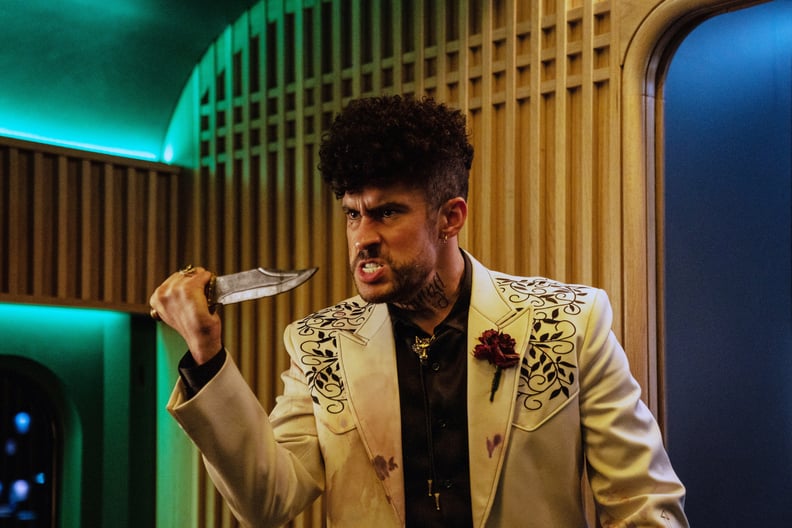 Bad Bunny's Hair Is the Focal Point of His Character
Much like Pitt, Bad Bunny's look for his character, Wolf, wasn't a huge transformation. "He was really kind of himself," Arceneaux says. The focal point of Bad Bunny's entire beauty look in "Bullet Train" is his hair, and the singer and actor collaborated with the department heads to come up with the final look. Once his hair was established, Arceneaux went on to create a makeup look that corresponded with it.
One of the most standout details of Wolf's look is his neck tattoo, which reads "venganza" in Spanish and translates to "revenge." This plays into his character's storyline and the entire reason he confronts Ladybug on the train.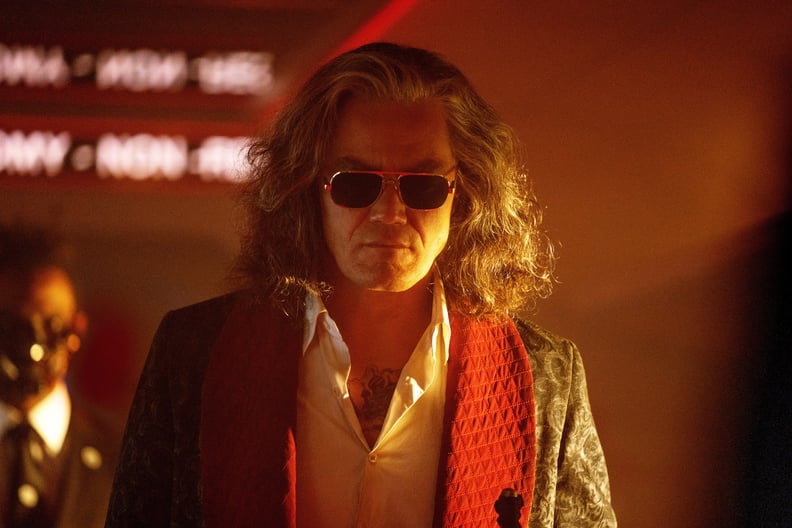 The Story Behind the Tattoos Seen on White Death
Arceneaux's favorite character to work on was White Death, who is revealed to be played by Michael Shannon at the end of the film. She and the film's director, Leitch, collaborated on the tattoo collection you see on him.
Shannon's tattoos feature designs from around the world — they aren't all Russian, which is where his character is from. "[They] told a story of where he's been," Arceneaux says. In the plot, White Death has traveled around the world and been in prison in different countries, and the tattoos he's collected along the way speak to that journey.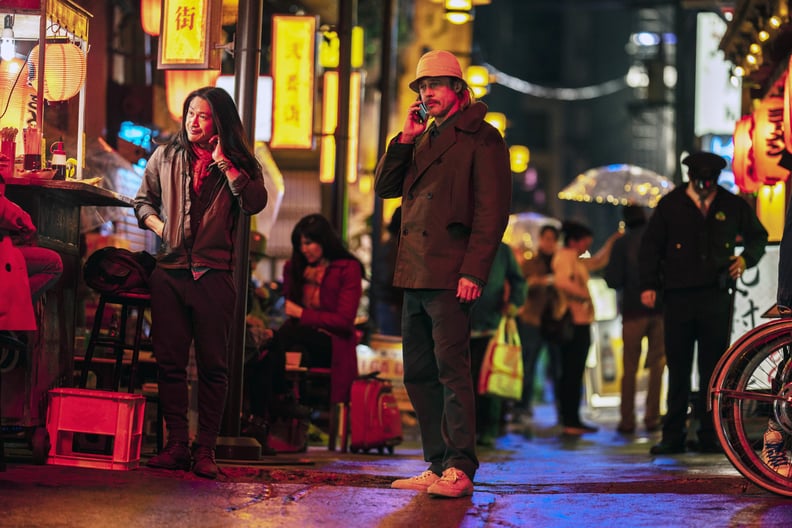 Makeup Looks From Around the World Were Created For the Extras
A lot of research and thought went into the extras you see in "Bullet Train," too. The film features different organized crime groups from Japan, China, and Russia. "I was really trying to create a world that, when people are watching the movie, made sense and that was believable," Arceneaux says. On any given day of filming, Arceneaux had 10 to 12 makeup artists assisting her with background people. "There were so many looks that we had to design and come up with. Like with the thugs, I created a lot of scars and wounds on their faces, textured skin, rashes — just to make them look tougher than they actually were when they walked into the trailer."