Today, we learned Brad Pitt is exceedingly tattooed. The actor has done a decent job hiding his ink on set and at events, but amid a record-breaking heatwave, Pitt let his legs breathe. At the "Bullet Train" premiere in Berlin on July 19, he wore a linen skirt revealing several shin tattoos previously not clocked by the public. As it turns out, the leg tattoos are part of a collection of at least 15 individual tattoos Pitt has gotten over the years.
Pitt's leg tattoos largely seem to consist of various skull illustrations, while sprawling across his upper body are poems, song lyrics, and tributes to his family. It seems Angelina Jolie, who herself has plenty of body art, inspired many of the tattoos Pitt received during their 11-year relationship. For example, one forearm bears the initials of his six children, as well as his ex-wife. But Pitt also has many seemingly random scribblings we may never know the meaning behind, like a thin line on his hand, or the motorbike on his bicep.
Ahead, read our breakdown of Pitt's many tattoos that's as comprehensive as currently possible.
01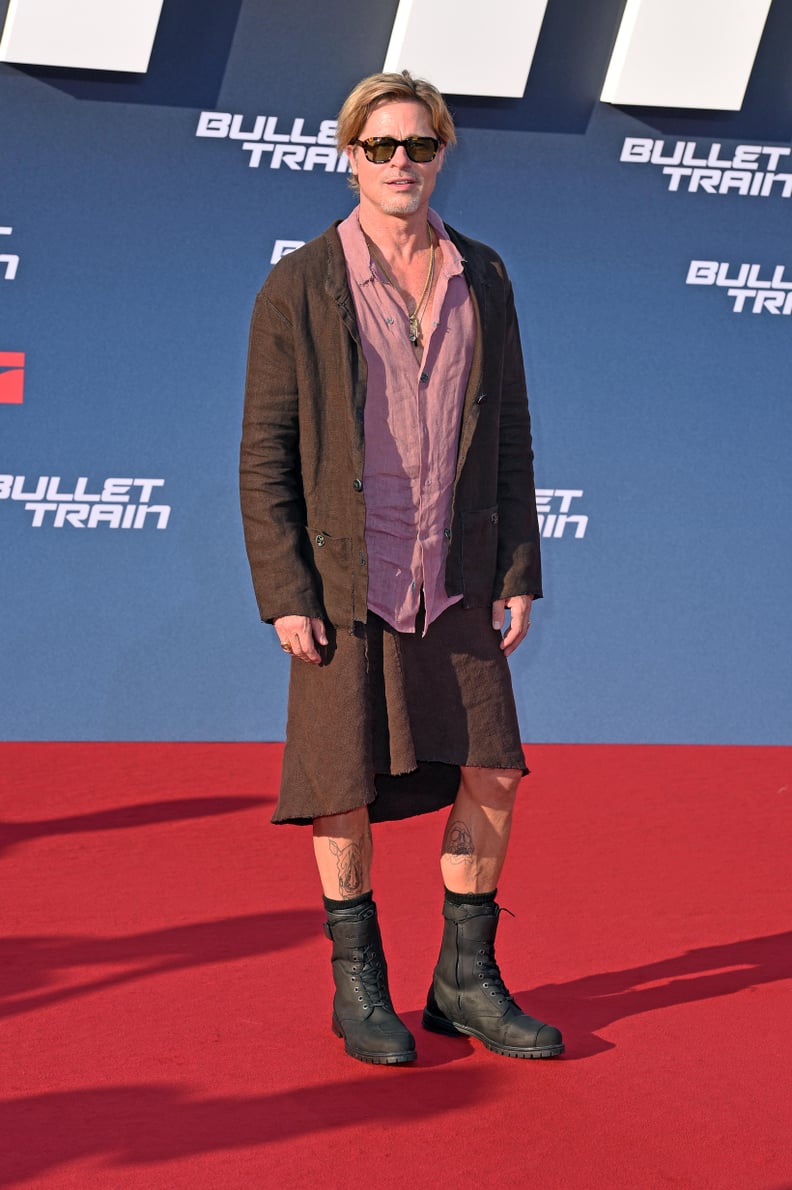 Brad Pitt's Leg Tattoos
On display at the "Bullet Train" premiere were Pitt's several shin tattoos, among them being an illustration of a rhinoceros, a human skull, and a circular unidentified design.
02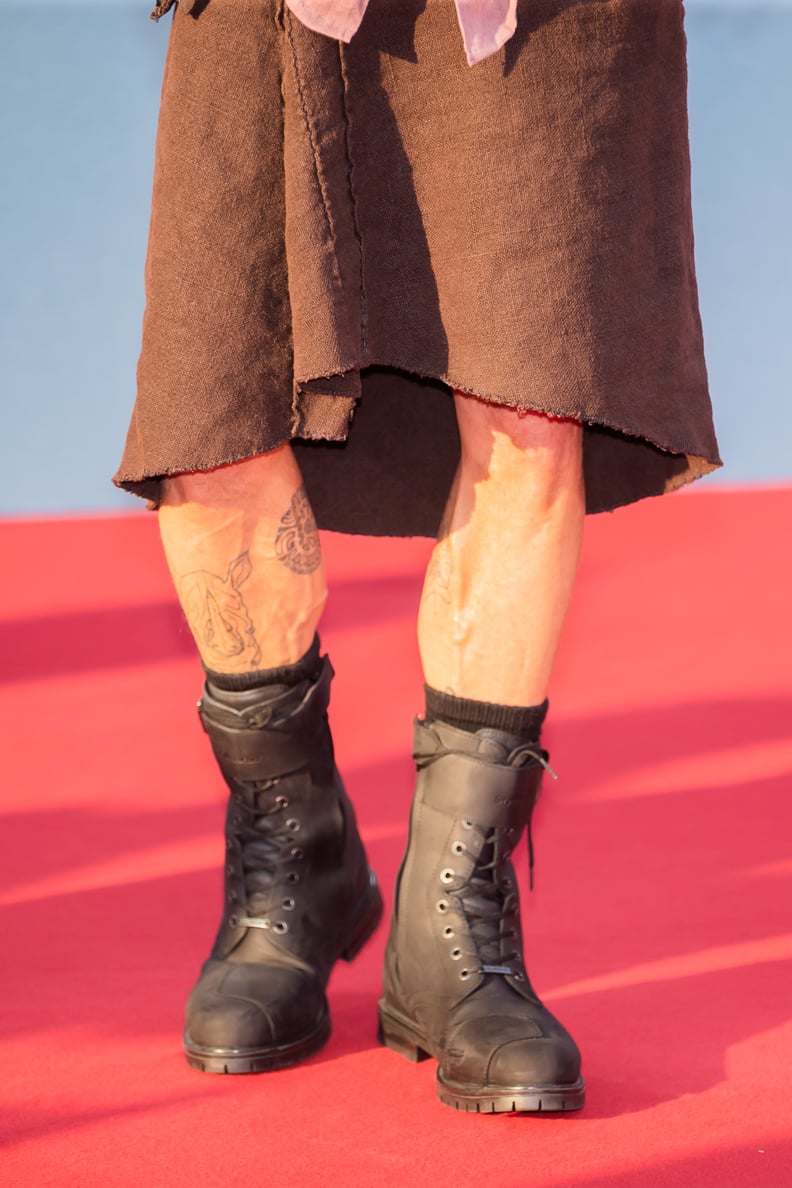 Brad Pitt's Leg Tattoos
03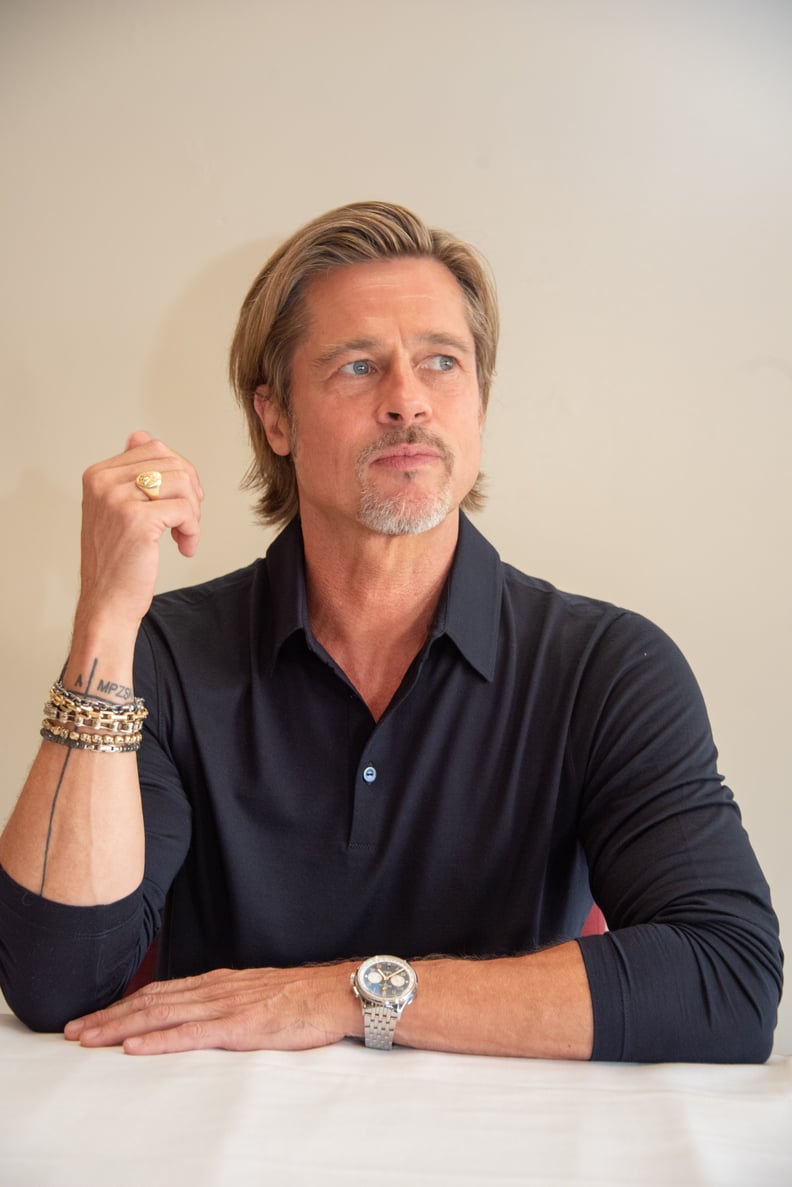 Brad Pitt's Family Initials Arm Tattoo
Pitt's right forearm bears a striking cross design featuring several initials. There's an "A" for Angelina Jolie on one side of the vertical line, and on the other, the initials of their six children — Maddox, Pax, Zahara, Shiloh, Knox, and Vivienne — in the order they were born.
04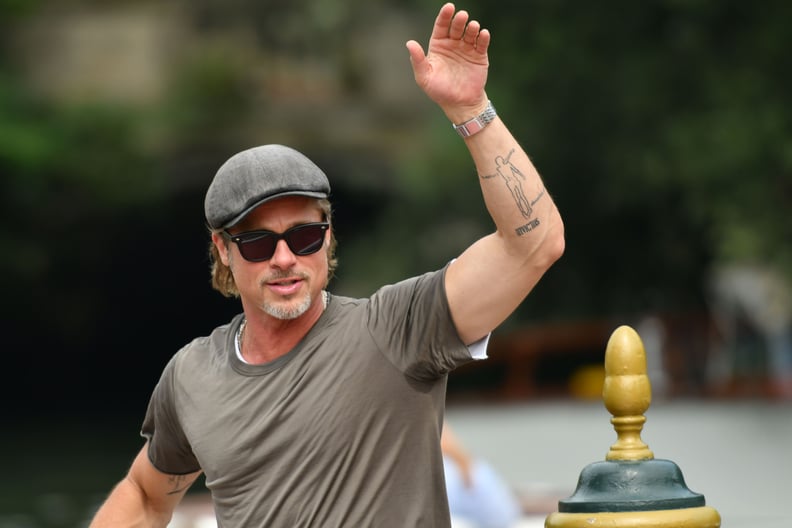 Brad Pitt's Iceman Arm Tattoo
One of Pitt's most prominent tattoos is his silhouette of Ötzi the Iceman on the inside of his left forearm. Ötzi is a mummy discovered in the Ötztal Alps on the Austria–Italy border in 1991. Ötzi likely lived during the Copper Age sometime in the 33rd century BCE, and it's largely believed that he was murdered and preserved in the ice for centuries thereafter.
Beneath the figure of the mummy, Pitt has "invictus," the Latin word for undefeated or unconquerable. It is also the title of an 1875 poem by William Ernest Henley about strength and willpower. Henley wrote the poem while recovering from procedures that successfully saved his right leg after a previous amputation of his left leg due to tuberculosis.
Beside the mummy, Pitt has written, "Absurdites de l'existence." The French phrase translates to "absurdities of existence."
05
Brad Pitt's Rumi Arm Tattoo
On the inside of Pitt's right upper arm, he has a Rumi poem, which reads, "There exists a field, beyond all notions of right and wrong. I will meet you there." Beside the poem, there's an illustration of a figure and its shadow.
06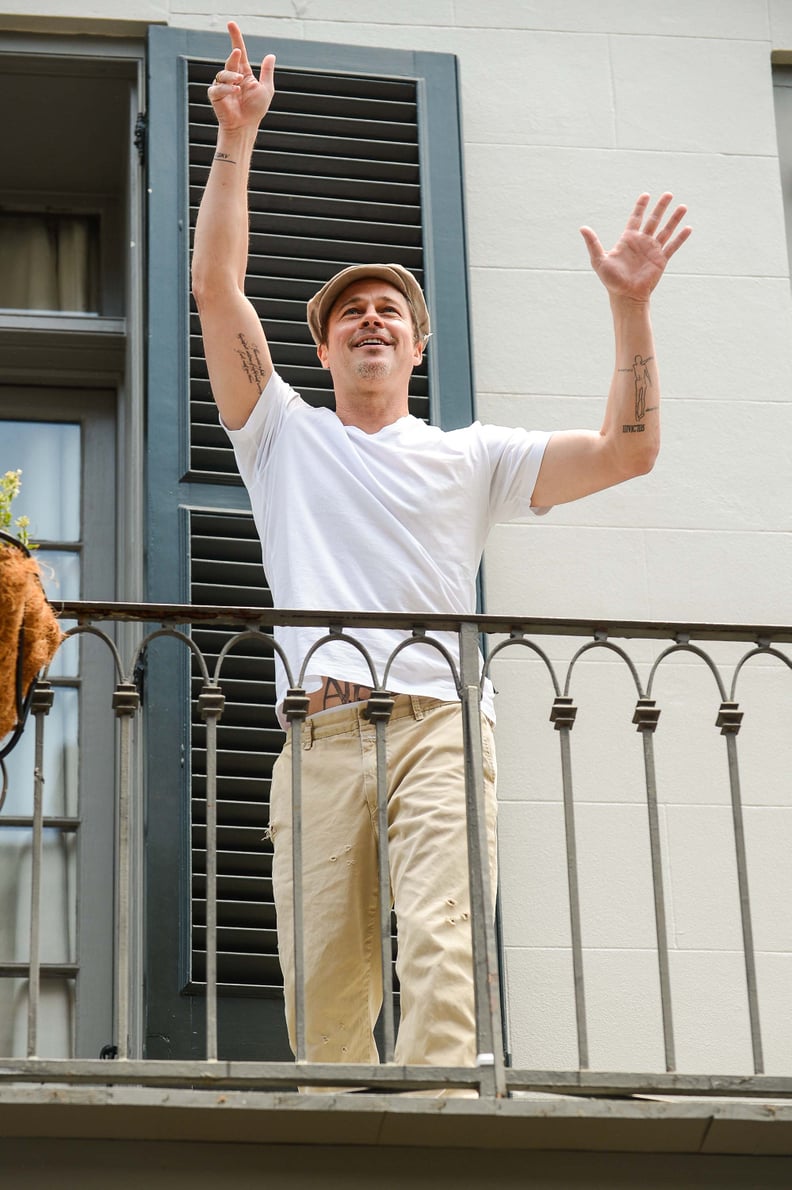 Brad Pitt's Stomach Tattoo
Pitt's stomach tattoo is less decipherable, but it appears to be a large piece beginning with the letter "A" and appearing to spell out "alpha." At a "Bullet Train" photocall on July 20, Pitt's shirt rode up to also reveal the word "omega," visible in the photo below.
07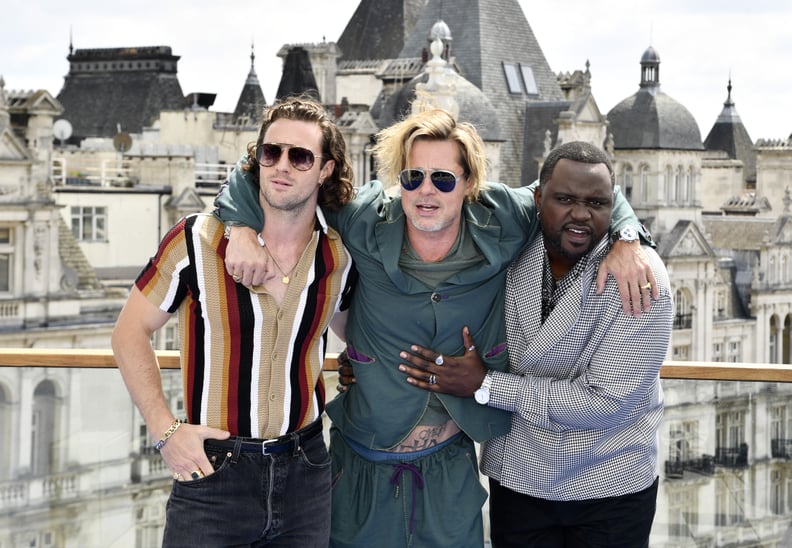 Brad Pitt's Stomach Tattoo
08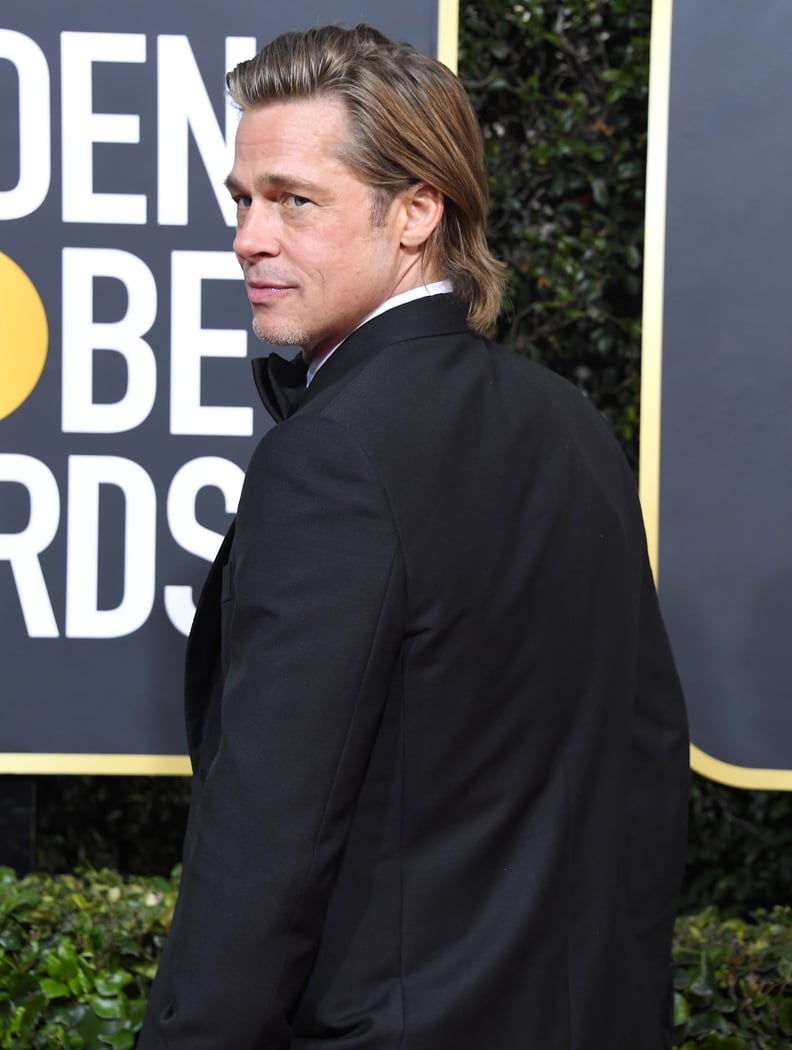 Brad Pitt's Back Tattoos
Pitt has several back tattoos, which were visible in his viral GQ shoot from 2017. Though many are hard to make out, there's a large tornado and some kind of four-legged animal, like a horse. There are also lyrics from "When the Deal Goes Down" by Bob Dylan: "We live and we die, we know not why. But I'll be with you when the deal goes down."
09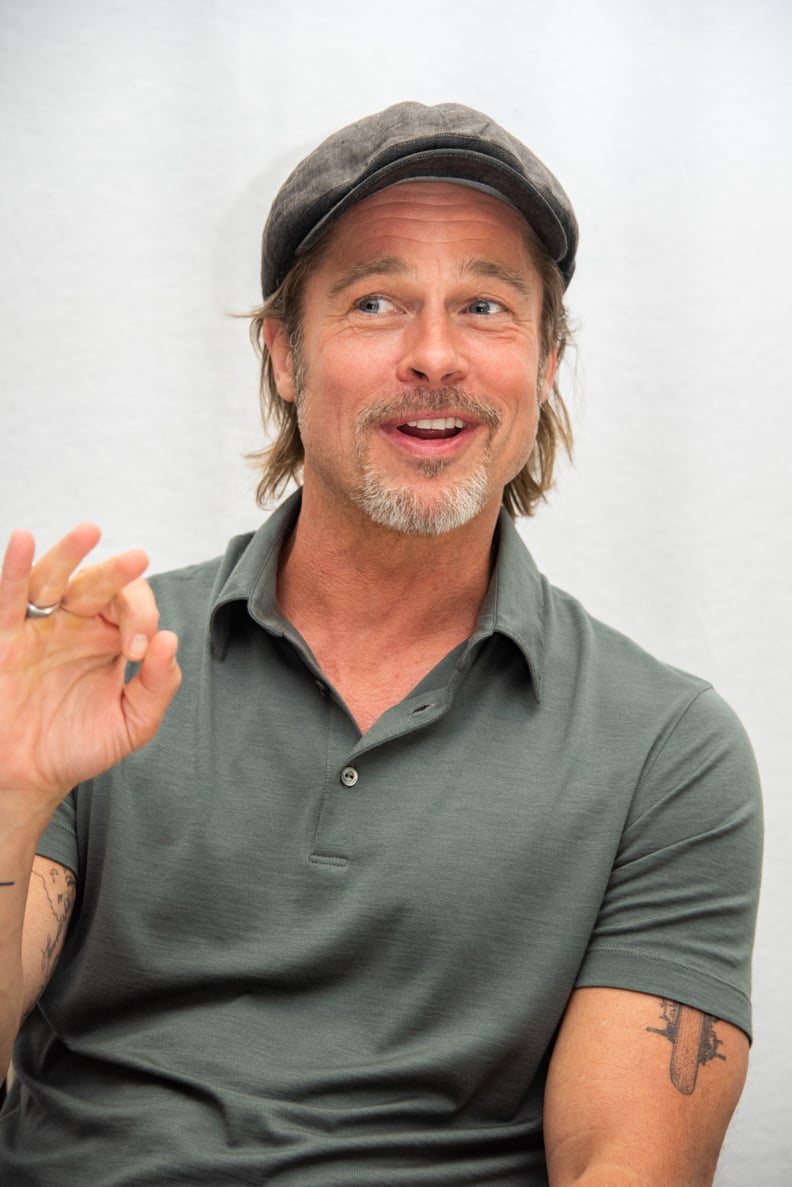 Brad Pitt's Motorcycle Arm Tattoo
Pitt has an illustration of a motorcycle on the front of his left bicep.
10
Brad Pitt's Hand Tattoo
Lastly, Pitt has a very faint line running along the outside of his left hand.