How I Greenified My Vanity 1 Beauty Product at a Time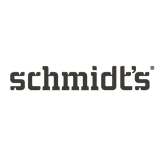 We've partnered with Schmidt's to bring you the clean beauty products one beauty editor loves, including the first Ecocert-certified natural deodorant in the US.
As someone who works in the beauty space, seeing the transformation of clean beauty over the years from an ambiguous idea to a thriving billion-dollar industry firsthand has been truly inspiring. I mean, just a decade ago, going clean consisted of using grocery store coconut oil as a universal moisturizer. But these days, you can easily find a clean alternative at multiple price points for any beauty category, from deodorant to eye cream.
The sheer number of products on the market makes cleaning up your beauty routine easy — the hard part is finding the products and formulas that actually work. My tip is to start small if you're feeling overwhelmed. The next time you run out of a product, pick up a clean replacement. And I know what you're thinking — what exactly does "clean" mean if it's not a marketing ploy? To me, a product is clean when it uses all nontoxic ingredients, both for your skin and the environment. Ahead, I've rounded up my favorite everyday products from brands I trust. Before you know it, you'll have an entire vanity's worth of clean beauty.