How Does Virtual Dermatology Work? I Tried the Skin-Care App Curology to Find Out​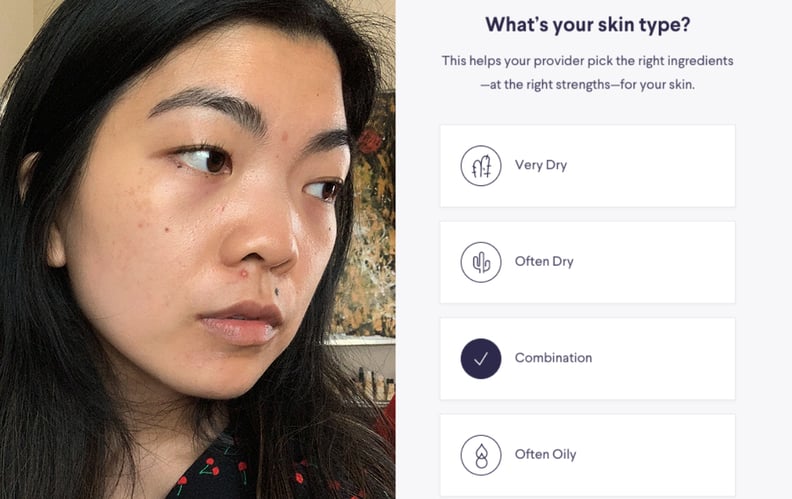 POPSUGAR Photography | Carrie Carrollo
POPSUGAR Photography | Carrie Carrollo
In the age of Amazon and Instacart, there's not much we can't get at the click of a button — or while stuck inside our homes. From clothes to makeup to home decor, "I want it, I got it" is more or less our motto in 2020. But when things get medical — from primary care to dermatology and beyond — you enter a major gray area.
As life becomes increasingly more digital (especially in the midst of the COVID-19 outbreak), it's no surprise that online healthcare offerings are expanding. There's Capsule, essentially the Uber of pharmacies, and Care/Of, personalized vitamin plans in aesthetically pleasing packaging. Even your primary provider is embracing the shift with digital test results, online message portals, and various forms of telemedicine. But the big question remains: how much can be done without actually seeing a patient in person?
On the beauty front, dermatology might be one of the only professional services we can access online. Unlike a trip to the hair, nail, or wax salon, technically it doesn't require person-to-person contact; words and photos might be enough to diagnose and treat a breakout or skin concern. And I'm determined to find out just how accurate that can be using a digital derm service that's been on my radar for months: Curology.
Not only does the app promise to cure your skin concerns with its curated regimen, but it does so on a personalized basis, thanks to its in-house providers. It all starts with a quiz and three photos. Curious to see how it works? I'm walking you through the process ahead.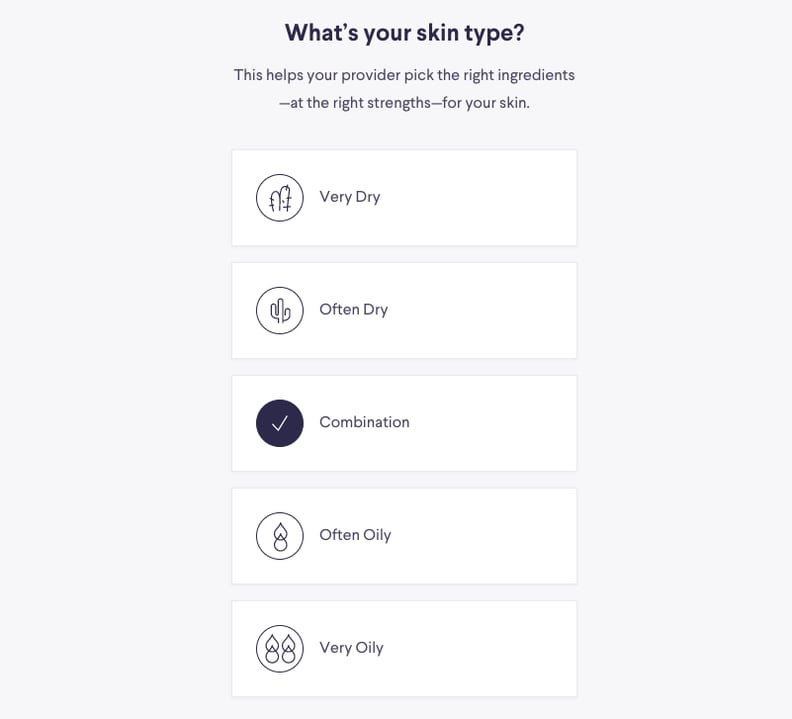 How Curology Works
The idea of any medical appointment can be stressful, especially during an initial consultation. Curology quickly eases that with its first step: a simple, interactive quiz. Part intake form (including medical history and your current prescriptions), part skin consultation (to assess your problem areas, skin type, and SPF usage), it asked all of the important questions in an approachable way. While most questions were in multiple choice format, there were opportunities to elaborate or express specific concerns that may not be covered.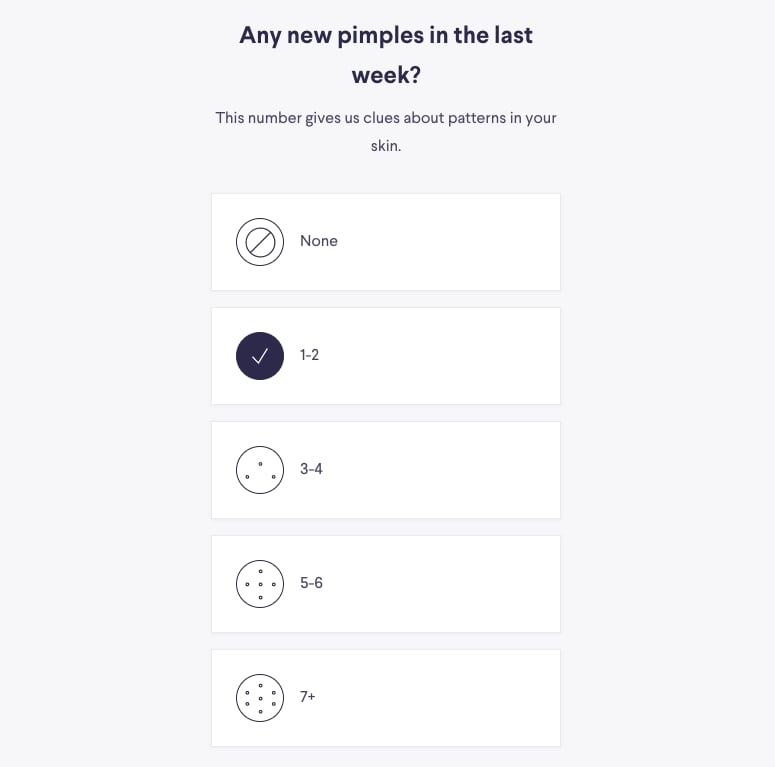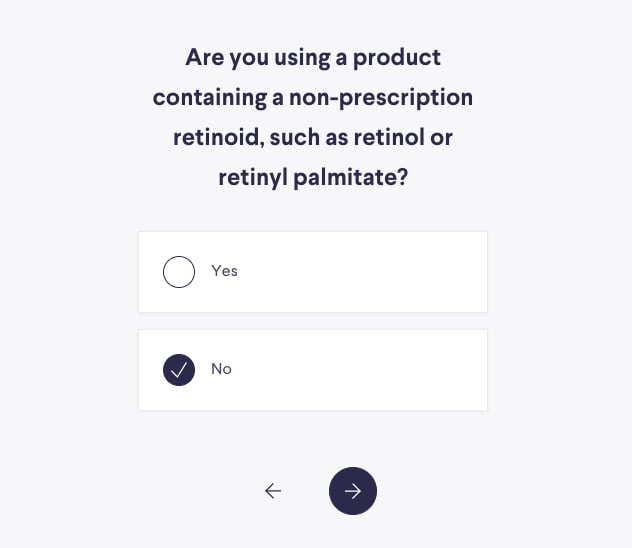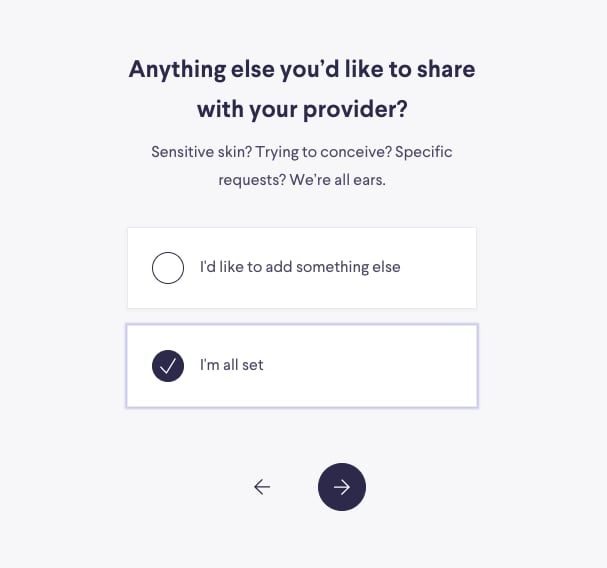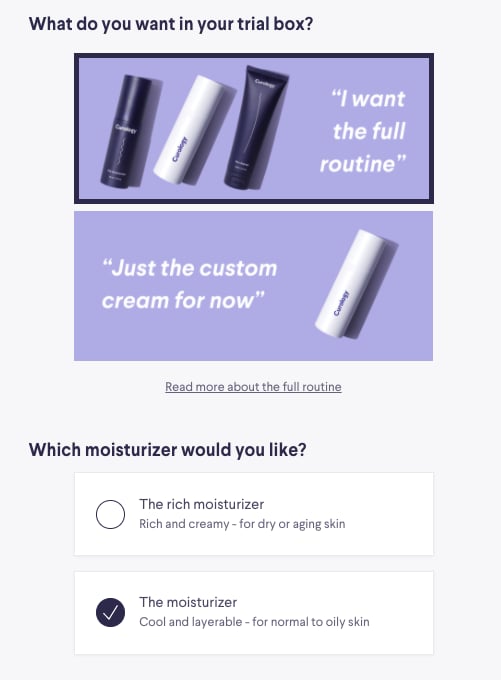 Next up, it was time to decide what exactly I was looking for in terms of products. The custom cream is the brand's hit offering, but they also have a full routine, which adds a cleanser and one of two moisturizer formulas. I chose to go all in: one, because I'm a "go big or go home" type, and two, because I recently found a skin-care routine that was working well, and I was curious how this would compare.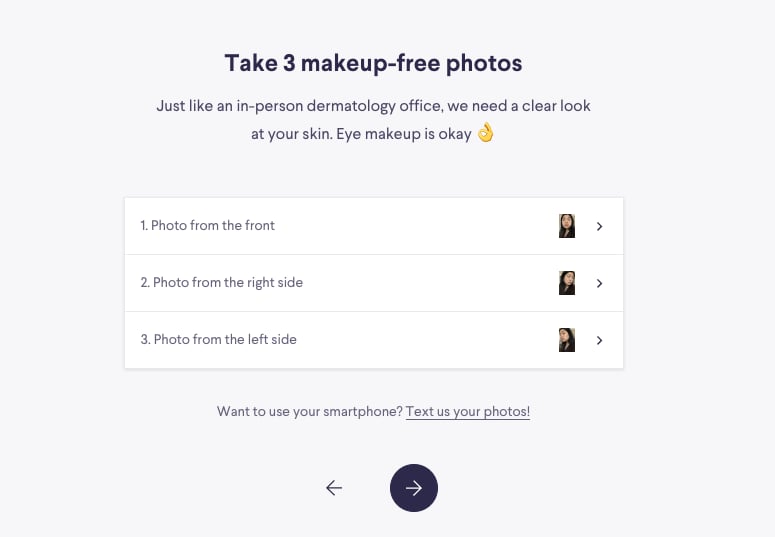 After I made my way through the Q&A portion, it was time to upload photos of my skin. Only three were required, at specific angles: straight on, the right side, and the left side. Understandably, these needed to be completely bare-faced, though eye makeup was OK. I snapped the images on my iPhone — fresh zit and all — and uploaded them through the platform.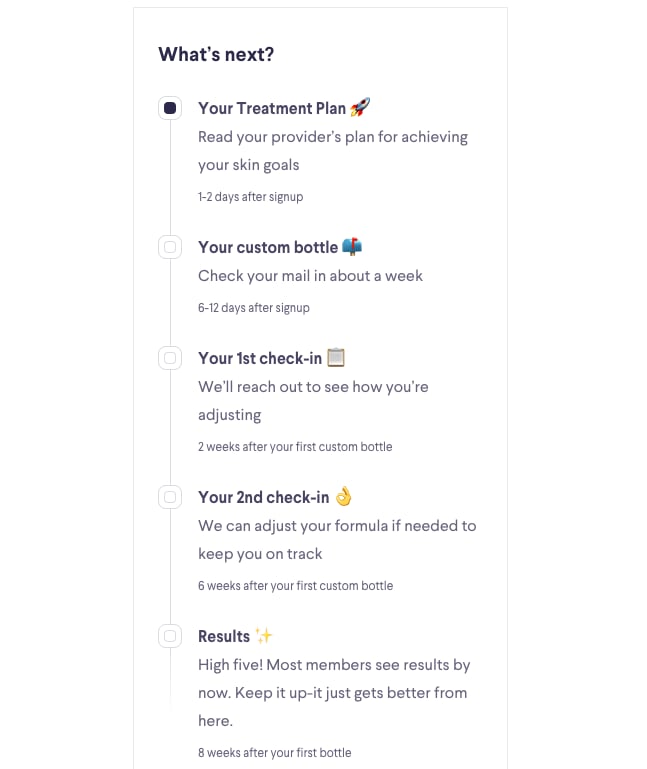 Once I clicked submit, the quiz (which took no more than 15 minutes) was complete. A message appeared on the screen to "start my journey," where I found a breakdown of immediate next steps, a larger timeline, and an intro to my provider, Chinyelu.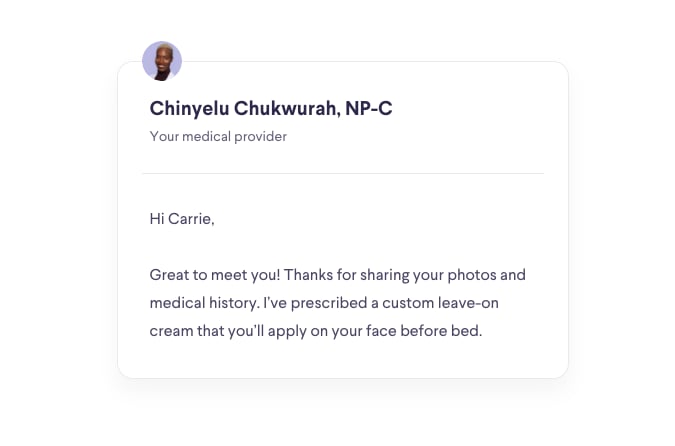 Assessing the Skin Treatment Plan
A few days after taking the quiz, I received an email notifying me that my treatment plan was ready. I eagerly clicked in — the email redirected me to Curology's full-service online portal — to learn more.
The plan included a brief message from Chinyelu, a breakdown of my prescribed formula (including key ingredients and what it would target), and a recommended routine. This was all neatly laid out on one page, with a few modules that I could click on to learn more. At the bottom of the page was a note that my treatment (free for 30 days, plus shipping) was on its way. After that, the full set would be $59.90 for a two-month supply. If you opt for just the cream, it'll run you $39.90 for the large bottle (two-month supply), or $19.95 for a small bottle (one-month supply).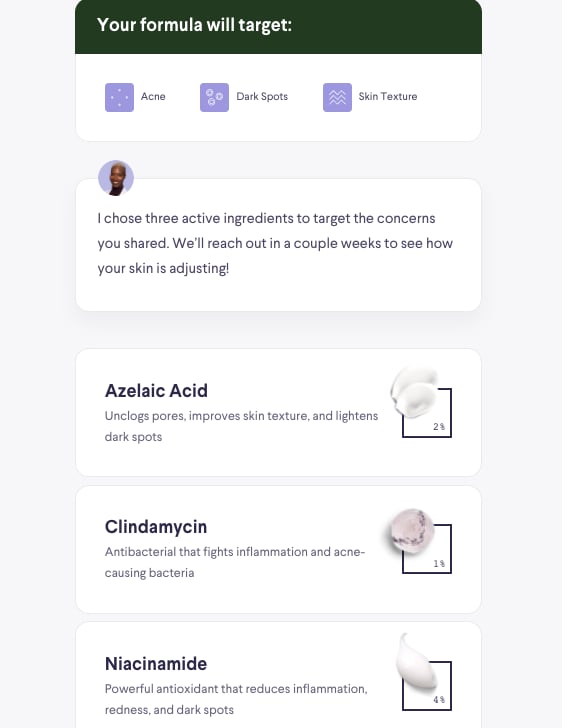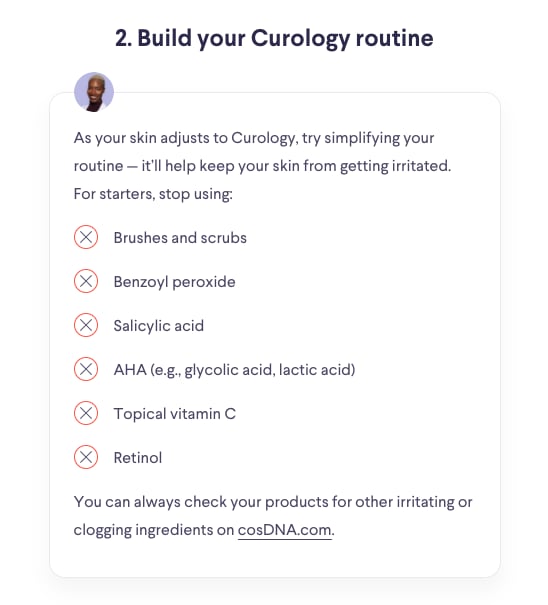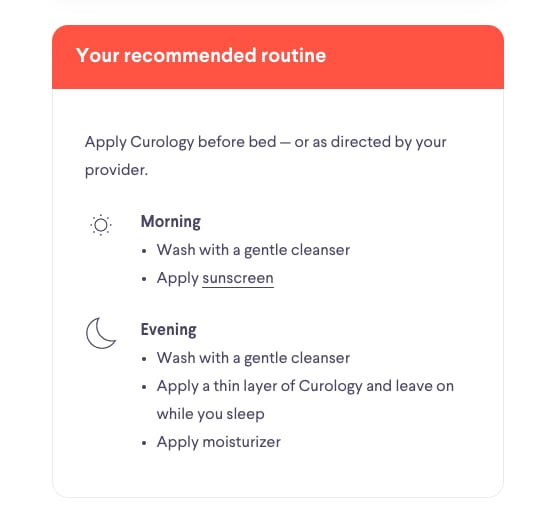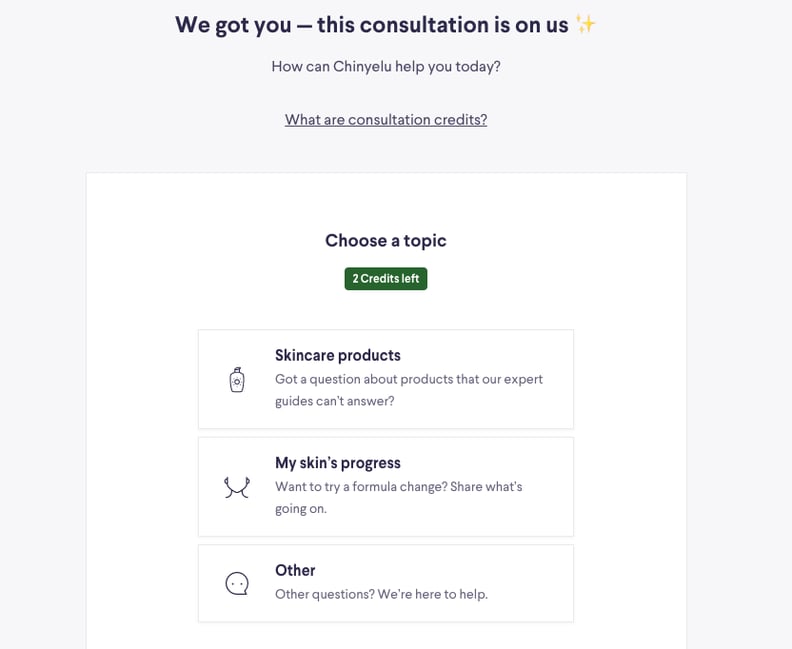 Communicating With Your Provider
So what happens if you want to talk to a dermatologist directly? Curology has that covered with "consultation credits." Each new subscription comes with a treatment plan and one free credit, equal to one message or question. You earn one additional credit with every shipment. There are also check-ins at the two- and six-week marks.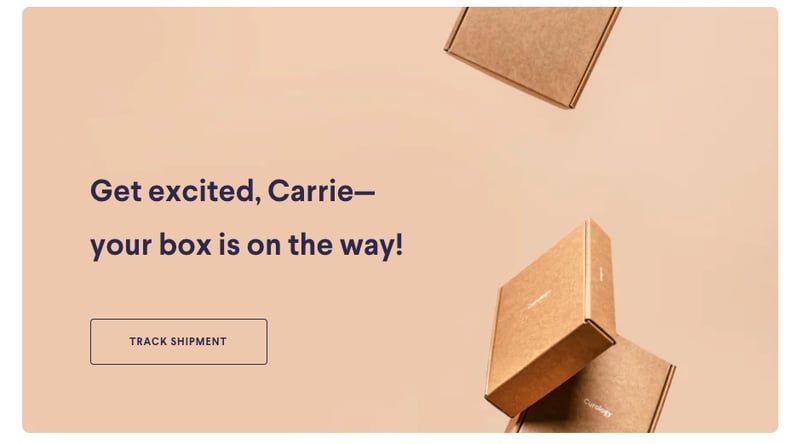 Initial Thoughts
It's a waiting game until my products arrive next week, but I do have some thoughts right off the bat. Overall, I'm impressed and pleasantly surprised with the entire process.
The quiz was both simple and approachable, asking just enough without feeling too tedious or too generalized. But it was the ability to include photos (and have those photos seen by a licensed provider) that not only set the service apart, but added a layer of reassurance that "OK, this really might work." In early high school I took a similar quiz for a similar "custom skin-care routine" that was missing these key features. As you can probably guess, it did little for my skin and ended up in the back of a drawer.
That all being said, my skin concerns are minimal in the grand scheme of things. I get hormonal breakouts (especially a single zit during that time of the month) and skin is quick to reflect my eating habits and environment. But, generally, it bounces back quickly and stays relatively clear, which probably makes me an easy candidate for Curology. I'll just have to wait and see.