Clinique Taps Emilia Clarke as First Celebrity Ambassador
Emilia Clarke Is the New Face of Clinique — and Its First Ever Celebrity Ambassador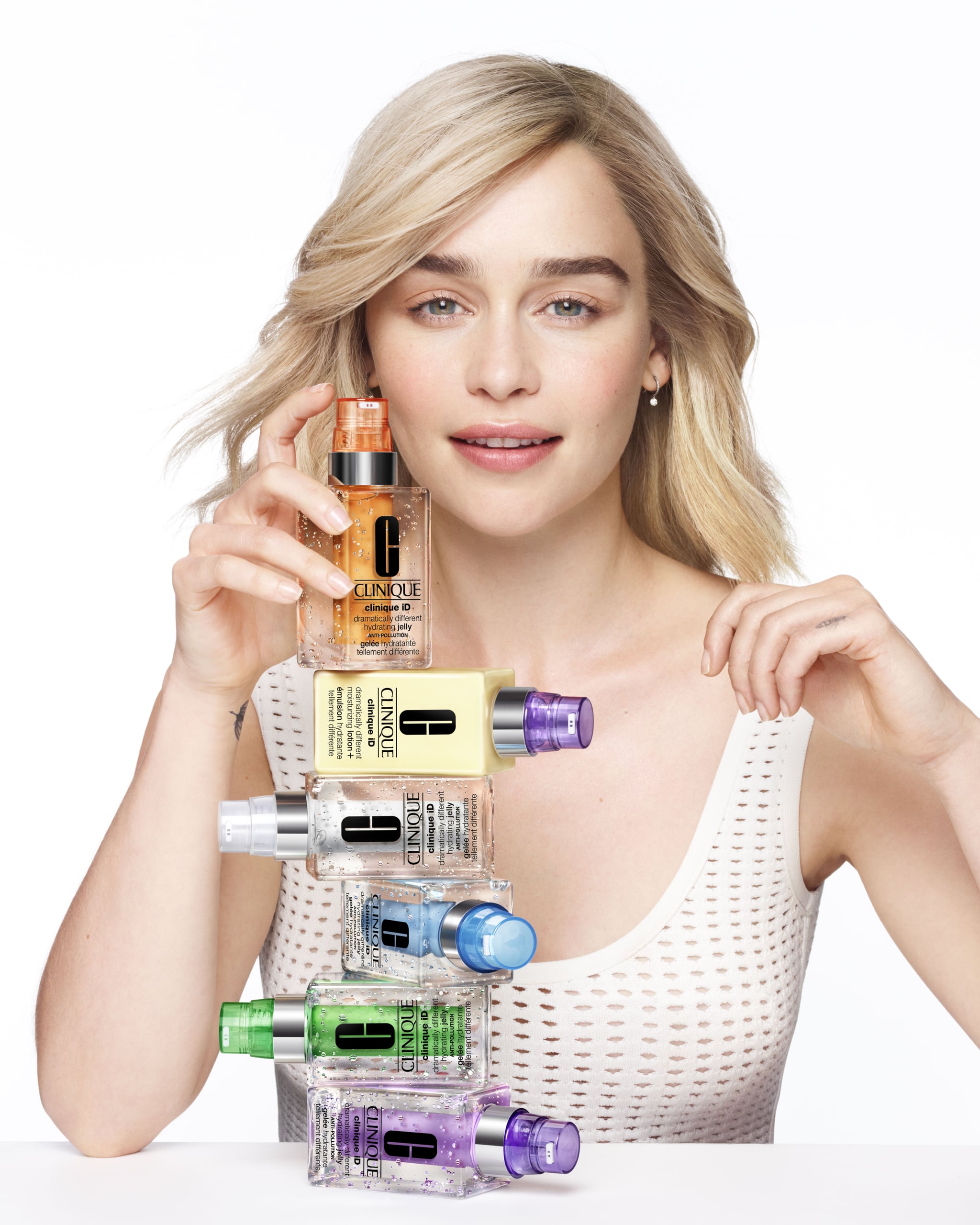 For the past 10 years, Emilia Clarke was known as Daenerys Stormborn of House Targaryen, First of Her Name, the Unburnt, Queen of the Andals and the First Men, Khaleesi of the Great Grass Sea, Breaker of Chains, and Mother of Dragons. In 2020, she's replaced her title with something way shorter and a lot less dangerous: Celebrity Face of Clinique, First of Her Kind.
"I'm excited to partner with Clinique because they're such a good brand," she told POPSUGAR in an interview in London back in December. "They've stood the test of time being universal, modern, innovative, young, old, all of it consistently."
It's a brand that also doesn't conflict with her personal values, and in fact, helps further her message of authenticity and body positivity. In the past, Clarke has been vocal not only about the lack of transparency in Hollywood and the fact that celebrities look the way they do thanks to an army of professionals and loads of disposable income but also about her dislike of Instagram filters and Photoshop — and the damage they're doing to young people's mental health. "The thing that I think needs to be banned is Instagram filtering because if we started to do that, then people are going to start to actually see authenticity, and that's going to give them confidence," she said. "And I think that Clinique as a brand is all about that, about being authentic to yourself. It promotes enhancing what you naturally have and enhancing your skin to be the best it can be."
Clarke starts off her new gig as Clinique's global ambassador (that's her official title) starring in the ad campaigns for Clinique iD, the brand's customizable skincare range that hit shelves in 2018. The range, which was quite possibly Clinique's biggest launch of the last decade, is a personalized hydration system based on the brand's iconic Dramatically Different Moisturizing lotions. And you don't need to be a skincare whiz to work it out: first you choose your base — either the Hydrating Jelly, the classic Moisturizing Lotion, or the Oil-Control Gel — then you add in one of the five active concentrate cartridges, each of which addresses a different skin concern. Simply slip the cartridge into the bottle of lotion, and you're ready to slather it all over face. Together, the two bottles are designed to dispense the optimal amount of each: 90 percent hydration base, 10 percent active concentrate.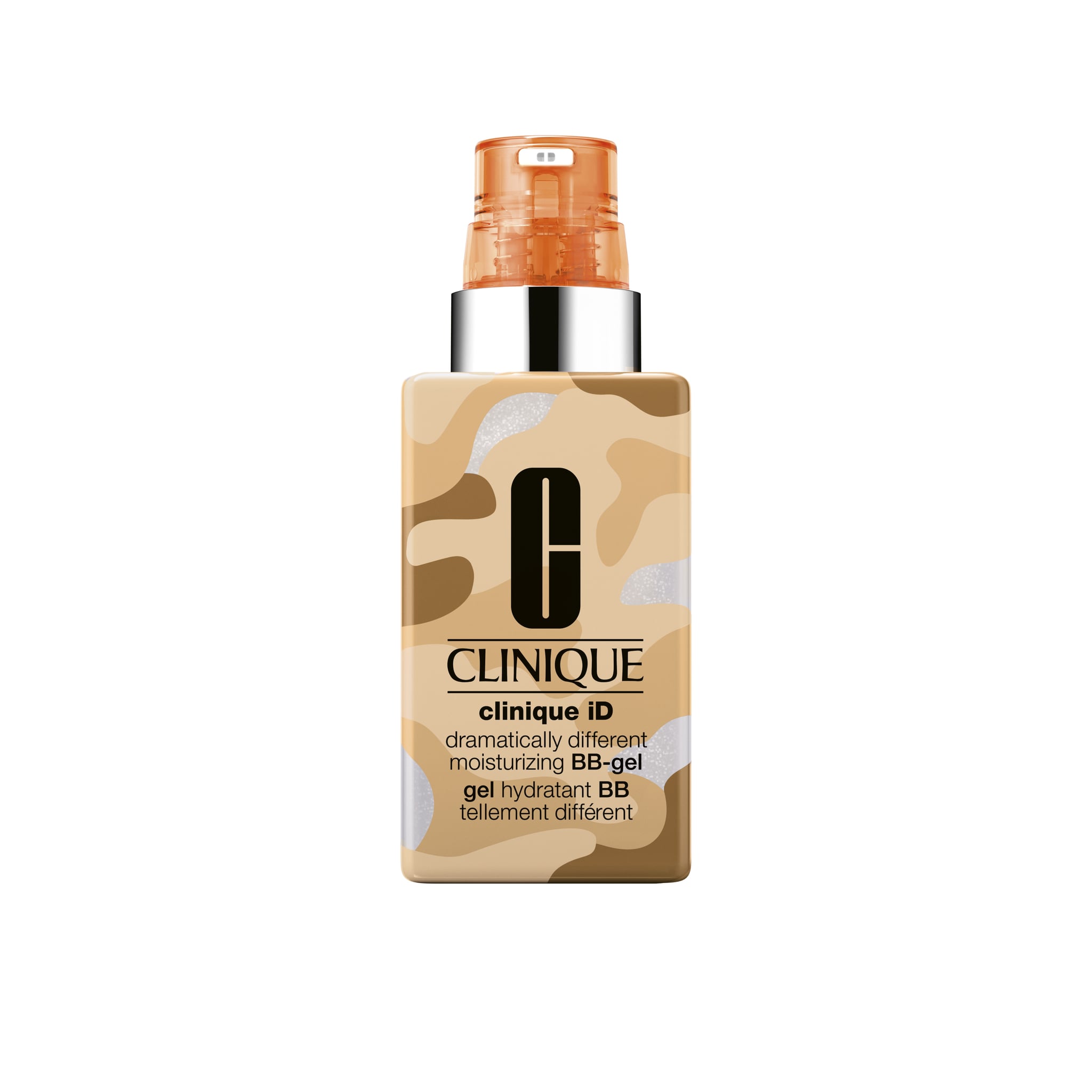 Image Source: Clinique
In addition to the news of Clarke coming on as brand ambassador, Clinique is also adding to the iD family with a new base called the Dramatically Different Moisturizing BB-Gel (shown above). Now, I've been a beauty editor for over a decade, and I can honestly say that, while I've seen similar products, I've never seen anything quite like this. While the bottle is printed with a tan-and-brown camo print, inside is a shimmery gray-blue lotion that disappears when you blend it over your face. It then quite unbelievably leaves your skin softer, more uniform in tone, and well . . . just looking a lot better than it did before you applied the stuff.
The secret is that, in addition to hardworking hydrators like hyaluronic acid and glycerin, the formula also contains "encapsulated color-blooming pigments." According to the brand, those pigments burst when you spread the formula onto your skin, releasing color-shifting, tan-ish pigments that promise to complement a majority of skin tones (although it's important to note that it won't work with all, which is a downside), giving your complexion a "soft, even, natural-looking finish." Unlike many "color-adapting" products, I like this one because the formula truly goes on transparent, without making your skin look chalky or dull. In fact, I found it made my skin look glowy and healthy (not like it's January in London) and provided a slight bit of coverage — not enough to cover up the redness in my cheeks and chin, but nothing a few dabs of concealer can't fix.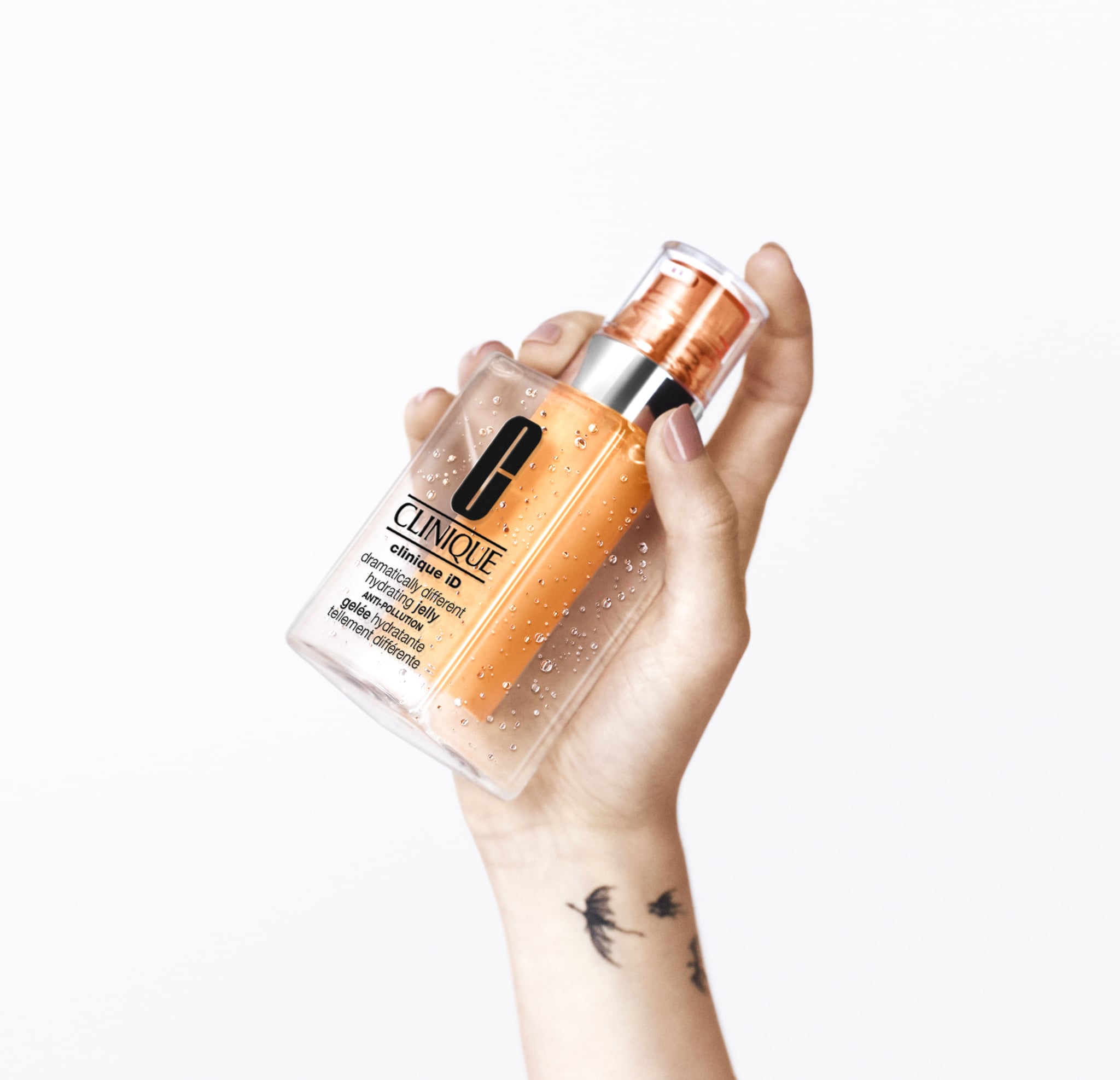 Clarke is a fierce fan of the BB-Gel. "Genuinely, when I started using the new launch, I was like, 'I'll sell this shit for free it's so good.' I can authentically really rave about it." The actor now swears she uses the BB-Gel every single day. "It's lighter than a tinted moisturizer but still gives you that pigment that you want without being foundation. It's lazy-girl makeup."
When I started using the new launch, I was like, 'I'll sell this shit for free it's so good.' I can authentically really rave about it.
As a child, Clarke suffered from "really bad eczema" and was limited to prescription creams to keep her condition from flaring up. "[My skin has] definitely changed as I've grown, and it's gone through many different phases," she explained. Currently, thanks to her new gig, her skin and her skincare routine are pretty much sorted, but that doesn't mean she still doesn't struggle with it at times. "I actually know when I'm at my most tired, or most fraught, or most anxious, or whatever it is, because I see it in my skin; I don't really get pimples, but I will get patches on my forehead that are a little bit red and dry," she said. "And when that happens, to me that's a sign I just need to slow down."
As we came to the end of our chat, which was just a couple weeks before both the end of the year and the end of the decade — and a decade in which Clarke experienced some of her highest highs and her lowest lows — I was interested to know what she was looking forward to in the 2020s (other than great skin, of course). "I'm looking forward to a decade of feeling happy, honest to God," she said almost immediately. "That is my main goal, as I would like to feel happiness more than other emotions. True, authentic happiness. I would like to laugh as much as possible. I'd like to feel joy as much as possible. The thing that I would like most for the next decade is to . . . whatever it is that I'm doing, I'm not faking it."
The Clinique iD Dramatically Different Moisturizing BB-Gel is available on Jan. 15 at Clinique counters and clinique.com.
Image Source: Clinique