Every editorial product is independently selected by our editors. If you buy something through our links, we may earn commission.
Emily Cooper has been a source of much division ever since Emily in Paris hit Netflix — Are her outfits tacky or chic? Is she a bad friend or just a hopeless romantic swept up in the charm of Paris? Should she end up with Alfie or Gabriel? — but I think all fans can agree on one thing: her hair is a freakin' force of nature. Emily (Lily Collins) frolics around France with perfectly coiffed waves that defy all traces of gravity and frizz — and yes, even the humidity of a hammam spa. Sure, she may not have that same effortless, just-rolled-out-of-bed-but-I-still-look-put-together aura that most of the show's French characters exude, but Emily is a known overachiever, so her tightly wound, S-shaped waves are quite on brand.
After watching all of Emily in Paris season two in just two days, I couldn't stop daydreaming about Emily's bouncy hair, so I tracked down the mastermind behind her look, French hairstylist Mike Desir. He gave me the full scoop on exactly how to re-create Emily's glossy waves — specific product and styling-tool suggestions included — so fans of the series can mimic the look at home and perhaps even catch the eye of their very own Alfie. Read through the full, step-by-step tutorial and Desir's many expert tips ahead, and start preparing for even more hair envy in the future, because Emily in Paris was just renewed for seasons three and four.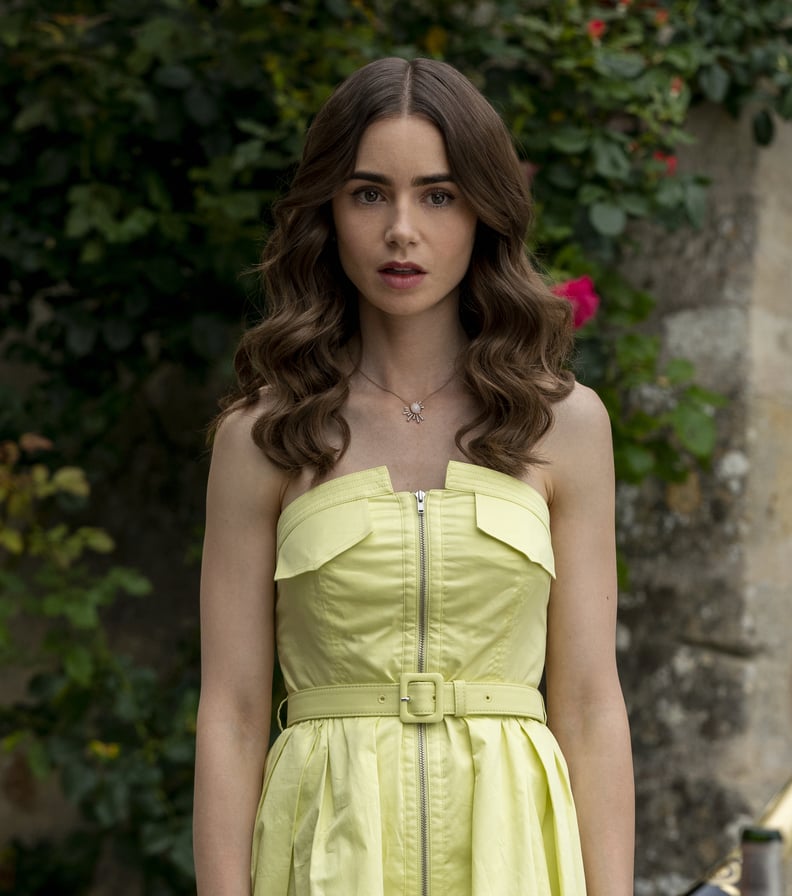 Step 1: Wash Your Hair With High-Quality Products
Dreamy waves start with healthy, clean hair. Desir suggests occasionally varying the types of shampoos and conditioners you're using to ensure you reap a range of benefits (i.e. color care, hydration, damage repair, and so on). His favorites include Living Proof's Color Care Shampoo ($59), Restore Conditioner ($59), and Restore Repair Mask ($38), to name a few.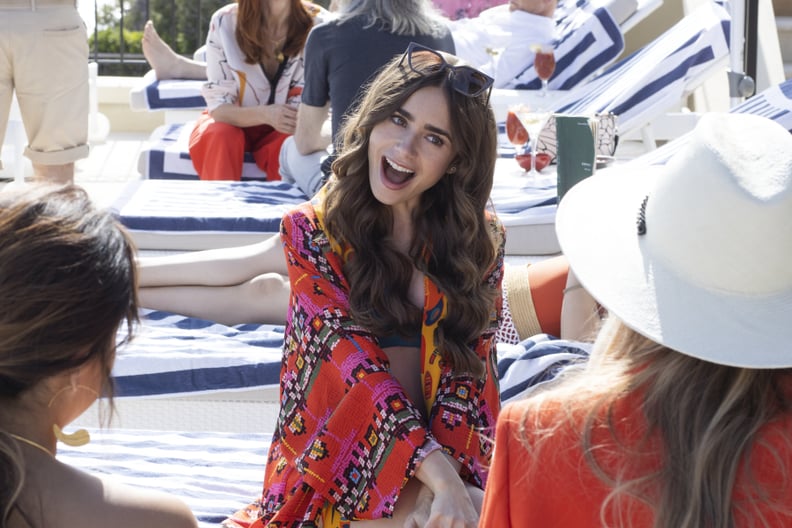 Step 2: Prep and Blow-Dry Your Hair
Next up, Desir recommends applying a volume-boosting product like Living Proof's Full Thickening Mousse ($29) on your hair while it's still damp and finger-drying. Once all the product has been fully absorbed by your hair, get to blow-drying — preferably with Desir's go-to, the Dyson Supersonic Hair Dryer ($400), which he says "adds shine and reduces frizz." Of course, any ol' blow dryer will do if you don't have the cult-favorite tool in your arsenal.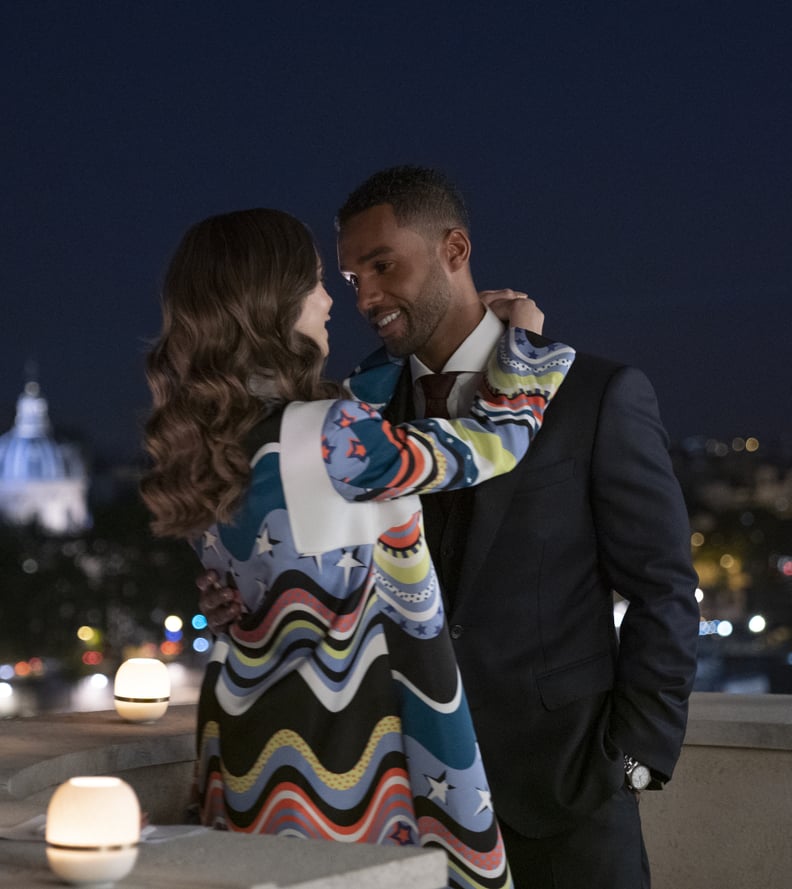 Step 3: Use a Curling Iron to Create Waves
"You need to decide what you want your curls to look like first," Desir told POPSUGAR, adding a rule of thumb: "If you take small sections of hair, you'll get tighter waves, and if you take thicker sections, then your waves will be looser."
Since Emily's waves are on the tighter end of the spectrum, go for smaller sections to mimic her look, and spritz each section with Bumble and Bumble Bb. Heat Shield Thermal Protection Mist ($32) or a similar product before going to work with your curling iron or wand. He used GHD's Soft Curl 1 1/4-Inch Curling Iron ($199) on set to achieve Emily's signature season two hairstyle.
A few pro tips from Desir: Start curling at the back of the head with your iron held horizontally for "more defined waves," then position the tool vertically once you reach the sides and front. Also, twirl each section of hair before wrapping it around the iron's barrel so it comes out more wavy than curly. Yes, it's an added step, but it makes all the difference.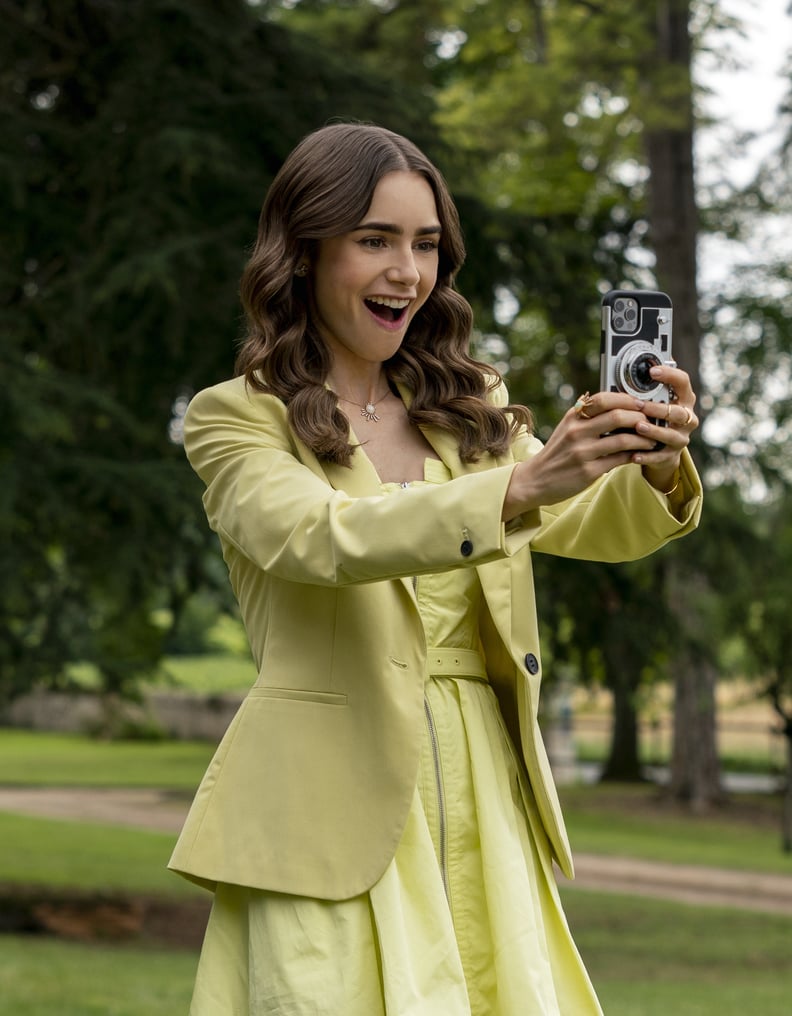 Step 4: Apply Hairspray
Once all sections of hair have been curled, Desir suggests brushing through it once with a large, wide comb. Of course, a generous helping of hairspray was necessary for Emily to survive all those Champére showers and impromptu Vespa rides around Paris, and Desir relied on Bumble and Bumble's Bb. Spray de Mode Hairspray ($32) to get the job done. If you don't have that exact product on hand, try one of these under-$15 alternatives instead. Once your spray of choice has been applied, voila — you're ready to selfie it up just like Emily Cooper.