Netflix's Emily in Paris is back on Dec. 22 for a second season and, after watching the first 10 seconds of the trailer, you can rest assured we're in for a treat (or, at least, lots of drama). Emily Cooper (played by Lily Collins) is retuning to the small screen with her lavish outfits and aspirational eyebrows, and accompanied by her new best friends Mindy (Ashley Park) and Camille (Camille Razat). With Emily becoming a bit more acclimated to her "second home," as she called it in an interview with POPSUGAR, Odile Fourquin, the show's hair and makeup supervisor, said we can expect to see a slightly different, more elevated look for Emily — as well as the rest of the cast.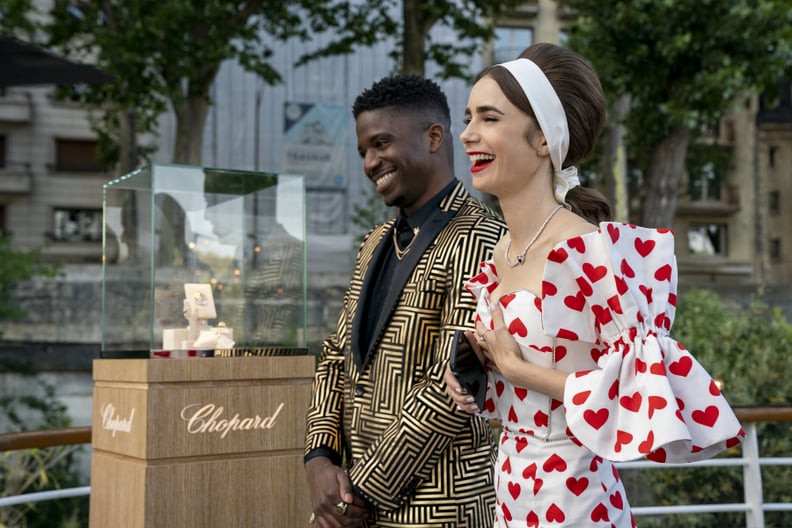 Emily is finally getting more comfortable in France: she's made nice with her boss, Sylvie, she's found herself a steamy new love interest (albeit controversial), and she's honed her Parisian look. You're going to see a lot more French influence in Emily's hair and makeup in season two. "We get inspiration for all the cast from a lot of supports: magazines, fashion shows, and a lot from Instagram," Fourquin said. For Emily specifically, they also pulled inspiration from Old Hollywood actresses Audrey Hepburn and Brigitte Bardot.
Instead of the fresh-faced, pink/mauve lip combo that Emily repeatedly rocked when she first arrived in Paris, she's "leaning into Parisian beauty trends" like red lipstick, black eyeliner, and even a pop colors on the eyes. But that's not the extend of the hair and makeup we can expect in season two — we're in for a few surprises. "[Look out for] diamonds on Emily's hair for the Versailles fashion show," which takes place at the end of the season, said Fourquin. Mindy also has a drag queen hair and makeup look in store for us, and Camille pulled out all the stops for her birthday party. (We'll give you a hint: blue eyeshadow is involved).