How Erika La Pearl Went From Law Firm Supervisor to Cardi B's Go-To Makeup Artist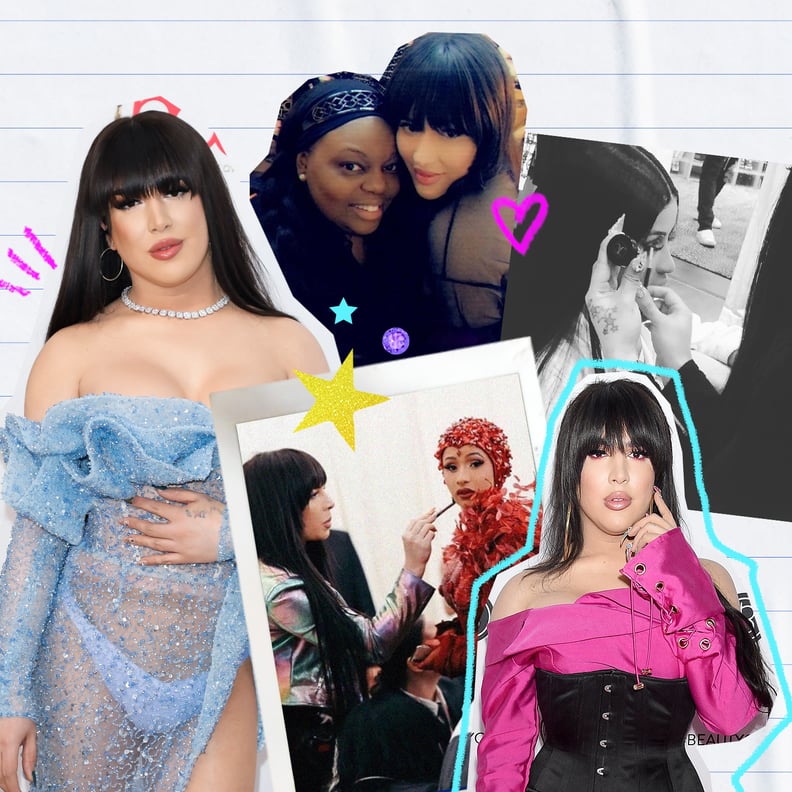 Getty | Erika La Pearl / Illustrations by Becky Jiras
As POPSUGAR editors, we independently select and write about stuff we love and think you'll like too. If you buy a product we have recommended, we may receive affiliate commission, which in turn supports our work.
Welcome to Big Break, where some of the most influential figures in the beauty industry reflect on the beauty moments that made them — from the good to the bad, and everything in between. Here, makeup artist Erika La Pearl shares how she went from supervisor at a law firm to Cardi B's right-hand glam.
At 9 years old, Erika La Pearl knew there was magic in makeup. She felt it from the moment she laid eyes on the stuff: "I remember I went through my mom's makeup bag and everything was just so pigmented and so pretty," she told POPSUGAR. "I started playing with the blue eyeshadow and shimmer. By the end I looked a mess, like a clown. But I loved it."
Still, despite the initial sparks, it would be years until she entered the professional world of makeup artistry. In fact, her initial career trajectory until age 23 looked a little more . . . lawyer-like (or, as she puts it, "unexpected").
"I always loved makeup but I was scared," she said. "When I was growing up, I was hiding — I never took any pictures of me wearing makeup. I came out as transgender when I was 18, so through my high school years I was technically a boy. And so fresh out of high school, I got a job working at a foreclosure law firm. I was there for years; I was the lead supervisor for this department called Dismissals, basically just scanning and merging files. I had an old friend who did makeup locally and I was so inspired watching her, but I was too comfortable. Then one day, [the firm] laid everyone off and they let me go. It felt like the push I needed."
"I always loved makeup but I was scared. When I was growing up, I was hiding."
Armed with a newfound purpose and resolve, La Pearl enrolled in beauty school at the Academy of Glam in south Florida. That's where she learned how to work under pressure on photo shoots and movie sets, but back then, there was no Instagram or TikTok — getting your name out there meant passing out business cards and doing free gigs "just to show my work."
It was all hustle, and it didn't stop after beauty school. Once she completed the program, the makeup artist moved to Atlanta and, after countless networking events, practice shows, and promotion on Facebook, booked her first professional gig doing the makeup for America's Next Top Model alum Dominique Reighard. One project led to the next, until finally, her first big break: she booked a job on set of Love & Hip Hop Atlanta.
"That opened a lot of doors for me. That's when I got the opportunity to work on set of Housewives of Atlanta, and then the jobs kept coming. I worked on all of the Love & Hip Hop's — Atlanta, Hollywood, New York, Miami. I did all their intros; all the green screen looks. I worked on movie sets, like Being Mary Jane, and started traveling for jobs."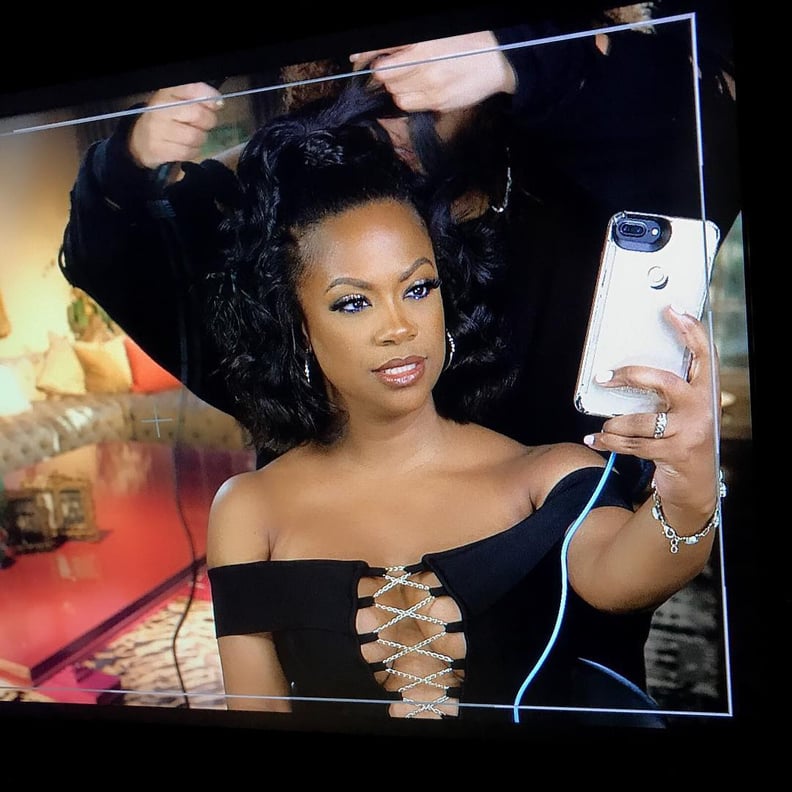 Pretty soon, La Pearl was flying all over the country, doing shows for singer Monica Brown and tours with other artists. "That's when I ran into Cardi," she said.
The year was 2016, before "Bodak Yellow" catapulted the rapper into fast superstardom. Cardi B was still on Love & Hip Hop New York and had an appearance at a hair trade show in Atlanta. Her publicist reached out and asked La Pearl to do the makeup at the booth — an offer she politely declined.
"I said, 'I'd rather do Cardi's makeup, and I'll do it for free.'" Done, they said. That night, she went over and glammed her up, to stellar reviews. She called her the next day, even made an Instagram post, and booked her for Fashion Week (which, as you might imagine, went quite well). "After that, [Cardi B's team was] like, 'Oh, we have music videos, red carpets, photo shoots, so many bookings we need you for. Are you in?'"
Needless to say, she was . . . and still is.
"I guess God is good, because she loved the way I work," said La Pearl. "I'm on time. I'm professional. I work well under pressure. But Cardi also just loved the way I do her makeup. How, when her picture was taken, she looked flawless; she didn't need editing. That's how I got this job with her."
Fast-forward four years, and La Pearl is all but Cardi B's go-to for all things glam. She's been through it all, both professionally and personally, with the rapper — weddings, birthdays, and even quarantine.
"It's 24 hours, 24/7. I'll do her makeup when she wants to go on [Instagram] Live. I did her makeup when it was her daughter's birthday. At the start of all this, I thought that I wouldn't be working, but she's been flying me to LA since the first day of the pandemic. Of course I get tested before, and I wear a mask and wash my hands. We've been very careful. But there are a lot of projects to work on, so I feel very lucky to get to do them. Cardi's my main priority. She's so loyal to me, I want to be loyal back."
Of course, like most anything in life, making yourself fully available can come with some sacrifices: "I do work so much, I never have time for myself," she said. "But I have friends who talk me out of it, and Cardi is very supportive. She never wants to keep me away from family or my boyfriend. She be like, 'Go.' She's understanding."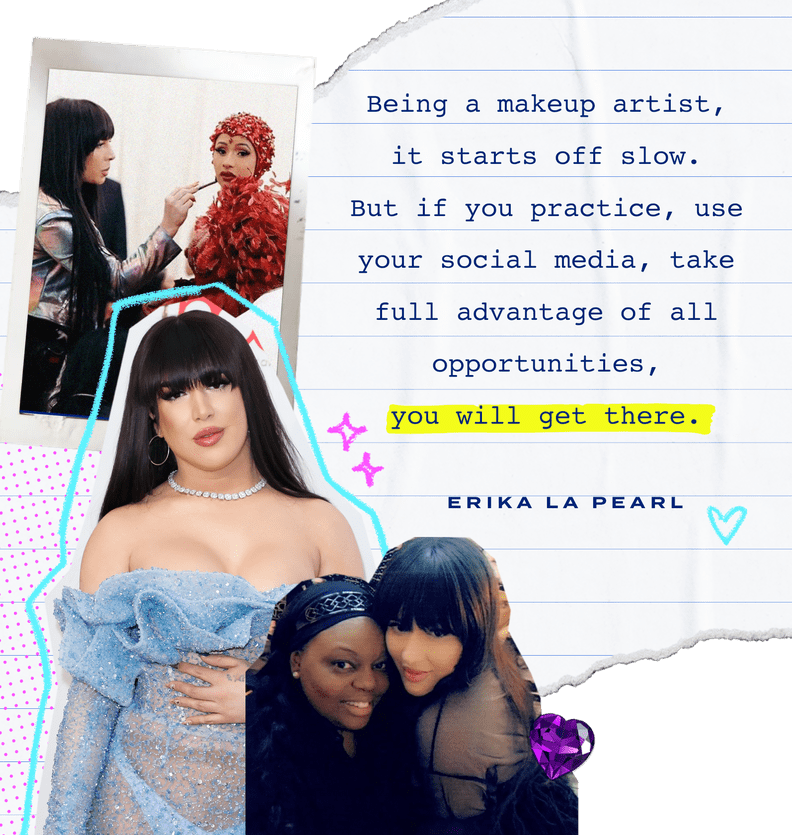 Yet, getting the opportunity to work with one of the most well-known names in music — and on the same path as some of her biggest inspirations, like Mario Dedivanovic, Pat McGrath, and Scott Barnes — is like a walking pinch-me moment, she says.
"I still get goosebumps. Even to this day when I see Cardi performing or rehearsing, it's iconic. I've always dreamed of doing stuff like this, and now I'm really doing it."
They key to success, La Pearl has come to learn over time, is about sticking with it no matter how hard it gets — and staying true to what the job is really about: makeup.
"Stay away from the comments. Celebrities do see them, and that can mess up your chances of getting a job in the future. Keep your opinions and the drama to yourself. Be professional, and remember they're the star. I'm not saying that you are not important but, when it comes to your clients, you're hired to be a makeup artist — not the star. Would Beyonce want to hire you if you're always in the blogs talking about her? I highly doubt that."
She continued, "It's not an overnight thing. Being a makeup artist, it starts off slow. But if you practice, use your social media, take full advantage of all opportunities, you will get there."