Over 200 5-Star Reviews Say This Eye Cream Is the Best, Thanks to These Ingredients
Do you really need eye cream? This may be the most popular question skin-care lovers pass back and forth. The problem is that whoever asks that question probably hasn't tried the right one — yet. To be fair, most eye creams do something (probably hydrate), but they don't all offer the kind of well-rounded, long-lasting results that help you give off that I-do-sleep-eight-hours-every-night vibe. While it can be difficult to find an eye cream that works for all of your needs, we've found one that knows how to clock in and get the job done. Allow us to introduce you to Fleur & Bee Eyes Eyes Baby ($26).
While the concept of eye cream hasn't evolved much in thousands of years, the ingredients proven to make an impact on skin have. Even without its catchy name, Eyes Eyes Baby would speak for itself, but don't take our word for it. The anti-aging formula has over 200 five-star reviews swearing by the nourishing formula; some say it even started working for their dark circles and fine lines in under a week. No wonder it's become a best seller for the brand. So, what makes Eyes Eyes Baby tick? Over 18 active ingredients. Ahead, we break down some of the most notable and effective.
Caffeine
Caffeine doesn't just belong in your morning pick-me-up, it also belongs in your skin-care routine. The energizing ingredient is an antioxidant, which is known for helping to protect skin from free radicals and environmental aggressors (think: UV and pollution damage). Caffeine is also known for helping to reduce puffiness in the skin, which makes it an essential ingredient after losing some sleep.
Hyaluronic Acid
Hyaluronic acid is in a lot of skin-care products — and for good reason. The hydrating ingredient is a humectant that, once absorbed into the skin, can help trap and retain moisture. As we get older, the undereye area is one of the first to start appearing crepey, but the addition of a hyaluronic-acid eye cream can help improve skin's elasticity, so you can maintain that youthful and bouncy glow.
As POPSUGAR editors, we independently select and write about stuff we love and think you'll like too. If you buy a product we have recommended, we may receive affiliate commission, which in turn supports our work.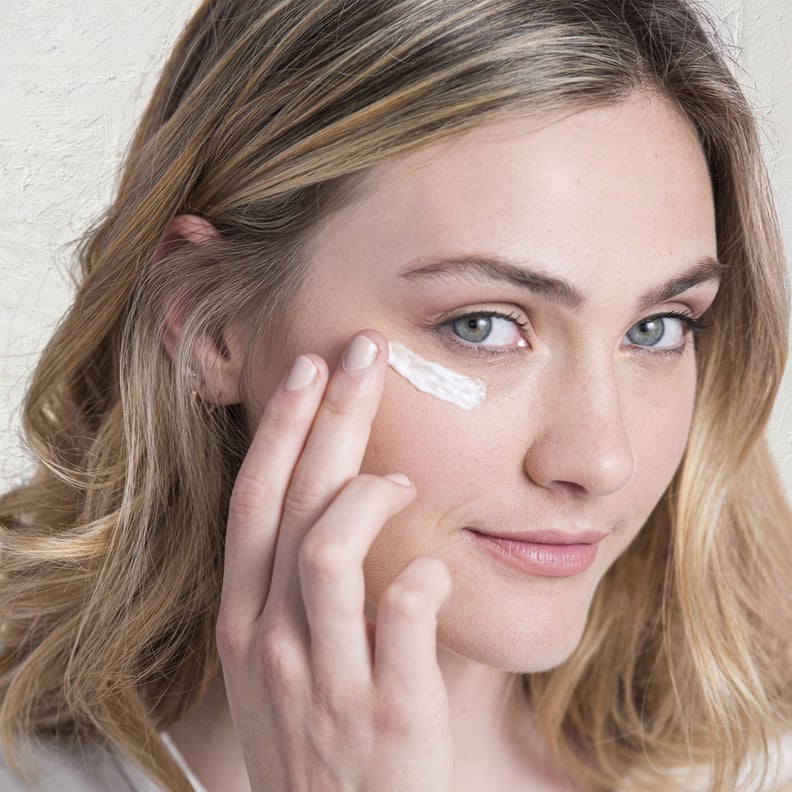 Peptides
Speaking of plump, moisturized skin, peptides are a key component of any effective eye cream. Eyes Eyes Baby contains two tripeptides that help smooth out fine lines and wrinkles. Known for their help in supporting collagen production, peptides are an underrated favorite for skin-care fans looking for a gentle ingredient that can effectively target aging skin.
Vitamin E
Although many people opt to use their eye cream in the morning, the antioxidant properties found in vitamin E can be just as essential at night. Antioxidants can help defend skin against free radicals, which can sometimes be a byproduct of the nightly repair mode skin undergoes while you sleep. An eye cream like Eyes Eyes Baby uses vitamin E — an ingredient that's been popular for decades — to help soothe, moisturize, and protect, whether you're wide awake or hitting snooze.
Squalane
Squalane is the king of helping to create supple skin, which makes it a powerhouse ingredient in Eyes Eyes Baby. Fleur & Bee derives its squalane from olives to create a highly moisturizing ingredient that can help tackle signs of aging and lack of moisture.
Algae
Algae is packed with peptides, which, as we said, can help hydrate and target fine lines around the eye area. It may not be the most common skin-care ingredient, but some studies have shown that algae can help to reduce the breakdown of collagen and hyaluronic acid in skin, so it can maintain its natural suppleness.
Some say eye cream is a "love it or leave it" kind of product, but Eyes Eyes Baby might just change that. Of course, results are always more likely with consistency, so if you end up becoming a convert, you might find yourself telling everyone on the internet that, yep, this one's a sure thing.