GHD Rise Volumizing Hot Brush Review With Photos
This Styling Tool Took My Hair From Frizzy to Full in 10 Minutes Flat
As POPSUGAR editors, we independently select and write about stuff we love and think you'll like too. If you buy a product we have recommended, we may receive affiliate commission, which in turn supports our work.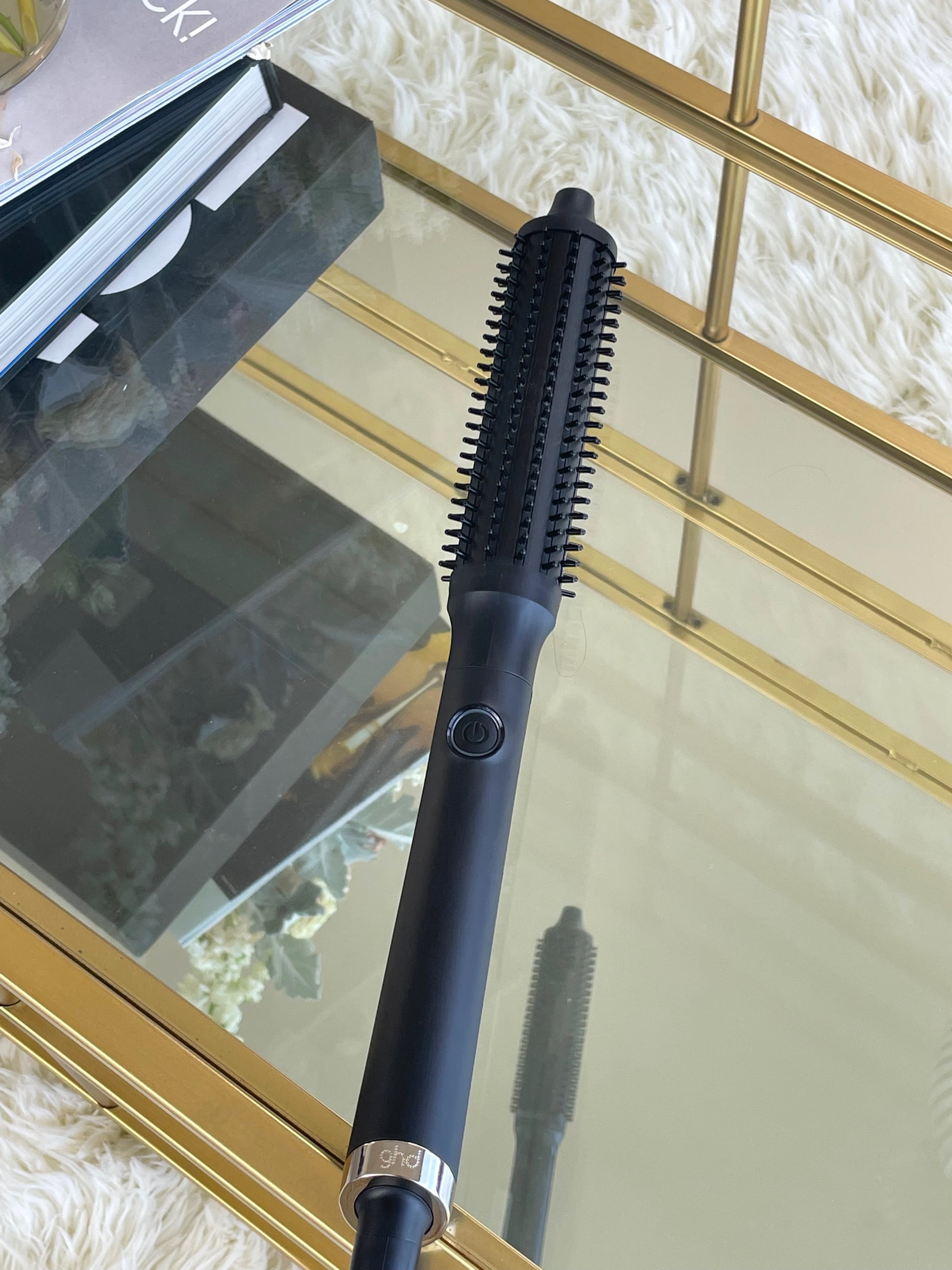 The GHD Rise Volumizing Hot Brush is a heat-styling tool gaining popularity on TikTok.
The tool promises to add volume, body, and bounce easily and effortlessly.
One editor tested the hair tool and was impressed with the results.
The first time I laid eyes on the hot tool of my dreams, I was scrolling TikTok one night in bed. I saw a woman using what looked like a curling iron with spikes on it (yes, you read that right) on her dry, frizzy hair. When I saw the end result, my jaw visibly dropped. She had taken her hair from frizzy and untamed to a bouncy blowout that looked professionally done with just one tool. Since it typically takes me a blow dryer, a curling iron, and a set of velcro rollers to achieve the same look, I knew I needed to get my hands on her hair tool ASAP. Although I didn't know it at the time, GHD's Rise Volumizing Hot Brush ($189) would end up becoming my favorite hair tool ever.
I have thin hair, but when I let it air-dry, it's frizzy, poofy, and wavy. It's also recovering from damage, so I like to use the least amount of heat possible when styling. I typically shampoo two times a week at most, and I usually give myself a blowout right after washing. If I let my hair air-dry and then try to give myself a blowout or even just curl it, my hair ends up a total mess. I can never fully minimize the frizz or the kinks unless I make sure to style it shortly after I shower.
GHD's Rise Volumizing Hot Brush is a smart hot brush equipped with a 1.25-inch barrel and 0.5-centimeter bristles. The tool looks like a mix between a round brush and a curling iron, but it pulls the best functions from both tools and morphs them into one standout product. Unlike a wand or curling iron that requires holding the hair in place by either securing it underneath a clamp or holding it with your hands, this tool's bristles keep it in place, which makes styling your hair as simple as brushing. The hot brush heats up to and maintains a temperature of 365°F, promising to style hair evenly and with less damage.
The first time I tested it, I have to admit, I was a little lost. Even though I spent a lot of time watching tutorial videos on TikTok, once I actually had the tool in my hands, I was a little unsure of how to use it. However, once I finally got the hang of it, styling my hair became an absolute breeze. In my opinion, the trick to getting the most out of this hot tool is treating it like a brush and styling your hair by simply brushing through it. I've found that in order to achieve the best salon-quality blowout look, I follow these simple steps.
First, I let my hair air-dry completely, because this tool is only meant to be used on dry hair. From there, I apply a heat protectant and divide my hair into sections. I then take a one-inch section of hair and place the GHD rise above the section of hair starting at the root. Next, I wrap the hair around the barrel (going back) one time. While twisting the brush backward, I drag the brush through my hair from the root to the ends. I repeat these steps all throughout my hair, let it cool, then brush through with a paddle brush.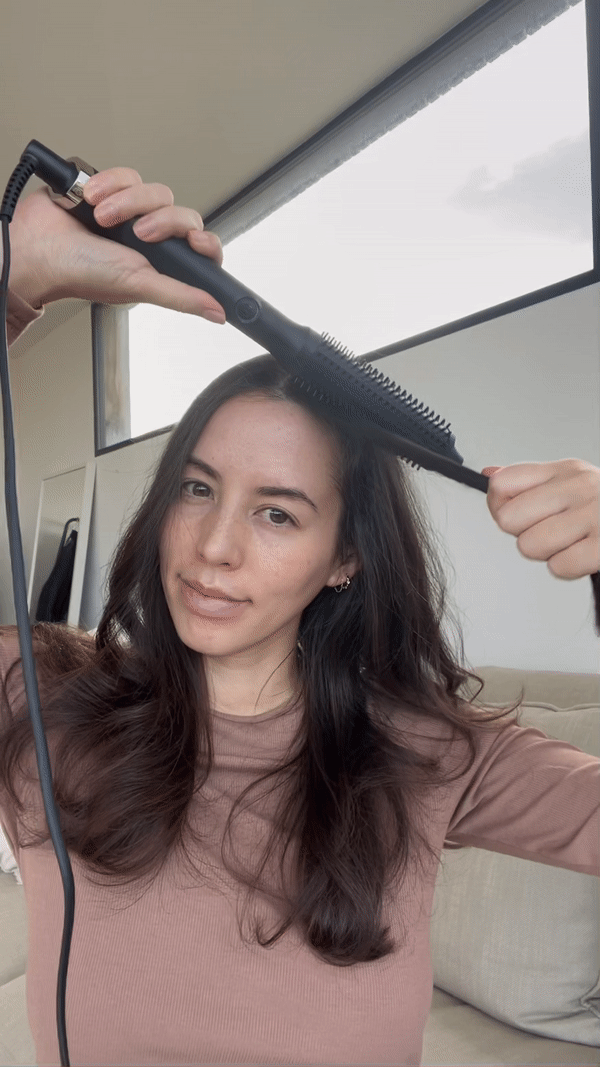 To be completely honest, I was pretty shocked at what great results I was able to get from using this tool on my air-dried hair. Usually, I have to consider it a waste of a wash, because my only real styling option is to flat-iron my hair, and my hair does not look good after being straightened. Not only did this tool completely smooth out all of my funky waves and curly pieces, but it also eliminated my frizz and took me from Hagrid to Hermione (at the Yule Ball) in 10 minutes flat.
Even though my favorite way to use this tool is on air-dried hair, I also love utilizing it for day-two and -three hair when I need an easy way to refresh my style from the day before. GHD's hot brush always gives me a style that lasts and doesn't take too long to achieve.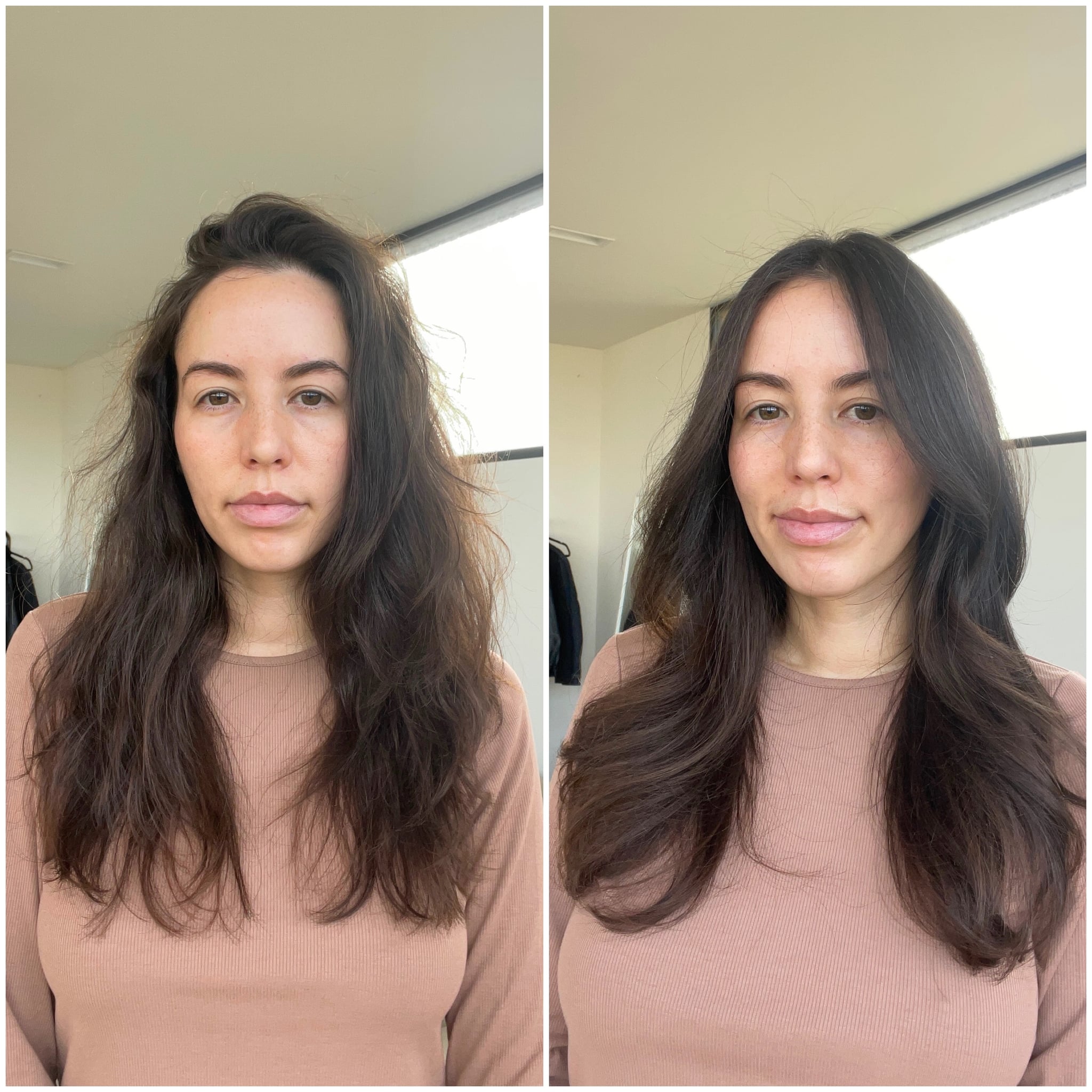 At $189, this tool is definitely on the pricey side. However, I'm a big fan of GHD products in general, and I've had a curling iron and flat iron from the brand for over five years with zero issues — they work just as well as the day I first bought them. I fully believe this is a great investment, especially for anyone who likes to style their hair after air-drying and is looking for a simple way to do so.
Rating:

Image Source: POPSUGAR Photography / Renee Rodriguez