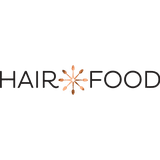 We've partnered with
Hair Food
to bring you the clean products and nourishing ingredients that will feed your curls.
As a plant-based chef, dietitian, and mindful-living creator, Radhi Devlukia-Shetty has spent years studying Ayurveda and the impact nutritious ingredients can have on the body and mind. In fact, her knowledge of ingredients is so extensive, she'll be the first to tell you that they can do more than transform your body in the kitchen — they can also transform your hair in the bathroom. But don't worry; as much as Radhi loves to create nourishing recipes, her daily hair routine is much simpler — no cooking required!
To reap the benefits of her favorite ingredients for her hair, Radhi turns to Hair Food products. Whether it's coconut milk to liven up her strands, apple cider vinegar to clarify her scalp, or turmeric to define her curls, the superfood superstars found in her bathroom lineup help to naturally nourish her hair. Ahead, she breaks down each of her go-to products and how they let her beautiful curls shine.
Similar to how she treats her body, Radhi trusts only the very best ingredients and product recipes for her hair. "I like to keep everything I use on my hair as natural as possible," she said. "I really love that Hair Food products are free of sulfates, parabens, and dyes and are PETA-certified cruelty-free, too!
When it comes to her most-used hair products — shampoo and conditioner — it's no wonder she would seek what she (and Ayurveda) considers to be the queen of all fruits: coconut. Not only are coconut byproducts, including milk and oil, considered veritable superfoods, but when used on your hair, Radhi noted, they can also do wonders for its vitality and vibrance. The Nourishing Shampoo and Conditioner featuring coconut milk and chai spice, specifically, work to liven up her strands for a voluminous pick-me-up.
Radhi's tip: "I shampoo my roots and condition mid-to-ends. I always wash my hair upside down for the curls!"
Just like how apple cider vinegar can help reset your gut, it can also help detox your hair. "Apple cider vinegar can help soothe the scalp and gently cleanses your hair without stripping it of the healthy oils," Radhi said. Once a week, she opts for the Apple Cider Vinegar Cleansing Hair Rinse in place of regular shampoo. "I use hair mousse and a little hairspray in my hair and love to work out, so I find the ACV hair rinse helps remove the buildup of product and in a gentle way without having to do a full wash!"
And when it comes time to styling her hair postrinse, she turns to turmeric. "Turmeric is another all-time Ayurvedic favorite — I grew up with it being the remedy for pretty much everything!" Radhi shared. "It can help to revitalize and balance the scalp." After every rinse, she works the Leave-In Hair Detangling Milk with turmeric and almond oil into her curls using her fingers to help remove knots and frizz. "My curls can get really tangled and take so long to brush out. The detangling milk keeps my hair super soft but also helps define my curls."
Radhi's tip: After rinsing, dry your hair using a cotton T-shirt rather than a towel in order to avoid frizz. And don't forget to scrunch! "I like to scrunch my hair upwards using product rather than brushing through — I find for my curly hair, scrunching gives better definition and volume!"
These days, it's hard to find Radhi without her signature curls, but you might be surprised to learn that wasn't always the case. "I actually used to straighten my hair till I was in my 20s! Then I realized the curls are part of me, part of my personality, and I learned how to look after them and style them so I feel confident and comfortable . . . and now I couldn't even imagine straightening them!" They're more than just a part of her look; they're a part of her identity as well. "I love my curly hair because it's the one feature my sister, mum, and I all have in common!"