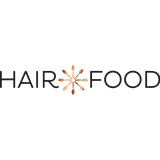 We've partnered with
Hair Food
to bring you the clean products and nourishing ingredients that will feed your curls.
Caring for your body and caring for your hair may be two completely different things, but if anyone can find a direct connection between the two, it's personal trainer and wellness ambassador Lita Lewis. For Lita, honoring her body translates to fueling it with nutritious foods — and the same exact thing can be said when it comes to embracing her curls. So those superfood ingredients she uses to feed her body in the kitchen? They're also the ones she trusts to feed her hair in the bathroom.
Whether it's manuka honey to maintain moisture, avocado to soften and smooth, or apple cider vinegar to clarify, she relies on the clean, simple, kitchen-crafted recipes found in Hair Food products to nourish her curls. Keep reading to discover her hair routine and why she loves these natural ingredients.
"When it comes to my curly hair texture, I accept and embrace it," Lita shared. "I do that by finding ingredients that nourish my curls and choosing the most natural products." That's why she says she turns to Hair Food products daily — they're full of good-for-you ingredients that address her hair needs and free of all the not-so-good stuff, like sulfates, parabens, and dyes. "These products allow me to build a complete routine to nourish my curls and scalp."
On most wash days, she uses the Moisturizing Shampoo and Conditioner featuring manuka honey and apricot. "Because I have a tight, curly texture, I'm always trying to maintain moisture. Incorporating these products into my hair-care routine helps moisturize and smooth dull, dry hair. I can feel the softness immediately after rinsing."
Lita's tip: "Because Hair Food products are so deeply nourishing, you don't need to oversaturate your hair like you would with other products. Apply sensible amounts, adding only what is needed to get the most out of your routine."
At least once a week, she switches up her wash day and swap the shampoo and conditioner for the Apple Cider Vinegar Cleansing Hair Rinse and the Smoothing Hair Mask with avocado and argan oil. "Using apple cider vinegar is a great hair and scalp reset," Lita said. "I never skip this step as it helps me keep a clean, healthy scalp and leaves it feeling invigorated. It gently cleanses, balances my scalp pH, and removes buildup on any styling products left over in my hair."
When it comes to a hair mask, Lita specifically seeks out the enriching properties of avocados to rejuvenate and inject moisture into her strands for a smooth and shiny finish. "It's by far my favorite ingredient to eat and add to my hair!" she said. "I love using the Hair Food mask because it's deeply moisturizing without feeling heavy. It doesn't weigh down my natural curl, helps bring out my natural shine, and calms the frizz."
Lita's tip: "When you have a few extra minutes to spare, I would highly recommend wearing the Hair Food hair masks out of the shower, perhaps while you tackle other duties around the house. I've found that my curls are extra soft and bouncy when I wear the mask a little longer before rinsing!"
And if you have longer hair like Lita, you could also apply the Detangling Milk to help further define curls without knots or frizz.
Once Lita's done rinsing, her hair is ready to style. "With a soft, moisturized head of curls, I have a clean slate to style and wear my hair any which way I please." These days, that typically means embracing her curls and wearing her hair as-is. "I love the versatility of my natural curls," she said. "Once I decided to avoid excessive heat on my hair and choose rich, nourishing products to keep my curls in great health, I realized just how versatile wearing my curls is. My natural hair contributes to my personality and confidence as a woman of color. When I present myself in my most natural state, I feel empowered, unstoppable, ready to take on my day!"