I Tried Alix Earle's Hair-Headband Hack: See Photos
I Wish I'd Learned Alix Earle's Hair-Headband Hack Sooner
As POPSUGAR editors, we independently select and write about stuff we love and think you'll like too. If you buy a product we have recommended, we may receive affiliate commission, which in turn supports our work.
"Hair headbands" have been going viral on social media.
To try the hack, all you need are a curling iron and a hair tie.
One editor tested the viral hairstyle and is sharing her results.
Alix Earle is taking over my social media feeds and my life. I recently tested the influencer's makeup routine, and after the look landed me a second date, my mind was made up — Earle knows her sh*t. When I saw a hairstyle she frequently wears called the "hair headband" going viral on TikTok and Instagram, my interest was certainly piqued.
The only problem is that I have thin, fine hair, and I usually don't wear it any other way than down when it's clean and up or slicked back when it's dirty. I'm not really one to attempt a daring hairstyle, unless you count the time I tried securing my hair with a G-string à la Pamela Anderson. However, this one looked easy enough to do, so I decided to go for it.
After washing my hair, I prepped by applying a few spritzes of the Unite 7Seconds Leave-In Conditioner ($35). Next, I combed the product through and then rough-dried my hair using the blow-dryer attachment on the Shark FlexStyle ($300). I switched to the FlexStyle barrel attachments and curled everything away from my face. Once my hair was styled, it was time to start working on the headband.
Image Source: POPSUGAR Photography / Renee Rodriguez
I began by parting my hair down the middle, taking a section roughly an inch thick from each side, and separating it from the rest of my hair. Next, I took the back section of my hair and clipped it away from my face using a claw clip. This hairstyle features two thin pieces of hair in the front as accents (kind of like a Y2K look), but instead of taking those pieces from the front, I pulled them forward from the back.
Next, I took the remaining hair from the front section, tucked it behind my ears, then pulled it into a low ponytail underneath the claw clip using just my fingers. I then took a tiny hair elastic — my favorite for these types of styles are the Goody Classic Polybands ($3) — and secured everything in place.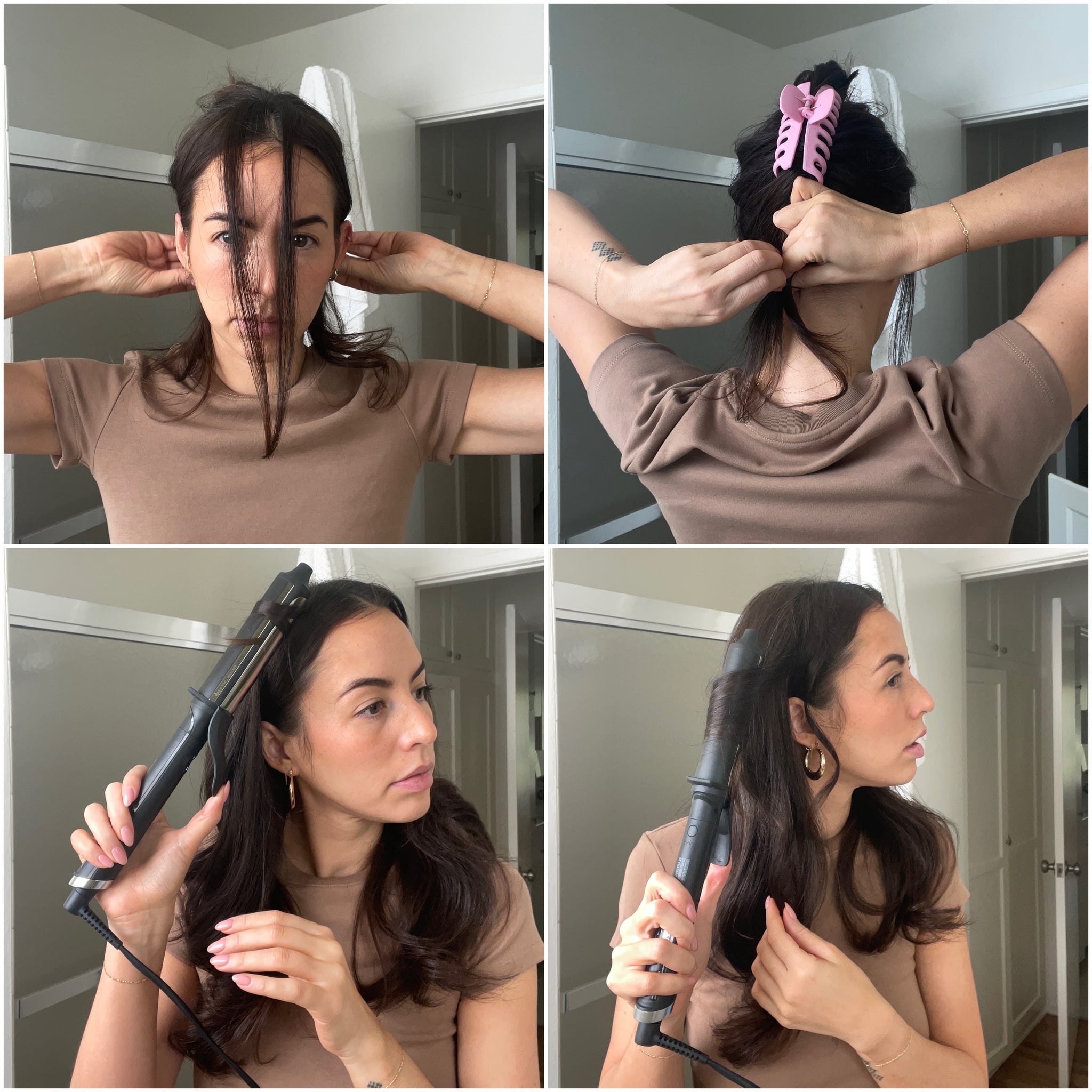 Image Source: POPSUGAR Photography / Renee Rodriguez
I then let my hair out of the claw clip to take a look in the mirror. I loved the end result, but I wanted the accent pieces and the rest of my hair to look bouncier, so I took my Ghd Soft Curl 1.25" Curling Iron ($205) and curled the front pieces and a few pieces on each side of my head. When I was finished, I sprayed everything using the Oribe Dry Texturizing Spray ($49).
Overall, I loved the look, and it's one I can see myself repeating. Not only is it cute, but it's functional as well. The style stayed in place all day, and I received lots of compliments from my friends — one even asked me if I could show her how I did my hair. Plus, I have a cowlick, so although I love the look of two pieces in front of my face, usually it doesn't look great with my hair. Pulling the accent pieces from the middle of my head looked much cuter in my opinion, and I didn't find that the pieces got greasy or gross throughout the day, which is something I've run into in the past.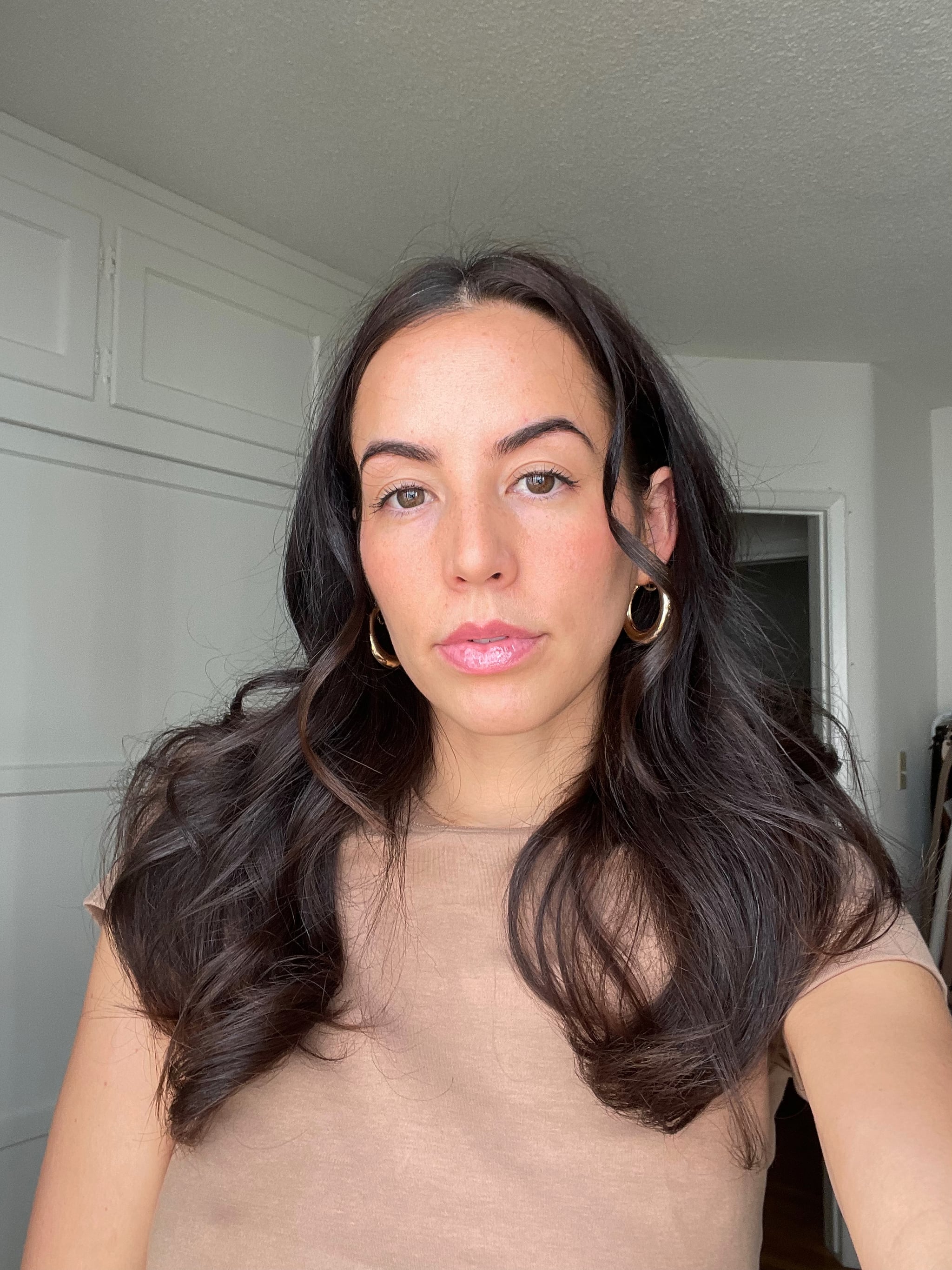 Image Source: POPSUGAR Photography / Renee Rodriguez
This styling trick only added a few extra minutes onto my typical get-ready time, and it was worth it for the compliments alone.