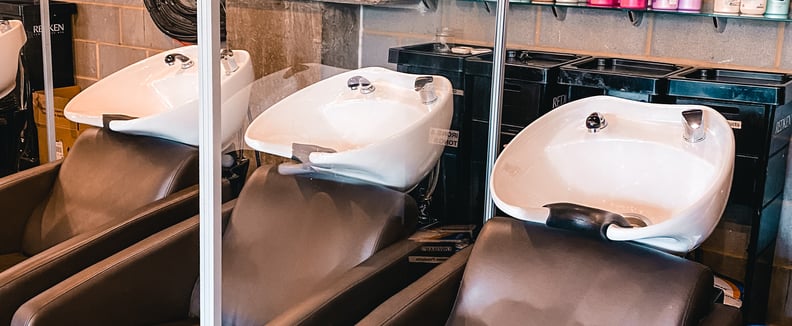 POPSUGAR Photography | Angela Law
POPSUGAR Photography | Angela Law
When businesses across the globe closed down to prevent the spread of the novel coronavirus, one of the first things to go was regular trips to the hair salon. Now, reopenings are underway in all 50 states in at least some capacity, much to the relief of anyone who's been in desperate need of a root touch-up or trim. Personally, I couldn't wait to have my split ends chopped off, and call it journalistic curiosity, but I was curious to find out exactly what changes salons have had to make to comply with strict safety precautions and guidelines in place.
Hair salons fall into the "close contact services" category, which means salon-owners have gone to great lengths (ahem, pun intended) to ensure their spaces are safe for staff and clients. Honestly, I didn't know what to expect when I walked into the salon on Tuesday morning. Like many of us, I'm out of practice when it comes to socializing, or having people all up in my personal space — but I was very pleasantly surprised.
My first post-lockdown trip to the hair salon was uneventful. Anyone who's visited the supermarket in the past four months wouldn't be surprised by the precautions in place to keep everyone safe. For my trip, I visited Live True's Vauxhall and Nine Elms salon, and when booking my appointment through the salon's website, I was alerted to the additional COVID-19 procedures. It was at this time that I was advised that while masks wouldn't be mandatory, you are welcome to wear one while in the salon — additionally, they would be available to purchase. By comparison, the salon I visit for my color (Larry King Salon in South Kensington) has made masks mandatory for all clients, so it's definitely worth checking this before turning up for your appointment.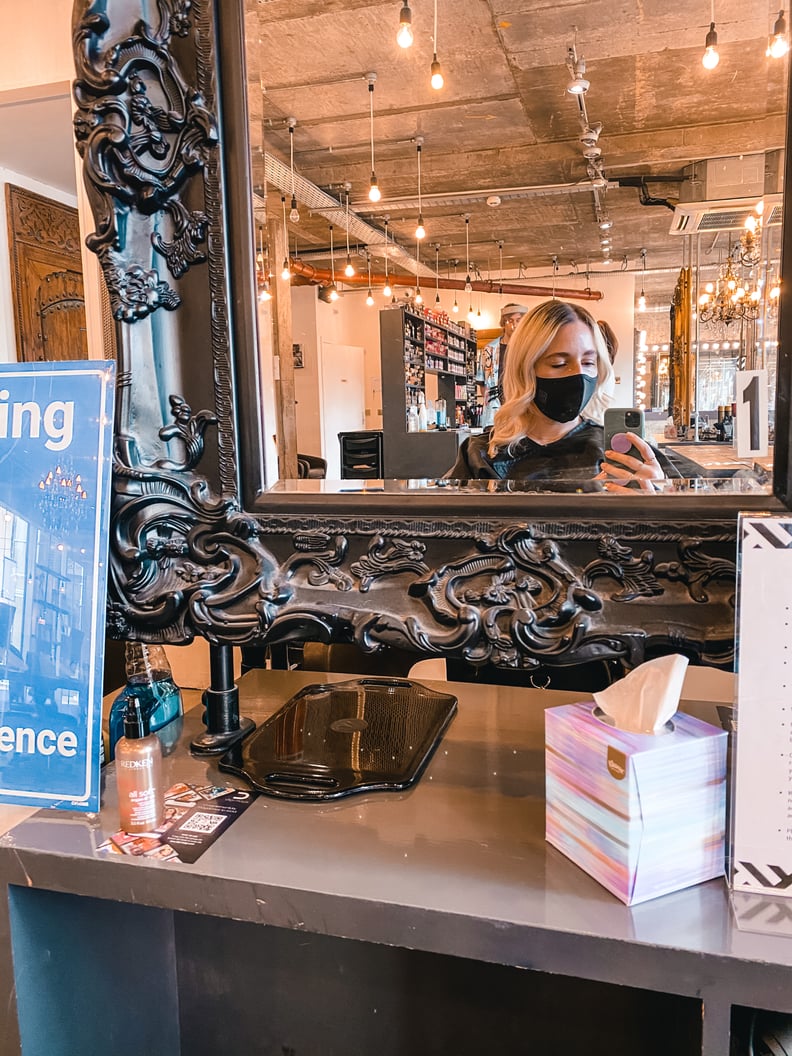 When I arrived at Live True, I was asked to wait outside — that's the first change I noticed. Salons will only allow people with an appointment to enter the salon (so you cannot bring a friend or your kids with you), and you'll only be permitted to enter the salon when your stylist is ready for you. The entrances were clearly indicated as entry or exit only, too, so people weren't crossing paths regularly on the way into or out of the salon.
When I was allowed inside the salon to check in for my haircut, my temperature was checked, and I was asked to use the provided hand sanitizer. The salon itself had changed quite a bit too, again, in all the ways you'd expect. There were glass screens between every basin and chair (just like the self-service checkouts in the supermarket), and the salon also added signage to remind people of social-distancing regulations. Additionally, there was tape on the floor to make distancing even clearer, and any counter (where you pay for your haircut afterward, for example) was surrounded with perspex screens.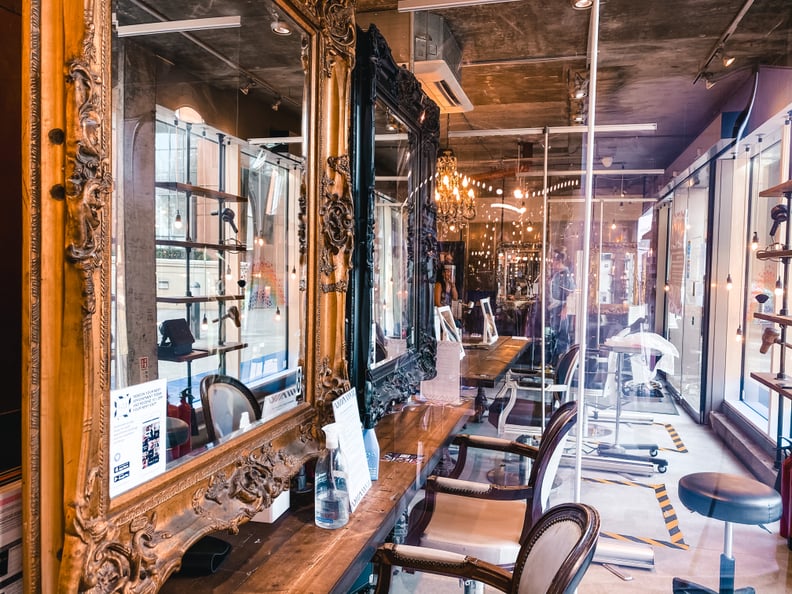 As for my stylist, she was wearing the requisite visor while I wore my own reusable cloth, nonmedical face covering throughout the entire appointment. I'd heard that hairdressers have been asked to keep talking to a minimum throughout the appointment, but because this was my first time visiting this particular salon, we spoke a small amount throughout.
Overall, visiting the hair salon for a haircut post-lockdown was a nonevent, and aside from salons choosing whether masks are mandatory for clients (or not), I felt comfortable and safe throughout the entire appointment.