Hawaiian Tropic Matte Effect Sunscreen Review
The Mattifying Sunscreen This Beauty Editor Doesn't Go a Day Without Using — on and Off the Beach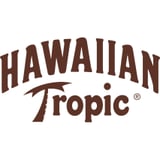 Feeling noncommittal about sunscreen? We've partnered with
Hawaiian Tropic
to prove that there's a formula out there for you.
I've never been super confident about the sunscreens I've owned. When I was younger, I used whatever my parents bought us for the beach. I regrettably admit that the older I got, the more often I skipped the sunscreen altogether for tanning oils. In other words, I invested more time and attention into getting a bronze glow than protecting my skin from sun damage. It wasn't until I became a beauty editor that I realized what a daily necessity sunscreen actually was — whether I was hitting the beach or not.
Despite the universal fact that sunscreen isn't really an option as much as it is a mandatory form of self-preservation, I continued to hold on to qualms about most of the formulas I tried over the years. They were too greasy, clogged my pores, smelled terrible, or made my makeup pill. Then I started using Hawaiian Tropic Matte Effect Mineral Enriched Sunscreen Lotion and my mind changed for good
You may assume that this sunscreen looks just like all the others you've been told to use for years, like the ghost-white formula your mother would barely massage onto your skin before sending you out to the public pool. But it's nothing like that. It isn't too thick, too white, or too goopy to be absorbed by your skin, whether you're using it on on your face, your body, or both. A lot of mineral-enriched sunscreens get a bad rap for leaving a chalky residue or white cast on skin, but this dries to a your-skin-but-better matte texture, one that's not oily or dry, but just right.
The formula is enriched with mineral ingredients as an alternative to two popular UV-filtering ingredients that cause coral bleaching: oxybenzone and octinoxate. While, yes, those ingredients have been proven to protect skin from short- and long-term sun damage, they also harm the environment. So, Matte Effect Mineral Enriched Sunscreen Lotion isn't just the best thing to happen to your skin, it also benefits marine ecosystems that regularly suffer from chemical SPFs.
As far as a sunscreen checklist goes, my perfect essential had to do two things: sit comfortably beneath makeup and feel just as good alone on bare skin. Matte Effect Mineral Enriched Sunscreen Lotion does both thanks to its lightweight mattifying formula that actually absorbs any excess oil on my face. Too many times I've tried to smooth on sunscreen after applying my serum and moisturizer to find that it would only pill as I swept on my foundation. Now, on most days, I skip the moisturizer altogether for this sunscreen lotion that hydrates as much as it protects from UVA and UVB damage. Better still, the matte texture dries perfectly to double as a primer for any of my base products — no pilling included.

Sure, I don't have a backyard to enjoy, but all too often I bask in the sunlight that peeks through my second-floor apartment windows. On the days I'm not wearing makeup, my skin is especially at risk due to some of the more potent active skin-care ingredients I use on a regular basis. My skin needs that layer of SPF protection to avoid painful side effects, like burning, itching, redness, or even blistering.
Applying my sunscreen — what I once felt was a boring chore that had no purpose — is now a never-skip step in my everyday routine, no matter where I'm going (if I'm going anywhere at all). The formula feels so comfy on my skin I actually want to wear it all day long. It's just an added bonus that its tropical scent isn't overbearing or medicinal. Instead, it reminds me of the sunnier days I once spent on beaches or in parks, and recalling those non-social-distancing memories is always a good thing.